Warakorn - Fotolia
Amazon Virtual Private Cloud 101: Features, pricing and more
Evaluate the key features of Amazon Virtual Private Cloud, learn about its advantages and disadvantages, and consider pricing and best practices before implementing the platform.
Virtualization administrators who are hesitant to migrate workloads to the public cloud for security or control reasons should consider Amazon Virtual Private Cloud because it uses public cloud resources, provides isolation and offers design freedom.
When the cloud was new, organizations flocked to Amazon Web Services (AWS) because it offered an easy way to provision and decommission virtual servers. This provided the flexibility of a Linux or Windows system without the hassle of setting up a physical machine. But many organizations didn't consider the networking implications of running a VM with a service provider, so they typically used a public IP address that made the system accessible from anywhere.
Such simplicity is convenient, but it isn't practical or secure, especially once an organization needs to expand its AWS usage to dozens of VMs accessing Simple Storage Service (S3), Relational Database Service (RDS) and other services to run enterprise applications. Real-world cloud usage requires something like the private network and subnetting flexibility that's commonplace in enterprise data centers, which is precisely what Amazon Virtual Private Cloud (VPC) provides.
Since the days of N-tier applications, enterprise network topologies have relied on the ability to segment applications and users into different subnets, each with a uniquely tailored security policy that isolates sensitive data from systems that external users access.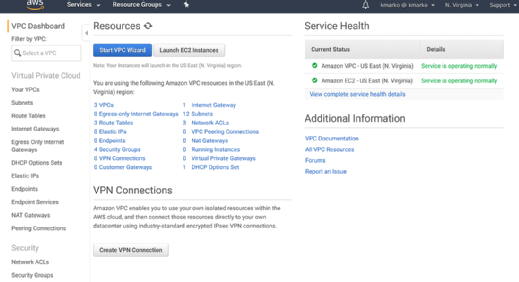 A similar ability to isolate and segment various applications, services, user groups and departments into controlled security zones is critical if cloud services such as AWS are to supplement and replace on-premises infrastructure. Amazon VPC provides this flexibility and more because it uses virtual network services that IT can spin up instantly, reconfigure quickly and scale easily.
The name Virtual Private Cloud is somewhat deceptive because it's about creating private networks, not dedicated clouds, despite the fact that having complete control over a network sandbox makes it seem like a private cloud. Essentially, VPCs are a vessel for other AWS services such as Elastic Compute Cloud (EC2), Elastic Block Store and RDS.
Dig Deeper on Cloud deployment and architecture