Sergey Nivens - Fotolia
Compare hybrid clouds: AWS Outposts vs. Azure Stack vs. Google Anthos
Azure Stack, AWS Outposts and Google Anthos all have similar objectives but operate in different ways. Find out which hybrid cloud platform offers the right model for your company.
Azure Stack, AWS Outposts and Google Anthos are the Big Three's response to modern hybrid cloud computing needs. While they all share some core functionality and aim to synchronize cloud with on-premises deployments, each service differs when it comes to vendor lock-in considerations, hardware compatibility, supported cloud services and more.
Explore this breakdown of AWS Outposts vs. Azure Stack vs. Google Anthos, and decide which hybrid cloud offering best fits your needs.
How Azure Stack, AWS Outposts and Google Anthos modernize hybrid cloud
The three platforms are broadly similar in that they all represent a fundamentally modern approach to hybrid cloud computing.
For the first decade or so of the cloud computing era, hybrid cloud architectures were simplistic. Public cloud resources and on-premises infrastructure were used at the same time, but without tight integration or centralized management. They also rarely brought multiple public clouds into the picture; organizations were typically limited to using just one public cloud alongside an on-premises infrastructure, often sold by different vendors.
Azure Stack, AWS Outposts and Google Anthos aim to integrate on-premises resources with the public cloud services on Azure, AWS and Google Cloud Platform (GCP), respectively. These hybrid cloud platforms provide a common workload deployment process and APIs for both on-premises and cloud-based environments. These services also provide centralized monitoring and management tools to orchestrate hybrid cloud workloads, regardless of whether they run on premises or in the public cloud.
In addition, Google Anthos simplifies the use of multiple public clouds as part of its hybrid architecture.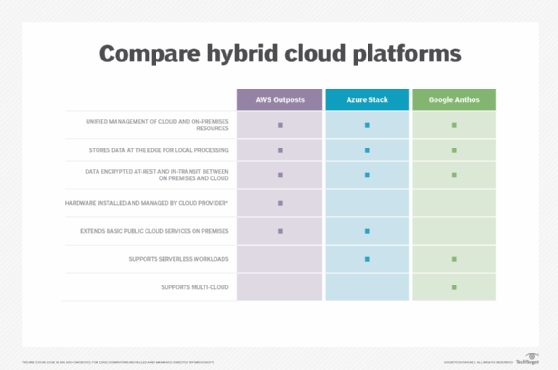 AWS Outposts vs. Azure Stack vs. Google Anthos: Similarities and differences
Although these hybrid cloud platforms all offer comparable integration and centralization features, they vary in these key respects.
1. Hardware choices
AWS Outposts, Azure Stack and Google Anthos support different hardware for building the on-premises components of a hybrid cloud infrastructure. Google offers the most flexibility, while AWS offers the least.
Google partners with a variety of hardware providers -- including Cisco and Dell EMC -- so Anthos is compatible with most modern server hardware. Organizations can use the on-premises hardware they already own to build a hybrid cloud with Anthos, or they can purchase inexpensive commodity servers.
Azure Stack, in contrast, works only with servers that are certified by Microsoft to support the platform. Although there is a fairly broad range of options available, most of them are data center appliances designed specifically for Azure Stack. Few organizations will already own this hardware, so they'll have to acquire the necessary on-premises infrastructure.
AWS Outposts has even tighter hardware restrictions. Outposts is a managed service that will only work on a hardware device designed, sold and installed directly by AWS.
2. Management level
The upside to AWS Outposts' hardware restriction is its corresponding managed service model. AWS handles the hybrid cloud infrastructure setup and management for you.
Conversely, you're responsible for on-premises hardware management with Anthos and two Azure Stack variants -- Azure Stack Hub and Azure Stack HCI. With Azure Stack Edge, an appliance that can be deployed in private data centers or edge locations, the hardware is managed by Microsoft just like any other cloud-based service.
3. Supported services
AWS Outposts and Azure Stack extend many common public cloud services from their respective platforms -- such as cloud-based VMs and databases -- to on-premises infrastructure. In other words, they make it possible to deploy workloads locally with many of the same public cloud services, APIs and management tools used on either AWS or Azure.
The two offerings include a similar range of cloud services on premises, though Azure Stack currently supports a somewhat broader selection. For example, Azure Stack supports Azure Functions, Microsoft's serverless computing service; Outposts does not support AWS' serverless platform, AWS Lambda.
Google Anthos works differently, because its foundation is built with Kubernetes. This makes for a centralized and uniform layer for deploying and managing workloads across heterogenous cloud infrastructures. This could consist of one public cloud and an on-premises data center, multiple public clouds and on-premises infrastructure or just multiple public clouds.
As a result, Anthos doesn't extend GCP services into on-premises infrastructure. Instead, IT teams use the Kubernetes service model and containers to deploy applications in different locations. Users can also deploy a variety of Anthos plugins to run additional services, such as serverless functions, on an Anthos installation.
4. Multi-cloud support and vendor-agnosticism
Because Anthos is essentially a Kubernetes distribution that can run on a mixture of different cloud infrastructures at once -- and is not tied to GCP specifically -- it fully supports multi-cloud architectures.
Azure Stack and Outposts are not multi-cloud products. They only work with their respective clouds -- Azure or AWS -- and IT teams cannot integrate them with other public clouds. It's also difficult to migrate a workload deployed on Azure Stack or Outposts to a different infrastructure or platform because of differences in the underlying architectures. With Anthos, you could feasibly transfer your application to another Kubernetes-based environment with far fewer changes.
Google Anthos may take more time to set up and learn, especially for teams not familiar with Kubernetes, but it is more flexible overall. Microsoft Azure Stack and AWS Outposts, on the other hand, offer more of a managed hybrid cloud experience.