A guide to the top public cloud providers
Public cloud providers offer similar services, but there are differences from one vendor to the next. Which one is the right fit for your business?
The business of cloud infrastructure services has been one of IT's fastest-growing segments over the past decade, with spending doubling every two to three years. Spending on infrastructure as a service, or IaaS, in the first quarter of 2020 reached $29 billion, up 37% from Q1 the previous year, according to Synergy Research.
The COVID-19 crisis created widespread turbulence in the global economy, yet cloud services emerged as one of the few industries that grew as a result of the pandemic. One survey found that 76% of IT leaders increased their use of public and private cloud services specifically in response to the pandemic, and 45% plan to accelerate their cloud migration plans.
There are several ways to analyze the market, but by any measure, the two leading public cloud providers are AWS and Microsoft Azure. A 2020 estimate by Synergy pegged AWS' share of the cloud infrastructure services market at 32%, while Microsoft held 18%.
In the second tranche of public cloud providers, Google Cloud Platform (GCP), Alibaba and Tencent continue to gather momentum and gain market share, according to Synergy. These are joined by IBM, Oracle and Rackspace as the only companies with a measurable market share in cloud services.
Bigger isn't always better, so another way to analyze the cloud market is embodied by Gartner's IaaS Magic Quadrant, in which the analyst firm evaluates seven or eight factors that describe a service provider's ability to execute and completeness of vision. Gartner creates a weighted average of factors for each characteristic, including the breadth of services offered, a company's viability, pricing, track record, market understanding, level of innovation and overall strategy. Here, too, the cloud leaders -- those that excel at both execution and vision -- are AWS, Azure and GCP.
Surveys of enterprise IT professionals represent another way of studying the cloud market. The Flexera (formerly RightScale) State of the Cloud reports, now in their ninth year, provide the longest-term source of information. Flexera's 2020 results mirror the market rankings, with AWS, Azure and GCP cited as the most popular public cloud providers, and Google adoption increasing 70% to one-third of all respondents. The results show Azure to be popular with cloud beginners, and GCP relatively strong with advanced cloud users.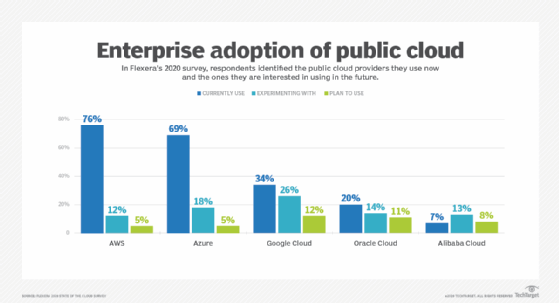 Let's look at five top cloud providers:
AWS
Microsoft Azure
Google Cloud Platform
Oracle Cloud
Alibaba Cloud
We'll examine their strengths, weaknesses, noteworthy or differentiating features and target market or use case.
1. AWS
Befitting a cloud service owned by Amazon, AWS is a one-stop shop with nearly 200 products available in 24 geographic regions with 77 availability zones (independent data centers) and almost 100 private network (Direct Connect) onramps. Like its parent, AWS strives to have a product and configuration for every need, and it continually adds to its portfolio in response to customer demand and usage. Much like Windows PCs or the iPhone, third-party applications and service providers target AWS first to reach the largest market via the AWS Marketplace, which offers a collection of OS, security, networking, storage, analytics, machine learning and DevOps products.
As the largest public cloud provider, AWS has access to the latest processor, network and storage technologies and aggressively introduces them to its customers. AWS also develops custom silicon such as its Nitro hardware, Graviton CPUs and Inferentia deep learning accelerators, all of which means that developers that need bleeding-edge performance won't be disappointed. The company's vast and diverse set of customers, consulting partners and design aids, such as the Well-Architected Framework and Reference Architectures, means there are few -- if any -- situations or workloads that AWS can't handle.
Although the company regularly touts price reductions on select products, its complicated pricing models, immense portfolio and huge set of compute instances and options means many users overspend through poorly designed, non-optimized implementations.
AWS long resisted hybrid cloud infrastructure and was one of the last providers to introduce products designed for enterprise data centers, which it addresses through a mix of VMware-provided (VMware Cloud) and AWS (Outposts) services. While the VMware partnership covers many hybrid cloud requirements, other providers offer similar services. AWS also lagged Google and Microsoft to provide managed Kubernetes services in preference to its homegrown Elastic Container Service product. AWS once again embraced the broader industry trend toward cloud-neutral Kubernetes, but many developers remain wary about the company's embrace-and-extend tendencies toward open source projects.
2. Microsoft Azure
Microsoft might trail AWS in cloud revenue, but it is no second-stringer in features and infrastructure. The Azure product portfolio effectively matches AWS for depth and breadth, and its facilities span more than 50 regions (some with multiple availability zones), network points of presence (POPs) and peering locations. While AWS has a few PaaS offerings, Azure has a much richer selection of application platforms via the App Service products. These are tightly integrated with Microsoft's software development offerings which include Visual Studio, .NET, GitHub and Excel, along with its enterprise data and collaboration systems such as BizTalk, SharePoint and Teams.
Hybrid cloud represents another striking difference between Azure and AWS. Microsoft was the first company to articulate and implement a vision of hybrid cloud service consistency and operational integration when it introduced Azure Stack more than four years ago. From its modest beginnings with a small subset of Azure services and a limited selection of supported hardware, Azure Stack has evolved into a product line that spans enterprise data centers (Azure Stack Hub), branch offices (Azure Stack HCI) and remote edge locations (Azure Stack Edge, previously Data Box Edge) all managed by the Azure Resource Manager and Azure Arc software. Azure's hybrid cloud strategy extends to IoT implementations where IoT Edge can manage remote devices, IoT Hub acts as a device management and data collection interface and Azure Sphere provides hardware and OS security.
Azure's comprehensive integration of Windows Server OS and application software, along with its support of VMware environments via CloudSimple software (which Google acquired in 2019), make Azure suited for both legacy lift-and-shift migrations, and cloud-native applications using Azure PaaS, native services and containers. Azure's history of outages and slow rollouts of availability zones casts a shadow over its reliability as an enterprise cloud, so Azure customers should carefully design for infrastructure, service and network redundancy.
3. Google Cloud Platform (GCP)
Despite operating some of the most advanced infrastructure in the world, Google was slow to enter the cloud services business. Plus, the company has had to overcome both its position in the market and its propensity to swiftly and unceremoniously ditch products that failed to meet the company's goals. Nevertheless, after some turmoil at the top, the 2018 hire of Thomas Kurian and the subsequent emphasis on enterprise customers brought strategic and operational consistency that has translated to the revenue growth.
GCP lacks the depth of service offerings available at AWS or Azure, but its Compute Engine covers the IaaS basics, and App Engine is a compelling PaaS for both web apps and mobile app back-end services. GCP's portfolio is particularly strong in services for managed container infrastructure, data analytics and AI, while its core network and security infrastructure is second to none. GCP is among the first to introduce new CPU, GPU and custom processors (such as the Google-designed TPU AI accelerator) to its services. GCP is also noteworthy for its simpler pricing models with per-second granularity, automation discounts for sustained use, decoupled pricing for CPU and memory usage and custom instance types.
With its container-based Anthos product, GCP made a bold play for enterprises ready to modernize or migrate legacy applications. Nevertheless, GCP remains most appropriate for greenfield applications born in the cloud. GCP also lacks the tight integration of cloud and on-premises environments provided by Azure Stack or VMware Cloud on AWS. Its acquisition of CloudSimple, however, will eventually improve Google Cloud's manageability of hybrid infrastructure. Another disincentive for enterprises to try GCP is that Google lacks the large cadre of sales, support and third-party consulting professionals available with AWS or Azure.
4. Oracle Cloud
Oracle Cloud Infrastructure (OCI) offers a standard set of cloud storage, compute network, database and analytics services with aggressive prices compared to AWS on-demand rates. Oracle has built 18 commercial and nine government regions around the world; although smaller than the infrastructure at AWS or Azure, OCI provides sufficient regional diversity and redundancy for mission-critical applications.
OCI is tailored to the type of systems that made Oracle's eponymous database technology the enterprise standard. It includes bare-metal instances and a network service gateway. Also featured is what Oracle calls a managed Autonomous Database service, which, despite its name, requires at least some admin involvement. OCI also includes a PaaS for database, Java and back-end mobile applications that integrate with its ERP, CRM/CX and HR SaaS products.
Compared with its larger competitors, OCI lacks product breadth, notably in the areas of management automation, hybrid cloud, AI, DevOps and IoT. This makes it less suited to new cloud-native applications. However, its sophisticated database, support for current database licensing and a full set of enterprise SaaS applications makes Oracle Cloud an excellent platform for legacy migrations, particularly for organizations that face expensive upgrades to on-premises equipment.
5. Alibaba Cloud
Alibaba Cloud is relatively unknown outside its home market of China and greater East Asia. However, it boasts global infrastructure with 21 regions, 63 availability zones and 2,800 content delivery network POPs. Alibaba Cloud emerged from the parent company's need to rapidly scale online capacity for peak shopping periods such as its Singles Day event. Like its competitors, Alibaba Cloud combines IaaS and PaaS products that deliver computing resources and container instances, block, file and object storage, virtual networks and services, databases, analytics, security and application platform services.
Despite Alibaba Cloud's global footprint, it is heavily concentrated in China and Asia-Pacific, with only four data centers (two apiece) in Europe and the United States. Despite the service's rapid growth, with revenue up 58% in Q1 2020, Gartner estimates that Alibaba Cloud derives 90% of its revenue from China, citing the company's small ecosystem of MSPs and third-party developers.
Given its regional focus and larger competitors' more diverse product lines, Alibaba Cloud is most appropriate for companies with a large customer base and physical footprint in China and East Asia. However, due to the legal and regulatory complexities of operating in China, Alibaba Cloud has a product portfolio with some unique offerings (such as China Gateway) that make a compelling alternative to competitors like AWS and Azure.
Other public cloud options to consider
Most enterprises will find that the largest providers profiled here meet their needs, though some will prefer one of the many alternatives. For example, IBM shops will find its cloud service a perfect complement to IBM systems and software.
SMBs, meanwhile, might prefer niche cloud vendors that offer cheap bare-metal servers and storage. A business that chooses to go that route should carefully consider the long-term viability and commitment of that cloud partner before it undertakes a large-scale deployment.