Control the costs of cloud storage with these five steps
Your cloud storage could be costing you more than it should. Follow these five steps to identify and eliminate any unnecessary cloud storage fees.
Storage was one of the first public cloud services to garner corporate acceptance. In a market led initially by vendors like Dropbox and Carbonite, businesses began housing information in the cloud -- and usage continues to grow. The global cloud storage market will grow from $18.87 billion in 2015 to $65.41 billion by 2020, according to research firm MarketsandMarkets.
With cloud storage investments on the rise, IT teams are looking for ways to maximize their returns. Here are five ways to more tightly control, or reduce, the costs of cloud storage.
Rein in shadow IT
The cloud storage market: Battle of the low prices
Vendors are competing to be the low-cost leader in the cloud storage market. However, industry expert Jon Toigo warns that low prices cannot last forever.
Shadow IT is becoming more prevalent. Roughly 30% of technology spending occurs outside of the IT department, according to estimates from analyst firm Gartner. Enterprises have tens, hundreds or even thousands of cloud accounts that run outside of IT's purview. Without visibility into active usage across these cloud services, organizations will leave money on the table. A company, for example, may qualify for a volume discount, but because their cloud bills go to a variety of departments in different locations, neither the vendor nor the organization sees the overall data volume.
Many data storage solutions start with low, sometimes free, pricing designed to entice a business to use the service, but the price rises with various add-ons.

George Crumppresident of Storage Switzerland
To rein in the costs of cloud storage, determine what applications and data your organization stores in the cloud. To do this, conduct an audit and identify all of the active cloud accounts. Asset management tools from vendors such as BMC, CA, IBM, ManageEngine, Microsoft and Qualys take inventory of endpoint systems and identify all applications -- including those that don't have IT's blessing. From this vantage point, IT can begin to reduce the costs of cloud storage.
Negotiate from a position of strength
Competition in the cloud storage market is intense; vendors are aggressive and pricing has dropped. Amazon Web Services (AWS), for instance, has cut pricing for its service more than 50 times since its inception, and other providers, such as Google, have also made a series of reductions.
To keep pace with competitors, cloud storage providers have an ever-changing array of tiered pricing plans for cloud storage. In addition, discounts are available on a case-by-case basis. Consequently, IT teams need to carefully consider contracts with a cloud storage provider. The vendor generally wants to lock users into a set price for a long period of time, but the user wants a shorter timeframe to take advantage of any pricing changes. When signing a new contract, project your costs out over the next few years rather than focusing on what costs are now.
Check the fine print
Watch out for bait and switch.
"Many data storage solutions start with low, sometimes free, pricing designed to entice a business to use the service, but the price rises with various add-ons," said George Crump, president of Storage Switzerland, an analyst firm focused on storage and virtualization.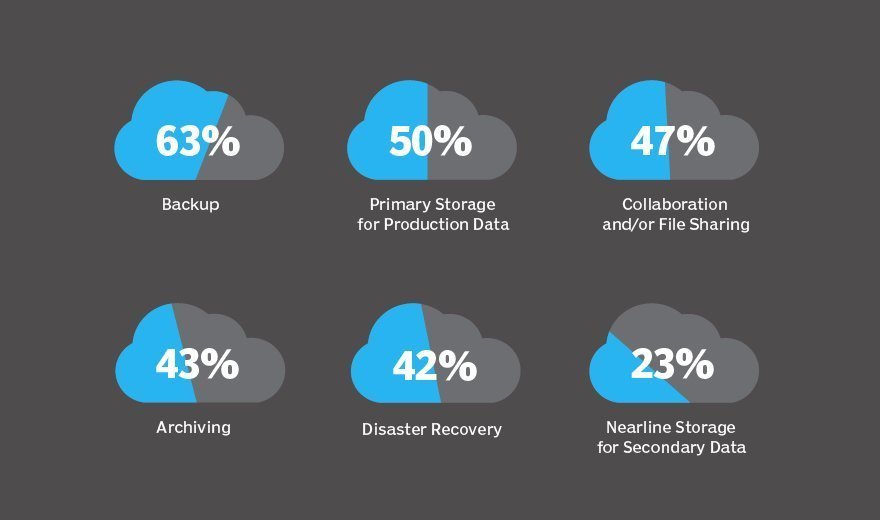 Vendors constantly move and change their pricing targets. In the past, providers limited storage capacity -- to 1 GB or 1 TB of storage, for example -- per user. Now, providers such as AWS, Microsoft Azure and Dropbox offer unlimited storage, and a lot of their revenue comes from add-on services. For example, a provider may charge more for data backups or disaster recovery. Understand what additional services you will need on top of basic cloud storage to choose the best option and better predict costs.
Deduplicate data at the source
Deduplication is a data compression technique designed to eliminate extra copies of data. Unique chunks of data, or byte patterns, are identified and used during analysis. Whenever a match occurs, the redundant chunk is replaced with a small reference that points to the stored location.
To reduce the costs of cloud storage, deduplicate data prior to transmitting it to the cloud. This limits the amount of data stored in the cloud, lowers network traffic and reduces backup and disaster recovery windows. Druva, Opendedup, Quantum, Permabit and StorReduce all offer cloud deduplication services.
Purge outdated data
Another step a company can take to decrease the costs of cloud storage is to periodically purge outdated data. Working with the compliance group, determine how long IT teams need to keep information in the cloud. After the data is sorted, move the outdated information off the cloud and eliminate those cloud storage costs.
Next Steps
Optimize your hybrid cloud tiered storage
Choose between cloud and on premises for storage
Keep your cloud storage costs under control
Dig Deeper on Cloud pricing and cost optimization