How to choose a long-term data archiving services vendor
When evaluating archiving services, you must determine what you need to archive, requirements around that data and how to make the most cost-effective selection.
Long-term data archiving can and should be an important piece of an organization's data storage strategy and policy. If it's too costly to manage a brick-and-mortar data archive, consider using one or more of the many data archiving service companies. Data archiving services can be standalone products or part of a data backup and archiving vendor's product offering.
Until recently, tape storage had been the archival storage medium of choice due to its low cost and survivability. Advancements -- such as powerful compression algorithms, deduplication and rapid data retrieval algorithms -- have increased the storage capacity of tape and kept it a relevant archiving medium. And despite advances in electronic media, tape storage, especially for long-term data archiving, is still on the radar of most CIOs.
Depending on the content to be archived, data archiving service companies can scan hard copy images and convert them to an approved data format. They can also store electronic data in an approved format -- consider data deduplication to reduce storage requirements -- on a variety of secure storage platforms.
Cloud technology is a frequent component of a long-term data archiving service due to its cost, availability, capacity and convenience.
Some vendors use technology and resources to archive both electronic and non-electronic assets. The keys are to know what you need archived and your storage, access and retrieval requirements in advance of any vendor discussions.
This article provides advice on how to evaluate vendors and some examples of data archiving services and products.
Identify your archiving needs
Most organizations have two types of data: daily operational data, databases and other content; and infrequently used -- yet still important -- data sets that may be needed at a future date. As data sets continue to grow in both size and complexity, archiving becomes an essential activity for space and cost reasons.
The first step is to determine if there is a real business need for long-term data archiving. If a formal data backup policy and program exists, examine it to ensure that you meet any requirements to add a data archiving service.
A business impact analysis may help identify data to be archived. Ask business unit leaders for their input on what resources they may need stored. Determine the kinds of assets to be archived, their data formats, storage requirements, accessibility requirements, duration of storage and frequency of access.
A data storage and archiving policy will outline all audit and compliance requirements and ensure there is a standardized process for archiving and retrieving data. It should also specify circumstances when archived data is to be destroyed and the method of destruction.
Evaluation process
Research data archiving service vendors and compile a list of candidates. Well-established vendors like Amazon, IBM, Iron Mountain and Microsoft have a broad range of long-term archiving offerings, and the cost of their services may be commensurate with that capability. If you have a limited budget, consider small, boutique vendors that can provide appropriate products, possibly for less money.
Prepare a request for proposal (RFP) to obtain information about selected vendors and their proposed offerings. Be sure to include any security requirements that may necessitate encryption of archival data while in transit to the storage site, and note if encryption at rest is needed.
You should also identify any additional requirements you may have regarding your ability to access archived data in an emergency.
When the RFPs come in, take the time to contact all provided references and compare pricing options for the best fit. You should then determine how you want to move forward, such as with a pilot program, full-scale program or using a service with only selected data sets.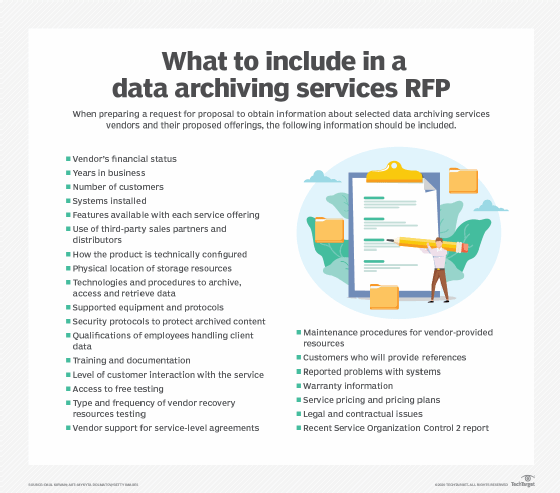 Once you have executed a contract, use the systems development lifecycle to plan the installation, programming, documentation, training, acceptance testing and entry into production. Be sure to schedule one to two tests during the year, especially if the vendor permits more than one test without an additional charge.
Potential costs and examples of data archiving services vendors
Long-term data archiving costs are typically based on the following factors: amount of data to be stored, type of repository (cloud, tape or disk), accessibility requirements, estimated frequency of access, file format, archival software and redundancy options. Pricing is ultimately based on the amount of storage needed over a specific period. For example, the estimated cost of a cloud archiving service over a five-year contract period can range from less than $100 for 50 GB to 100 GB of data, to $5,000 to $10,000 for 5 TB.
For on-site tape storage, storage drives can be purchased for $3,000 to $3,500 on the low end up to $20,000 to $30,000 at the high end. Archiving software licenses can range from $1,500 to $2,500, not counting the cost of software maintenance, which adds monthly fees of between $100 to $300. Magnetic tape can be as low as $0.02 per GB of storage, while reel-to-reel tape prices range from approximately $35 for 1,200 feet of tape to $130 for 3,600 feet. Reel-to-reel tape storage racks can go for $125 to $1,000, depending on the number of tapes to be stored. Tape vaulting and rotation service fees are based on the number of tapes to be stored, frequency of rotation, estimated storage duration, and tape pickup and delivery costs. Monthly costs range from an estimated $2,200 for a basic vaulting arrangement to $24,000 to $30,000 for a large-scale operation.
Here are some examples of long-term data archiving services vendors and products.
AWS offers Amazon S3, Amazon S3 Glacier and Amazon S3 Glacier Deep Archive. Data to be archived is transmitted via a network connection to the S3 system and then routed to its primary and alternate storage locations.
DRS Imaging Services scans and archives documents, and offers cloud and on-site archiving services.
Informatica performs archiving services in the cloud.
Iron Mountain Offsite Media Vaulting picks up archival data from customers and transports it to an off-site vaulting facility where it is logged in, checked for any issues and then moved to a secure and environmentally safe storage area.
Microform Imaging scans documents and offers archiving services, cloud archiving and document management.
Microsoft Azure Archive Storage offers secure data storage in the cloud as well as blob-level tiering that enables users to change an object's tier as needed.
StoneFly Inc. provides cloud storage services and storage appliances.
Veritas Enterprise Vault organizes archives into vault stores that can be divided into partitions as storage requirements grow.
Dig Deeper on Archiving and tape backup