Getty Images
Rubrik delivers faster backup for Sunrise Express
Sunrise Express switched from running Veritas Backup Exec and tape-based backup to cloud-based backup through Rubrik, where it achieved faster backup and recovery times.
Sunrise Express needed a faster, more efficient way to back up its data.
The trucking company based in Grand Island, Neb., overhauled its backup from on-premises tape to Rubrik cloud data management and protection. With Rubrik, Sunrise Express was able to recover important file server and application data as well as surveillance footage faster and at greater levels of granularity than its tape-based system while still retaining the benefits of immutable and offsite storage.
Sunrise Express delivers consumer products and raw materials for factories across the contiguous United States with a fleet of about 200 drivers and trucks. The 35-year-old company specializes in full truck loads and has a division for transporting hazardous materials, but it doesn't transport anything that requires refrigeration.
Most of the company's critical applications, such as software that tracks and manages its trucks and its ERP software, are cloud-based, but the company still runs some non-critical applications on local servers.
A third-party data protection vendor provides backup for Sunrise Express' cloud-based data. Before switching to Rubrik in February 2020, the trucking company used Veritas Backup Exec software, with backup copies stored on tape, to protect on-premises data.
Justifying IT costs
Sunrise Express implemented Rubrik because both the Veritas backup software and the tape storage medium were cumbersome, said IT director David Sayers. Veritas Backup Exec's interface was not user-friendly, according to Sayers, and his three-person IT team had to take turns bringing tapes home nightly and returning them each morning in order to maintain the "3-2-1" backup rule.
"Part of the issue with Backup Exec was even when it was working, a lot of work still fell in my lap," Sayers said. "I could've hired another person just to do backup."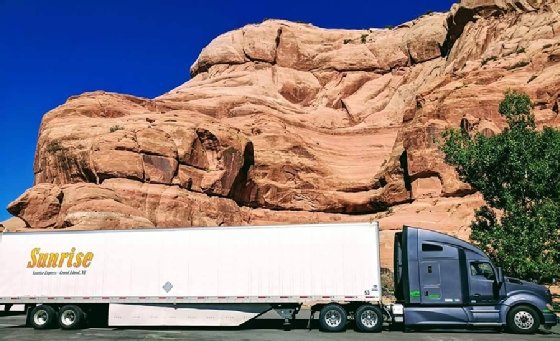 Hiring more IT staff or leasing a space dedicated to tape storage were costs he couldn't justify, as they weren't sustainable or scalable ways of addressing his problem, Sayers said. Instead, he looked into changing both the backup software he was using and the medium that backup copies would be stored on. Through Assured Data Protection, a managed service provider Sunrise Express works with, Sayers implemented Rubrik for cloud-based backup.
Sayers investigated other data protection vendors while looking to upgrade his backup, but he found most of them were selling on-premises products when he knew he wanted cloud. Additionally, paying for hardware was yet another cost he couldn't justify, he said.
Won over by ransomware protection
Rubrik's ransomware protection ultimately pushed Sayers toward a purchase. With Rubrik, once backup copies are written, they cannot be deleted or tampered with until their retention policy expires. A customer, even with full administrative privileges, must go through Rubrik's support to manually delete them.
"I wanted a better backup, and I wanted to find a way to better protect us from ransomware," Sayers said.
At a previous job, a worker deleted all the customer files before they stopped working at the company, and Rubrik's immutability helps prevent that, Sayers added.
Rubrik is backing up about 15 TB of surveillance footage and data from file servers, the VPN server and miscellaneous applications running on premises. This isn't as business-critical as the data from the ERP and truck management applications running in the cloud, but it's still good practice to minimize downtime during a data loss event, Sayers said.
I hope never to need them again.

David SayersDirector of IT, Sunrise Express
With Rubrik, Sayers was able to restore 750 MB of customer data in five minutes after an employee accidentally deleted it. On the old system, it would've taken longer than that just to locate the right tape and where the data was on that tape before any data restoration even began, he said.
Although Rubrik has replaced the old backup system for Sunrise Express' on-premises data, Sayers decided to keep the tapes. However, he no longer writes to them.
"We've pretty much junked them. I still have them just in case, but I hope never to need them again," Sayers said.
In the future, all of Sunrise Express' workloads will likely be migrated to the cloud, Sayers said, as there are no technological constraints keeping his current on-premises applications locked in the data center.
The only constraint is time, and right now, migrating less-critical workloads to the cloud is simply a low priority, Sayers said. Instead, his small team is focused on bigger IT projects such as replacing Sunrise Express' phone system and upgrading its core software.
Johnny Yu covers enterprise data protection news for TechTarget's Storage sites SearchDataBackup and SearchDisasterRecovery. Before joining TechTarget in June 2018, he wrote for USA Today's consumer product review site Reviewed.com.