benedetti68 - Fotolia
JetStream Data Protection safeguards data on the cloud
JetStream's Data Protection product uses continuous data capture technology to bring data resiliency to the cloud software company's data management platform.
Cloud software development vendor JetStream Software is moving into backup with JetStream Data Protection, the newest member of its Cross-Cloud Data Management Platform.
JetStream Software is demonstrating its data protection software this week at VMworld. The application is in technology review and will enter beta in the fourth quarter of this year, with general availability scheduled for the first quarter of 2019.
JetStream Data Protection protects VMware environments by using continuous data capture and continuous replication methods, rather than the more commonly used snapshot-based backups.
The other applications of JetStream Cross-Cloud Data Management Platform are JetStream Migrate and JetStream Accelerate. JetStream Migrate moves live enterprise virtual machines (VMs) and their workloads into the cloud, while JetStream Accelerate uses nonvolatile memory in a low-latency storage tier to increase storage and compute performance.
JetStream Data Protection captures data through the use of VMware vSphere APIs for I/O Filtering (VAIO). It replicates that data to a low-latency log on an on-premises appliance before sending it through a crash-consistent data pipe to a cloud data center also running vSphere or a cloud-based object store.
The core technology in JetStream Data Protection is the I/O filter.
"It's a way for a third-party technology to be integrated into the hypervisor to capture data as it moves between the virtual machine and the virtual disk," said Rich Petersen, president and founder of JetStream Software, based in San Jose, Calif. "When you intercept data in this manner, it has much less impact on application performance than when creating a snapshot."
Close connection with VMware
Only customers running VMware will be able to use JetStream Data Protection, as the company's I/O filter is built on the vSphere-exclusive VAIO. According to Jeff Byrne, senior analyst and consultant at Taneja Group in Hopkinton, Mass., VAIO is unique.
"As far as I'm aware, VMware is the only vendor that has implemented I/O filters in user space in the hypervisor [ESXi] I/O stack," he said. "Prior to VAIO, I/O filters were generally implemented in virtual appliances [that have access to I/O streams] or in the kernel itself. These approaches tended to be operationally complex to manage and, in the case of kernel deployment, risked introducing bugs or other instabilities."
Byrne pointed out that many engineers and executives working at JetStream Software came from FlashSoft, a company that worked closely with VMware to develop I/O filters for caching and replication. JetStream used this familiarity and expertise to create JetStream Data Protection.
Still, Petersen said building software to take advantage of VAIO isn't trivial. Any given on-premises environment could have hundreds or even thousands of VMs, and it's difficult to handle the sheer volume of data going through the I/O filter. JetStream Data Protection handles that by replicating the data to a nonvolatile memory-based appliance.
"You have to have a highly scalable and very low-latency methodology for capturing it and replicating it somewhere else," Petersen explained. "It really does produce a problem of a fire hose of data in the data center and a garden hose of connectivity onto the cloud, so you have to find a way to get around that. And the way we got around it is we took 50 garden hoses and strapped them together, basically."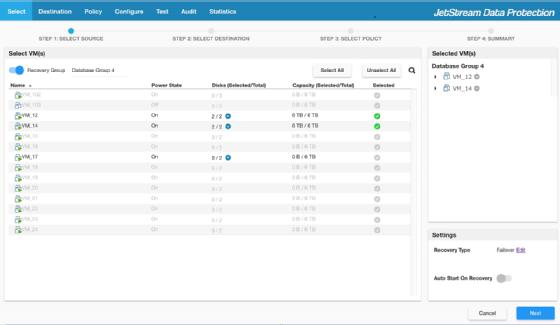 Moving toward data management
Long term, where we see the company going is extending policy-based data management beyond just availability.

Rich Petersenpresident and founder, JetStream Software
While the individual products of the platform enable data resilience, data migration and I/O acceleration, Petersen stressed that the goal of the overall platform is ultimately data management.
"Long term, where we see the company going is extending policy-based data management beyond just availability," he said. "We do believe because of our position in the hypervisor, where we are in the data I/O path, we can also help support policies for maintaining service-level agreements, identifying and moving data to best-execution venues, and ensuring compliance with respect to things like data sovereignty and regulatory compliance."
Petersen said JetStream is looking for ways to bring the Cross-Cloud Data Management Platform to other hypervisors, such as Microsoft Hyper-V and KVM.
Like the vendor's other products, JetStream Data Protection will be sold through enterprise technology resellers, cloud service providers and managed service providers.