Creativeapril - Fotolia
JetStream Software seeks MSP DR partners
Enterprise Networking Solutions chose JetStream backup because of its continuous replication technology, giving it an RTO/RPO edge over other products in its DR catalog.
Startup JetStream Software, whose software is older than the company, is recruiting a network of managed service providers and cloud service providers with its initial venture-backed funding round.
JetStream president Rich Petersen said he considers the vendor's data protection software -- particularly JetStream DR -- a good fit for hosted services linking on-premises data centers to clouds. JetStream, which spun out of Western Digital in 2016, today closed a $7.7 million Series A funding round. Petersen said a "considerable portion" of the funding will go toward supporting service providers.
"There's been a shift in the market as we go from solutions for on-premises data centers to cloud solutions and MSPs," Petersen said. "Companies that provide hosting services and DR services can use our software as a DR site for businesses and government agencies that have operations on premises. There's more market demand for JetStream DR with these managed service provider partners than there is selling directly to the end customer."
In April, the startup made JetStream DR available to a few cloud service providers (CSPs) and MSP partners. JetStream DR provides continuous replication of applications and data on virtual machines to AWS S3, alleviating the need for snapshots. Data protection vendors Cloudian and MinIO are technology partners. Zerto is the most direct JetStream competitor.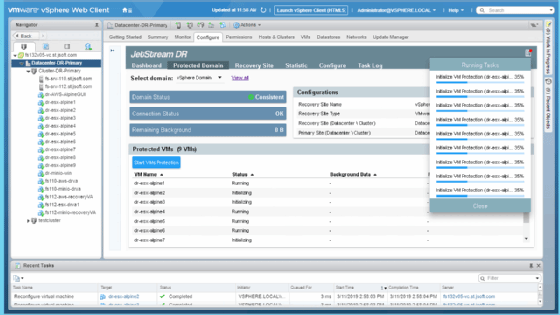 JetStream timeline
JetStream Software incorporated in 2016 after breaking from Western Digital. The vendor's IP goes back to flash caching software startup FlashSoft, which launched in 2009. Solid-state disk vendor SanDisk acquired FlashSoft in 2012, and Western Digital bought SanDisk in 2016. Western Digital decided against selling the caching software as a stand-alone product, and let Petersen and his team become a venture-backed company. Western Digital is a strategic partner and has an equity stake in JetStream.
FlashSoft founders Petersen, Tom Critser and Serge Shats, and many of its engineers, are part of JetStream.
While at SanDisk, the current JetStream engineering team collaborated with VMware to develop VMware vSphere APIs for IO Filtering, also known as IO Filters. Relying heavily on VMware vSphere APIs for I/O (VAIO), JetStream DR continuously captures and replicates data in the I/O filter layer. It creates a copy in a "warm" VMware cloud that can be immediately spun up in case of a disaster.
JetStream applied IO Filter technology to its JetStream Migrate software launched in 2018. It also sells JetStream Accelerate application optimizing software based on the original FlashSoft product.
Petersen said his target partners are service providers looking to build DR services for VMware shops. He said a few large telcos already use JetStream DR. "That's not our main focus but provides a good revenue stream," he said of the telco market.
ENS moves to standardize on JetsStream DR
Enterprise Networking Solutions (ENS), an IT consulting firm based out of Rancho Cordova, Calif., was an early JetStream DR partner. Chad Hodges, ENS vice president of business development, said ENS became a beta tester for the product in August 2018.
"The minute they told us what they were doing, we said we wanted to be a beta tester," Hodges said. "We've always looked for more elegant, more intuitive ways to do the data movement that needs to occur to affect real, true disaster recovery."
ENS works with other major backup vendors, including Zerto, Rubrik and Veeam. Hodges noted when building a DR plan for his clients, many of the products offered by other vendors simply had backup copies saved on a cloud somewhere. He felt JetStream backup was much better focused on minimizing downtime, restoring from copies that are minutes old on a cloud that is designed for immediate failover.
Obviously, VMware is the big fish in the pond when it comes to hypervisor.

Chad Hodges Vice president of business development, ENS
"We're going to be moving toward standardizing on JetStream more and more as we onboard more companies," Hodges said. "But we try not to shift people away unnecessarily. That causes other issues downstream."

Hodges said another reason he added JetStream to ENS' repertoire was because of its hardware flexibility. Because replication happens at the VMware level, the underlying hardware doesn't matter. Hodges found that many of his customers can't accurately predict the amount or kind of hardware they need because they don't know how big their businesses are going to grow or what new rules or mandates will affect them in the next two or three years. Therefore, they're wary of buying products that lock them in to particular vendors or configurations.
"They don't want to be hamstrung by a hardware decision they made," Hodges said.
JetStream supports only VMware's hypervisor, although Petersen said the vendor will look at other virtualization partners.
As a Microsoft partner, ENS uses some Hyper-V, and Hodges said some of his customers are on Nutanix, but the vast majority of virtual environments among his client base is VMware.
"Obviously, VMware is the big fish in the pond when it comes to hypervisor," Hodges said.
Hodges said while JetStream enables a company to run everything without downtime, it's best to include something else on top of JetStream's continuous data replication to ensure you can restore to older backup data, if necessary.
He said he would like to see JetStream seamlessly work with traditional, snapshot-based backup software or other products outside of the data protection space, such as ServiceNow.

"Replication is inherently flawed in that you can replicate corruption, deletion and other things you don't necessarily want, so you still want to do point-in-time backup," Hodges said.
Digital Alpha Advisors led the JetStream funding round, with Illuminate Ventures and the startup's seed investors participating in the round.