Halfpoint - Fotolia
Zerto CEO: 'Zero downtime is new normal'
Zerto CEO says you should have zero tolerance for downtime, and the convergence of disaster recovery, backup, data migration and other processes need not complicate matters.
Zerto CEO Ziv Kedem said IT resiliency now means no tolerance for downtime.
During the ZertoCon 2019 opening keynote, Kedem stretched the definition of "resilience" to fit Zerto IT Resilience Platform's growing list of capabilities.
"IT needs to support any change to be resilient," Kedem said. "Today, zero downtime is the new normal."
Zerto IT Resilience Platform, the vendor's flagship product, was originally known for its disaster recovery (DR) capabilities for VMware and Hyper-V environments. With the release of Zerto 7.0 in April 2019, the vendor added journal-based recovery, opening the doors for use cases like point-in-time recovery for everyday backup, long-term retention and workload mobility.
While "resilience" suggests quick recovery from security incidents, natural disasters or human error, Kedem said the goal should be zero downtime or loss of productivity. That's because of the amount and importance of digital data today. And by no loss of productivity, he means even when moving data between environments, consolidating data silos or restructuring architecture due to mergers or acquisitions. To him, resilience meant being able to weather any change.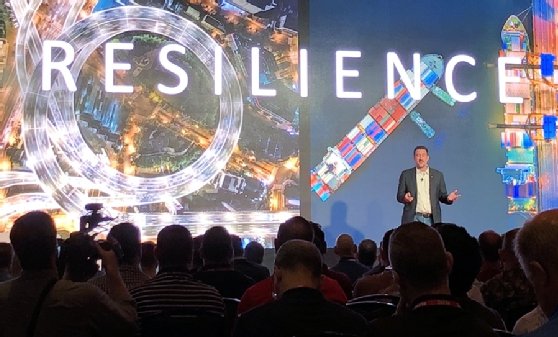 Can zero downtime be done without complexity?
DR replication and backup make an organization more resilient, but Kedem said more tools meant more complexity. "CIOs are saying, 'We have too many tools, we cannot train our people or integrate them fast enough,'" Kedem said.
Phil Goodwin, research director at IDC, said Zerto's single platform integrating DR, backup, archiving, migration, analytics and orchestration points to a customer demand for lowering IT complexity.
IT needs to support any change to be resilient. Today, zero downtime is the new normal.

Ziv Kedem CEO, Zerto
"The nature of data protection is moving from silos to a continuum of availability," he said. Having different functions, software and staff to handle these elements separately is becoming less the norm.
Citing data from IDC's State of IT Resilience 2019 report, Kedem said by the end of 2019, digital transformation spending is expected to reach $1.7 trillion worldwide, a 42% increase from 2017. Many organizations are switching from legacy, on-premises infrastructure to cloud or hybrid.
United Airlines is one such organization. Julietta Pisano, managing director of DR and data center services at United Airlines, took the ZertoCon stage to talk about the airline's complicated, thousand-strong arsenal of applications. In describing the migration of some of those apps to the public cloud, Pisano agreed with Goodwin's claims about lowering IT complexity. She said she found Zerto's convergence of backup and DR into one tool to be helpful.
Zerto partners and customers at the conference discussed how businesses have far lower tolerance for downtime since the days of 24-hour RPOs and week-long RTOs. Lindsay Zwart, general manager and COO for US Microsoft Azure cloud business, said, "Latency requirements are being reduced significantly. People want zero downtime."
Joshua Surre, assistant vice president of infrastructure services at HCA Healthcare, said, "Today, you have to have resiliency built into your apps and think about it right at deployment because they can't be down for five or even 10 minutes."
During the keynote, Kedem mentioned strengthening relationships with its technology partners like Microsoft Azure and VMware, including joining the latter's VAIO framework. Zerto also added Rackspace to its list of partners. Goodwin noted this was an important and unsurprising move in order for the vendor to further develop capabilities like secure boot on VMware.
Both Goodwin and Naveen Chhabra, senior analyst at Forrester Research, were hesitant to lump use cases like analytics and migration under the umbrella of "IT resilience," but Mike Matchett, industry analyst at Small World Big Data, said no one will care what term is used as long as the problem or use case is solved.
"If Zerto navigates this properly, they don't go deep and say they're replacing backup, but rather they're replacing needs," Matchett said. "If you can create backups from the replicates on the back end and store those somewhere else, you can still solve the problem."