Nmedia - Fotolia
Blacktip uses AvePoint for Office 365 backup
Serving users who are mobile and not highly technical, MSP Blacktip turns to SaaS apps such as Microsoft Office 365 and Google G Suite. But those apps need protection.
With a large clientele of construction companies, Blacktip IT Services wanted to make sure none of its customers are ever constrained to a data center.
A managed service provider (MSP) managing IT for about 30 clients, Blacktip moved its customers to cloud-based infrastructure -- mostly Microsoft Office 365. Blacktip bundles Office 365 backup from AvePoint along with the core product.
"We've moved people away from their desks, so they can access their information as long as they have some kind of internet connection," said Matthew Bookspan, CEO of Blacktip.
Blacktip, based in Altamonte Springs, Fla., focuses mainly on architecture, engineering and construction businesses. The MSP specializes in small and medium-sized businesses and consists of a team of six full-time employees, five of whom are on the technical side of the organization.
Blacktip's clients use a variety of applications in the Microsoft Office 365 suite, including Exchange, Microsoft Teams, OneDrive and SharePoint. The company bought AvePoint for Office 365 backup in January 2019 to protect about 40 TB of customer data.
AvePoint replaced SkyKick, which Blacktip had been using since February 2016. Bookspan said SkyKick's licensing structure became cost-prohibitive as more of Blacktip's clients adopted SharePoint, which was an additional cost under SkyKick's fee model at the time. He projected his costs were going to quadruple, so he started looking elsewhere for Office 365 backup.
Bookspan considered other vendors before choosing AvePoint backup. He said Spanning had a nice product, but wasn't channel-friendly, and Datto Backupify did not cover all Office 365 applications. Blacktip does use Backupify in its portfolio, but Bookspan said it's currently deployed for its G Suite customers and not Office 365 users.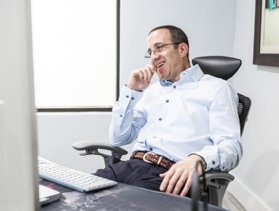 While shopping for a new Office 365 backup vendor, Blacktip used AvePoint Fly for migrating its customers to SharePoint, but not for backup. Bookspan learned that AvePoint supported all the Office 365 applications and services, and it will also cover new ones as they are released.
AvePoint's team also helped him put together a model of what an outsourced IT reseller like Blacktip would need to resell the product. This was what ultimately sold him.
"One of the reasons we left SkyKick is we didn't get that same level of care," Bookspan said. "We wanted to work with someone who wants to work with us."
Not a tech-savvy audience
Bookspan said he's glad he doesn't have to deal with regulatory or compliance issues in the world of construction, but the industry does have unique IT challenges. The first is the need for mobility, as it is often cumbersome to physically set up and power a data center and employee workstations at a building site. Bookspan said this challenge was mostly solved by moving his clients to Office 365, mobile devices like smartphones and tablets, and wireless hotspots.
The second challenge is educating clientele that is not always technically adept. Bookspan said his customers and his end users are experts at building buildings, but not necessarily at using computers. Moving to cloud-based infrastructure and mobile devices meant end users didn't have to log into VPNs or deal with file servers, which removes some of the complexity.
"In engineering and construction, the majority of the folks are not savvy," Bookspan said. "Our biggest burden is in the training and support of these folks."
We never wanted to be constrained to any physical location. We set up the infrastructure to be able to work from anywhere, anytime.

Matthew BookspanCEO of Blacktip
Even among tech-savvy buyers, there are IT professionals who still mistakenly believe Office 365 data does not need to be backed up by a third party. It would seem like a tougher sell to Blacktip's less technically inclined audience, but Bookspan has found a way to work around it.
Blacktip does not sell the core Office 365 product without AvePoint backup. Bookspan has found that the best way to sell the idea of Office 365 backup to his customers is to give the example of a disgruntled employee maliciously deleting files. Office 365's native backup capabilities wouldn't be able to restore those files.
"It is a little bit of preying on their fear, but these are true things that occur in construction," Bookspan said, pointing out how heavily the industry uses contractors.
Blacktip uses the same products as its customers to support its own business. The MSP has a similar need for mobility as its construction clients, as the Florida-based company has to frequently contend with adverse weather conditions.
"We never wanted to be constrained to any physical location," Bookspan said. "We set up the infrastructure to be able to work from anywhere, anytime."
Bookspan said he can confidently support and sell products to his clients, because they are the same products he uses for his own organization.
"We work in the same type of environment our clients do. We use the same networking infrastructure, phone systems and types of computers," Bookspan said.
Dig Deeper on Data backup and recovery software