cecs - Fotolia
Fujifilm offers subscriptions for tape-based object storage
AWS established Glacier as a cloud alternative to on-premises tape storage. Now Fujifilm positions its Object Archive to tape as an on-premises alternative to Glacier.
Fujifilm Recording Media U.S.A. Inc. is offering subscription pricing for the tape-based object storage software that it launched as an on-premises alternative to AWS Glacier for cold data.
The tape specialist's Amazon S3 API-compatible Object Archive became available in May. Fujifilm later added the novel subscription plan that bundles its software, business-day support, and tape media capacity for primary and secondary copies of the data.
Subscription term options are one year, three years or five years at pricing tiers of 1 petabyte (PB) to 10 PB, 10 PB to 50 PB, and 50-plus PB. Sample list prices to store 1 PB of data -- using 2 PB of tape capacity, for two copies -- are $35,940 for a three-year subscription and $46,100 for a five-year subscription.
"Because the tape media is included with the capacity license in the subscription, you have a predictable storage spend for your archive going into the future," said Chris Kehoe, head of infrastructure engineering at Fujifilm.
Complement to existing object storage
The Fujifilm Object Archive isn't designed as a replacement for the existing on-premises disk-based object storage that a customer might have, but rather, to complement it by archiving to cheaper tape media. Cloudian and Scality, for example, could automatically tier data from their disk-based object storage to the Fujifilm Object Archive, Kehoe said.
"If we look at object storage today, there's everything from very high IOPS for video editing down to the lower, less costly object storage," Kehoe said. "One is considered an active archive. What we're proposing is colder than object storage, for longer-term retention."
Target use cases for the Fujifilm Object Archive include data-intensive research, genomics, life sciences, analytics, oil and gas, high-performance computing and transportation applications. Fujifilm has a TCO tool on its website to help customers compare the cost to disk- and cloud-based storage.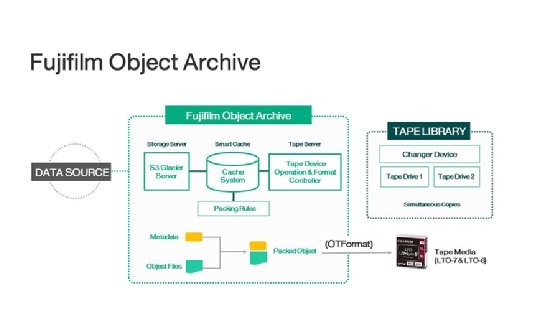 Tom Coughlin, president of storage consultancy Coughlin Associates, said object storage is a popular choice to archive data locally and in the public cloud, so it makes sense for Fujifilm to offer object storage on tape. He said the subscription pricing could be important for customers, enabling them to turn tape from a capital to an operating expense.
"Since using tape rather than HDDs lowers costs -- particularly the Opex cost -- it may make tape-based archives using object storage more popular to more data centers," Coughlin said.
Fred Moore, president at Horison Information Strategies, said the total cost of ownership for disk-based archives could be 5x to 8x higher than tape, so Fujifilm's tape archive holds out the potential for substantial savings. He said using an on-premises object storage for archives could also enable customers to eliminate the egress fees that the major public cloud providers charge to retrieve data.
Another potential advantage is faster data retrieval. Kehoe claimed the "time to first byte" with AWS Glacier's cold object storage could be two hours to 12 hours, but the on-premises Fujifilm Object Archive could deliver the first byte within a couple of minutes.
Kehoe said Fujifilm has large customers that have repatriated data from the public cloud back to on-premises storage and some that have moved data between cloud providers. But he said, over the long term, he expects to see "data move a little bit in each direction."
Other vendors also offer on-premises object storage archives on tape. For instance, Spectra's BlackPearl Object Storage Tape appliance supports an S3-like interface to move data into its object storage. But Fujifilm's Object Archive can run on any x86 server and use tape libraries from multiple vendors, including Spectra, IBM, Quantum, Oracle and Hewlett Packard Enterprise. Customers have a choice of Fujifilm's LTO-7 or higher-capacity LTO-8 tape media.
Fujifilm writes data to tape in its newly developed OTFormat that can pack small objects into larger objects to boost efficiency. Kehoe said Fujifilm developed the open file format to enable the system to handle objects natively on tape in a self-described manner. Customers see a bucket of objects in the same way they would in Amazon S3 object storage, Kehoe said.
Fujifilm is offering a free subscription to its Object Archive software for up to 500 TB through the end of the year. The trial does not include the tape media.
Dig Deeper on Archiving and tape backup