Manage
Learn to apply best practices and optimize your operations.
Always Adjust Defaults After Clean Install
As the release for Windows 10 Creator's Update nears, the pace of Insider Preview releases is accelerating. Just last week, I got stuck upgrading my desktop test PC to Build 15031 Enterprise. Ultimately, I performed a clean install of that build, plus its usual aftermath. But I got caught by an oversight when I could neither see nor grab Thursday's subsequent 15042 Build. Thus, I re-state the maxim that entitles this post: "Always adjust defaults after clean install."
What does that mean in this particular case? Alas, I forgot that a clean install of the Insider Preview automatically sets the build pace "Slow." But only users who opt into "Fast" pace get new Builds as soon as they're released. Slow users must wait until MS deems new releases stable enough for wider distribution. This led me down a few false trails before I found the real, dead-simple solution. My clean install was in the Slow group by default: toggling it Fast changed my status. Within minutes, I was happily downloading 15042; in under an hour it was installed and backed up.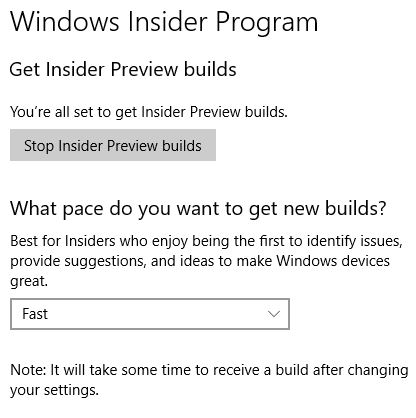 Just one small toggle switches Insider Preview pace from "Slow" to "Fast."
How Long Does the Switch-Over Take?
After selecting Fast as shown above, I wondered how long I'd have to wait for an upgrade offer. The "Note" at the end of the screencap hints at possible delay. So I waited 5 minutes, then tried my luck. I was pleasantly surprised when the 15042 update offer popped up. I was even more pleasantly surprised when I got through the entire upgrade process AND a complete system backup of the new build in under an hour.
If one can only remember things that need tweaking in the wake of a clean install, one can avoid such hiccups. The next time I do one, I'll create a checklist which I will post here. Please: stay tuned!