Lenovo powers new ThinkPad series with AMD Ryzen Pro processors
Lenovo brings AMD CPUs to its ThinkPad portfolio. AMD Ryzen Pro processors will appear in the T495, T495s and X395 ThinkPads, available in May and June.
Lenovo added three AMD-powered Windows 10 laptops to its ThinkPad T and ThinkPad X lineup. The Lenovo ThinkPad portfolio now includes the T495, T495s and X395, with up to the second-generation AMD Ryzen 7 Pro mobile processors with Radeon Vega graphics.
While Lenovo offers some entry-level laptops with AMD CPUs, the higher-end ThinkPad T and X series were exclusively Intel-powered until this release. Lenovo markets its T series for its durability, processing power and portability, while Lenovo highlights the thin and light designs of the X series.
Lenovo hopes the AMD Ryzen Pro processor ThinkPads will offer users an upgrade in performance and security without the cost associated with Intel.
The combination of AMD's second-generation Ryzen 7 Pro processor and its Radeon Vega graphics makes the notebooks efficient for productivity, dense multimedia workload and excellent screen display quality, according to the vendor.
Lenovo claimed the AMD-powered T and X series featured an 18% increase in performance compared with the previous generation.
While Lenovo promises a four-hour increase in battery life compared with its previous line of AMD A and E series ThinkPads, the AMD CPU's increased graphic performance resulted in a battery life decrease when compared with the T and X generation before. The Intel-powered T490s touts up to 20 hours of battery life, while the newer AMD T495s holds just up to 16 hours of battery life.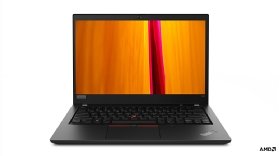 Lenovo's line of AMD ThinkPads also includes the following features and benefits:
Dual far-field microphones with 360-degree reception boost voice-over-IP conferencing performance in noisy environments.
The ability to use side mechanical docking allows self-leveling.
ThinkShutter covers the webcam for privacy.
An optional ThinkPad PrivacyGuard filter -- T495s and X395 models -- shields screen content from side viewers.
AMD Memory Guard, unique to the second-generation Ryzen Pro processers, provides protection against cold boot attacks and provides OS- and application-independent DRAM encryption.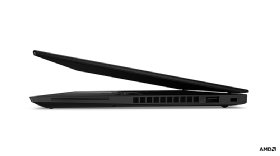 Lenovo plans to release PrivacyAlert in the following months, which automatically enables PrivacyGuard if it detects someone looking over a user's shoulder.
The T495s and X395 models measure under 17 mm in thickness and weigh under three pounds. Despite their thin build, the laptops underwent an additional G-force crash hazard shock procedure to guarantee durability, according to Lenovo.
AMD released its second-generation Ryzen Pro processors last month, featuring 12 nm architecture and a thermal design power of 15 W, making the processor line suitable for powering lightweight laptops.
The ThinkPad T495 starts at $939 and is expected to ship in May, while the T495s and X395 both start at $1,089 and ship in June.