Nmedia - Fotolia
Compare the top vendors of thin client systems
Explore some of the top thin client systems currently on the market -- based on industry, cost and data usage -- to help you make the right buying decision.
The market for thin client systems is robust, with quite a few brands to choose from, so admins must conduct a thorough comparison before making a final decision.
The major thin client vendors include large enterprises that offer thin clients as part of their extensive product lineups, as well as smaller businesses that specialize in producing this type of computer.
Thin client systems are simple computers designed to get all their software and files from a centralized server. The shape of the client depends on how and where it will be used. There are desktop thin clients and others that look like laptops and tablets. Some of the companies that produce this type of device offer many designs, whereas other vendors offer only a few or just one.
The right thin client provider depends quite a bit on the size of the planned installation. A small or medium-sized business might have trouble getting attention from HP Inc. or Dell Inc., but it could be just right for IGEL Technologies GmbH or NComputing Co. Ltd.
Conversely, a corporation that requires 50,000 thin clients might be more than a smaller provider can handle.
"We have customer deployments in excess of 120,000 thin clients and growing," said Damon Muzny, who works in corporate communications at Dell. In contrast, IGEL's largest installation is 30,000 clients.
Advantech Co. Ltd.
While many thin clients are designed for office use, Taiwanese company Advantech produces models intended for use in industrial settings, such as on factory floors and in warehouses. These are all-in-one units, with a touchscreen taking the place of a keyboard and mouse.
Screen sizes on these devices range from 5 to 17 inches. The thin clients are functional in temperatures ranging from -4 degrees to 140 degrees -- -20° to 60° C. Advantech also offers IP66 enclosures, so the thin clients are dustproof and able to resist even powerful jets of water.
Asus
Taiwanese multinational company Asus makes virtually every type of computer and related accessory. Their technology includes a wide variety of thin clients, which they refer to as Mini PCs.
For example, the Asus VivoMini PC UN65U is a desktop that is compatible with Citrix XenDesktop VDI. It integrates with various Intel processors, plus it has four USB ports, two video ports and a storage card reader built in. Prices range from $386 to $669.97.
Asus also makes zero clients for VMware, Citrix and Microsoft virtual desktop environments. It offers all-in-one models and desktops, as well.
Editor's note
Using extensive research into the thin client market, TechTarget editors focused on the vendors that lead in market share, as well as those that offer traditional and advanced functionality. Our research included data from TechTarget surveys, as well as reports from other respected research firms, including Gartner and Forrester.
Centerm Information Co. Ltd.
Centerm is a top thin client supplier in the Asia-Pacific region, except Japan. It's based in China.
The company offers zero clients, as well as desktop thin clients running either ARM-based processors or x86 processors. Centerm also makes some all-in-one devices -- thin clients built into displays. Retail is a popular industry for this type of computer.
Google Chromebooks
Desktop thin clients have been popular in classrooms, but Chromebooks are starting to replace them. Chromebooks are mobile thin client systems that run the Chrome OS created by Google. Chromebooks are only capable of running a web browser, but that browser can run a wide variety of other software that is accessible from servers.
A number of companies license the Chrome OS, including HP, Dell, Acer Inc., Asus, Lenovo Group Ltd. and Samsung. Most of these vendors make multiple models of thin clients.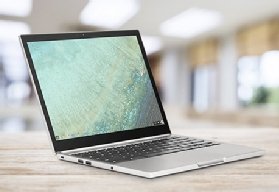 The main advantage of Chromebooks is cost. Because their processor, RAM and storage requirements are modest, Chromebooks sell for much less than a comparable Windows laptop. Beyond that, schools don't have to give each student his or her own computer. Instead, individuals can use any Chromebook to sign into their account and gain access to their cloud-based applications and files.
Companies that want mobile thin clients also frequently turn to Chrome OS. Employees who can do their jobs with Google's G Suite productivity applications or who need access to information that is available in a web browser are good candidates for Chromebooks.
Dell
In 2012, Dell acquired Wyse, a pioneer in client/server computing, making it a significant part of the thin client market. As a result, Dell installs almost one million units each year for a multitude of industries.
Among Dell's options is the Wyse 5000 and 7000 series thin clients. These desktop models are the purest type of thin client, with no local storage. However, that doesn't mean they lack other features. For example, the Wyse 7020 is configurable with up to four display ports and six USB ports.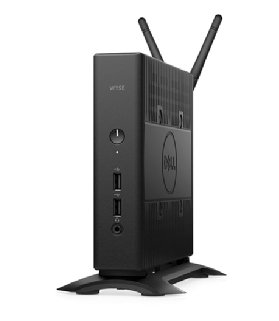 Dell also has a selection of desktop offerings in the thin client category. The Wyse 3030 ($419) has an Intel processor, four USB ports and two video ports, while at the opposite end of the spectrum is the Wyse 7040 ($1,049.0), which offers a Core i5 or Core i7 chip, six USB ports and two video ports.
Dell doesn't neglect the mobile thin client market, but it has fewer products in this category than its rival HP. One of its offerings is the Inspiron Chromebook 14 ($599.99), a convertible tablet/laptop.
"Wyse offers a simplified thin client portfolio that delivers performance and more than a thousand configurations to ease the task of asset management without restricting customization," Muzny said.
Fujitsu Ltd.
Fujitsu is a large corporation that creates a wide array of products for businesses, including Futro desktop thin client systems. In addition, the company can configure its rich client mobile devices with VDI software. The Japanese company supports Windows 10 IoT Enterprise Edition, Windows Embedded Standard 7 and Linux eLux.
Fujitsu thin client offerings range from the Futro S520, which has an AMD 1.20 GHz processor, eight USB ports and two video ports, to the Futro S940 ($365), which has an Intel 2.8 GHz processor, up to 14 USB ports and two video ports.
Hewlett Packard
HP is a big player in the thin client market. It installs roughly one million units each year. Not surprisingly, it makes multiple versions of almost every device.
There is a range of HP desktop thin clients designed for use in an office. These range from the basic HP t430, which has an Intel 2.40 GHz processor, three USB ports and a pair of video ports, all the way to the top-of-the-line HP t730, which offers an AMD 3.6 GHz quad-core chip, nine USB ports and four video ports.
In the mobile thin client market, HP offers options such as the Chromebook 14, as well as laptops like the HP mt21 that offer a choice of VDI options. There is also the HP ElitePad 1000 G2, a tablet that runs Windows Embedded.
While complaints about HP's hardware are common, there are some people who find it acceptable. For example, the HP t430 is just $249, but, according to user reviews, it doesn't offer the same build quality as HP's much more expensive consumer PCs. Reviews of the $600 HP mt21 notebook criticize the dim screen, but users otherwise seem to find the device well-suited as a mobile thin client.
The most frequent complaint about HP thin client installations is difficulty reaching tech support. As with any large multinational corporation, customers seeking assistance have to work their way through various levels of the support structure, with the lowest tier apparently receiving minimal training.
Because HP offers so many thin client systems, its products are in virtually every type of organization, including banking, government, education, sales and aerospace companies.
IGEL
Europe-based IGEL offers desktop thin clients and zero clients that run either Microsoft Windows 10 IoT or its own version of the Linux OS.
IGEL is best known for thin client hardware, and it offers a broad range of devices. For example, its high-end UD7 ($816) runs on a 1.6 GHz dual-core AMD processor and supports up to three monitors.
But IGEL is putting an increasing focus on its VDI software. One result is the IGEL UD Pocket, a miniature USB drive that holds a version of IGEL's Universal Desktop software. It can plug into almost any PC and turn into a thin client.
"I can walk into my Aunt Mabel's kitchen, plug my UD Pocket into an x86 device, boot to the USB key and, suddenly, that PC laptop is a thin client," said Simon Clephan, VP at IGEL. "The second I pull that plug out, that machine goes back to exactly what it was before. There is nothing local."
LG Electronics USA Inc.
Another large corporation that offers thin clients is LG. The Korean enterprise primarily makes all-in-one desktops that have thin clients built into 24- or 38-inch displays.
Prices for these thin clients start at $1,562.99. These tools include AMD processors, four USB ports and two video ports so users can connect additional monitors. Instead of using a hard drive, LG uses flash memory from its thin clients, which then saves onto a central server.
LG also makes the LG 14ZT980-G ($2497.99), a laptop thin client with a 13.8-inch screen.
Lenovo
Lenovo is another enormous enterprise with global reach. The China-based company currently offers two thin client devices, as well as tablets, PCs, desktops and all-in-ones.
The Lenovo ThinkCentre M625 ($585) is a desktop that can run either Windows 10 IoT Enterprise or Linux LeTOS. It uses an AMD processor and has six USB ports and a video port. It's possible to configure these thin clients with additional ports, as well.
NComputing
NComputing integrates its compute sticks into client/server products. The company used to design its own chips and client hardware, but the R&D costs were heavy, and it was taking up to two years to develop a new thin client. This led the company to take a different route.
"Two years ago, we embarked on a journey to basically turn a Raspberry Pi 3 device into a commercial, reliable enterprise thin client," said Richard Sah, chief technology officer at NComputing.
The Raspberry Pi computers that NComputing's thin clients are based on are inexpensive, so it offers some of the cheapest options available. For example, NComputing's RX300 comes in at about $99.
NComputing still offers other desktop thin clients, as well as a variety of software options, including Microsoft Remote Desktop Services, Citrix and its own proprietary Verde VDI.
Star of the Sea Catholic School and DHL Peru are among the organizations that have installed NComputing thin clients. Schools and SMBs are typical examples of its client base. Over the past 10 years, NComputing has installed about six million thin clients in such organizations, according to Sah.
Raspberry Pi
The most basic type of desktop thin client is a compute board. This is a very simple device consisting of a carrier board with CPU, RAM, storage and ports. Raspberry Pi famously specializes in producing computers of this type. These are inexpensive, costing perhaps 10% of the price of a typical desktop thin client without the enclosure.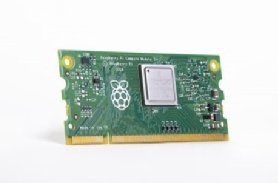 That doesn't mean they don't have decent specifications. For example, the Raspberry Pi 3 Model B+ ($34.99) offers a 64-bit, 1.4 GHz quad-core processor, Wi-Fi and Bluetooth, Ethernet, four USB ports, and an HDMI port.
Even so, Raspberry Pi's computers aren't designed with thin clients specifically in mind.
"We've been lucky that our standard feature set is a good match for the requirements of this market," said Eben Upton, the creator of Raspberry Pi.
When asked what VDI software he recommends using with his micro PCs, Upton said, "Citrix Receiver is the best-optimized client software, and Citrix has built up a great ecosystem around the platform. We usually encourage people who want to use Raspberry Pi as a thin client to look in that direction."
Samsung
A handful of desktop thin client systems are among the huge array of products Samsung offers to both consumers and businesses. Its NX Series Tera2 is a zero client with six USB ports and a single display port. The Korean company also offers a few all-in-one thin clients.
In addition, Samsung offers nearly a dozen Chromebook models, including both laptops and convertible 2-in-1s. These have screens that near 12 inches in size and use a variety of Intel processors.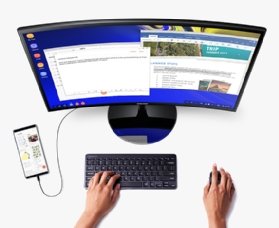 But that's only part of the story. Samsung suggests that companies replace their PCs with its most powerful smartphones. The Samsung DeX software enables an Android OS phone connected to a screen, keyboard and mouse to also function as a desktop. "It's time for IT departments to take a hard look at the costs and time required to support what are increasingly duplicative infrastructures," Samsung said in a DeX white paper. "If you are able to transition early to mobile-only, the cost savings and increased focus obtained are significant."
The primary drawback of DeX is limited software; while Microsoft Office and other powerful applications are available for Android, users can only have one document from each app open at a time.
Siemens AG
Germany-based Siemens makes industrial thin clients designed to compete directly with Advantech's offerings. Designed for warehouses, factories and rugged conditions, this type of thin client is ideal for manufacturing industries.
Siemens' all-in-one thin clients have touchscreens that range in size from 12 to 22 inches. They can also withstand temperatures of up to 122 degrees (50°C), making this the perfect hardware to install in control centers with uncertain conditions. These thin clients are available either as stand-alone products or with several control stations, depending on the industry and use case.
10ZiG Technology
Unlike its larger rivals, 10ZiG specializes entirely in producing thin clients and zero clients. This U.S.-based company offers multiple desktop models, but no mobile models. 10Zig's devices are compatible with Microsoft, Citrix, VMware and Parallels VDI software.
The base-model 10ZiG 4400 ($315) series thin client uses an Intel 1.33 GHz dual-core processor and includes four USB ports and two video ports. Those looking for something more powerful might choose the 10ZiG 7800q series (starting at $739.99) with 2.4 GHz quad-core processor, eight USB ports and two video ports.
10ZiG gets high marks from its customers, which include the Clark County, Nevada District Attorney and Krispy Kreme.
Dig Deeper on Virtual desktop delivery tools