Gajus - Fotolia
Physicians harness Healow televisit capabilities
The eClinicalWorks Healow app came to the aid of two healthcare provider organizations during the COVID-19 pandemic, which caused most healthcare organizations to rapidly transition to virtual care.
Though no health system could have prepared for the changes brought on by the COVID-19 pandemic, two small healthcare provider organizations found themselves in a position to handle the rapid shift to virtual care.
Grove Medical Associates in Auburn, Mass., and Rainbow Pediatric Center in Jacksonville, Fla., have used the Healow televisit app since 2017. Healow, from EHR vendor eClinicalWorks, is integrated directly with the EHR system. The app allows providers to conduct telehealth visits, and enables direct messaging with patients and remote patient monitoring. It also allows patients to access their personal health information, such as lab results, as well as schedule visits or request prescription refills.
David Weinstock, a primary care physician at Grove Medical Associates, said if the organization hadn't already implemented the app and been able to start using its telehealth capabilities this year to see patients, he doesn't know if the organization's doors would be open today.
"The fact that we were limited in who we could see -- we had to lay off a lot of staff, unfortunately," Weinstock said. "During that time, if I didn't know we had Healow and had a connection to our patients through the app, I don't know if we would've survived. There was so much uncertainty with healthcare in general, so that connection piece was invaluable to a private practice."
While the Healow televisit app became a saving grace for Weinstock this year, he said its foundation sits on three years of building patient engagement.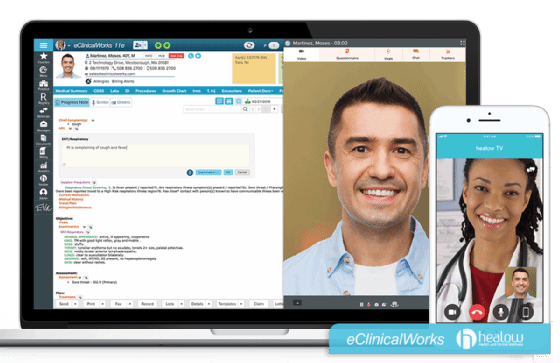 The Healow televisit
Grove Medical Associates is a six-provider primary care and internal medicine practice that serves about 8,000 patients. Weinstock said when the organization first went live with the Healow televisit app three years ago, providers used it primarily to communicate with patients.
When COVID-19 hit in March, it only took them a few days to begin using the app's telehealth capabilities.
"As soon as Healow came out, we tried to get all of our patients active in using the app," Weinstock said. "Healow is our preferred communication [method] for the patients, which allowed us to quickly convert to using Healow as a medium for telemedicine when COVID-19 started in March."
Prasanthi Reddy, M.D., said she experienced a similar change in the way her team used the Healow app this year at the 15-provider Rainbow Pediatric Center. The organization began using the app in late 2016 for the telehealth component and treating pediatric patients with ADHD. Reddy said when COVID-19 hit in March, the team made the decision to conduct all their visits virtually through the Healow televisit app. The transition took only a couple of days because the team was already well-versed in using the app for telehealth visits, she said.
Because the Healow app is part of the EHR, scheduling televisits, conducting the appointment itself and preparing post-appointment documentation are streamlined, Reddy said.
The majority of patients were looking for that as soon as that fear of COVID came around -- they all appreciated we were there for them by televisit.

Prasanthi Reddy, M.D.Rainbow Pediatric Center
"The majority of patients were looking for that as soon as that fear of COVID came around -- they all appreciated we were there for them by televisit," she said. "Almost overnight, we went from most if not all of our sick patients being seen by televisit."
The reliance on telehealth during COVID-19 is something healthcare systems across the nation have experienced. Amwell, a leading telehealth services vendor, saw a 400% increase in telehealth use during the early months of the pandemic. Grove Medical Associates' Weinstock said increasing access to virtual care is not only allowing patients to receive treatment from home during a pandemic, but also demonstrating the value of staying connected to patients and keeping them engaged in an ongoing conversation about their health.
Strengthening patient engagement
Though the Healow televisit app proved its value during the height of the pandemic, Weinstock said another benefit has been improving his connection to and engagement with patients.
Weinstock said when Grove Medical Associates first began using the Healow app, it was primarily for communication with patients. The organization relied on the patient portal for years to provide health information to patients. Patient portals are a secure way for patients to log into their EHRs and view their medical information. However, Weinstock said the organization saw the Healow app as the next step to keeping patients informed and getting them engaged.
Patients can securely send direct messages through the Healow app to their providers and providers can communicate with patients about their healthcare, including referrals, refills, updates to their health and general questions. Weinstock said the app is part of the organization's daily routine and workflow, and patients have appreciated the quick response they're able to receive from providers through the app.
Shannon Miller, an advanced practice registered nurse at Rainbow Pediatric Center, said direct messaging is the app's most important capability, enabling quick communication with both pediatric patients and their parents.
"Parents can use a fingerprint and easily log into the app and any time of day send us a question," she said. "That's an incredibly useful tool, and a quick means to directly talk to the parent."
Weinstock said the app has been a critical way for providers to engage with patients, and the value of that increased patient engagement has shown this year, as patients have become increasingly more aware of their health over the last six months. Having the Healow app helped Grove Medical Associates field many questions related to COVID-19 and stay in touch with patients through the pandemic.
"The key was engagement for the patients; we're a patient-centered group," he said. "We have more of a relationship with patients and having them engage in their own health through the app. I think it's just one more level of interaction for patients to physicians that takes it to the next level, which is what we all in primary care want."
Dig Deeper on Healthcare IT systems and applications