maxkabakov - Fotolia
Box security gets a boost with built-in Shield
Shield will provide additional security options for Box content. Attendees at BoxWorks consider how this feature could integrate with IT's existing security tools.
SAN FRANCISCO -- Box shops will have the ability to get granular with a new built-in Box security feature, but organizations will have to find a role for the tool alongside their other security platforms.
Box Shield, which was introduced at the file-sharing company's annual conference, BoxWorks, will detect anomalies and risky user behavior within Box. Experts here discussed the potential behind Box Shield and how it might integrate with existing security and identity management tools within businesses.
"Security is such a tough problem," said James Sinur, vice president at Aragon Research, based in Morgan Hill, Calif. "I haven't found any security software that covers all aspects of it."
How Box Shield works
Box Shield has three main functionalities: smart access, anomaly detection and a content firewall.
Where I think [Box] will make their contribution is by adjusting policies.

James Sinurvice president at Aragon Research
Smart access enables end users and IT admins to classify Box files according to their level of confidentiality. Then, IT admins can apply policies based on those classifications.
Anomaly detection helps IT to discover compromised accounts and identify access abuse. For example, if an end user accesses Box from Guatemala and downloads large amounts of data, Box Shield will flag that as risky behavior.
The content firewall feature can go beyond two-factor authentication to verify external users and check the security of devices.
IT can also use Box Shield to uncover historical data about a user's activity and access analytics about their behavior.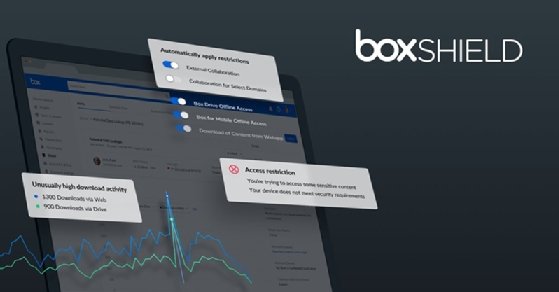 Box Shield tries to play nice with other security
Sinur said he expects customers to use Box Shield in conjunction with other security platforms.
"Where I think [Box] will make their contribution is by adjusting policies that govern those pieces of [content]," he said.
Box is well-known for a plethora of integrations with third-party platforms -- from Google and Slack to Microsoft and Okta. The company is already identifying places where Box Shield would integrate with other cloud access security broker (CASB) services, CEO Aaron Levie said in a press conference. Customers with an existing security information management tool, for example, would be able to use Box Shield in conjunction with it, he said.
An IT security analyst at a financial institution who wanted to remain anonymous was very interested in the new tool. His company already has several security technologies in place, such as Symantec and Okta, and would use Box Shield in addition to those services, he said.
"From a nonmanaged versus managed device, it would help us keep track of what's going in and what's going out based off of the device control," he added.
Box Shield, however, would potentially replace the company's current mobile device management platform, MobileIron.
"It would frequently push certificates out and start managing our CASBs," he said. "We would use Box to help identify patterns in data movement."
Pricing concerns
Pricing details aren't yet released, but organizations will have to pay an additional cost for Box Shield, according to the vendor.
Pencils of Promise, a nonprofit organization in New York, is interested in Box Shield -- but only at an affordable cost, said Ben Bromberg, senior manager of data systems at the nonprofit.
"It does seem like the sort of thing that an organization like mine would appreciate, but I have a suspicion that it would be at a price point that would be out of our reach," he said.
Box Shield will be available in private beta later this year, the company said.