alotofpeople - Fotolia
Samsung unveils three midrange phones
Samsung's midrange Galaxy A52, A52 5G, and A72 come with additional security and more Android OS updates. The phones will be available internationally first.
Samsung has launched three phones in its midrange Galaxy A series, touting better security, improved battery life and extended device support.
The company started selling the Galaxy A52, A52 5G and A72 in markets outside the U.S. on Wednesday. Samsung did not provide a U.S. release date. Internationally, the A52 costs 349 euros ($415), the A52 5G is 429 euros ($510), and the A72 is available for 449 euros ($534).
The A52 5G is the only 5G-capable device among the three phones introduced this week at Samsung's Unpacked virtual event. The other two are 4G LTE devices.
The company announced that all new phones, including the latest three, would get the next three Android OS versions instead of only two. The company had reserved the additional update for its flagship S series. In February, the company increased the number of years its new phones would receive security updates, from three to four.
Gartner analyst Tuong Nguyen said the additional security would keep phones safe from threats at a time when people hold on to their devices longer.
All three phones feature AMOLED displays. The A52 has a 6.5-inch screen, and the A72, 6.7 inches. While both screens have a 90 Hz refresh rate, the A52 5G screen refreshes at 120 Hz, like the S series.
The displays lessen the possibility of eye strain through a feature called Eye Comfort Shield, which lowers the amount of eye-fatigue-inducing blue light. The protector is off by default and activated through the settings menu.
According to Samsung, the phones' batteries will power the devices for two days. The phones extend battery life by automatically switching to power-saving mode while the user sleeps.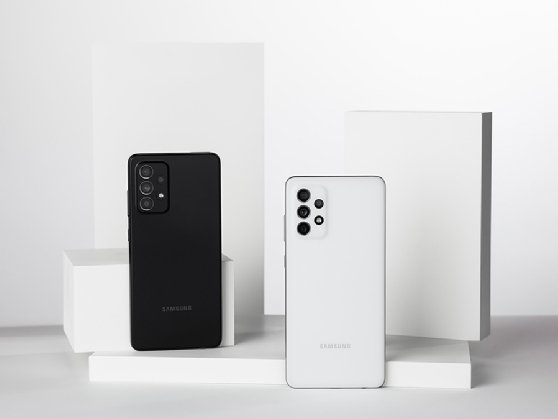 Each phone has a 64-megapixel primary camera and three other cameras on the rear, in addition to a 32-megapixel front-facing camera.
At the Unpacked event, Samsung said its A series was the bestselling family of Android devices in 2020. The midmarket line's success reflects a more price-conscious consumer base. Last year, people bought fewer new phones than in 2019, but more used phones.
Nguyen said the latest announcement is a continuation of Samsung bolstering less-expensive phones with high-end features, like better cameras and higher-quality displays.
"They've been talking about this for a long time," he said.
Mike Gleason is a reporter covering end-user computing topics such as desktop management. He previously covered communities in the MetroWest region of Massachusetts for the Milford Daily News, Walpole Times, Sharon Advocate and Medfield Press. He has also worked for newspapers in central Massachusetts and southwestern Vermont and served as a local editor for Patch. He can be found on Twitter at @MGleason_TT.
Dig Deeper on Mobile operating systems and devices