IBM MaaS360 built a voice-based AI assistant into their email app
With the MaaS360 Assistant, potentially increase employee mobile productivity.
With more companies pushing to get their digital voice assistant into the enterprise, I've spent time looking into whether they're ready yet. Alexa for Business and Apple's Siri might be two of the biggest names, but they aren't the only options—a new one from IBM just popped up at the end of July.
IBM MaaS360 announced their AI assistant for the enterprise employee, built into their unified endpoint management solution: the MaaS360 Assistant. This intrigued me, so I reached out to the IBM MaaS360 team to learn more.
MaaS360 overview
The MaaS360 Assistant was designed to respect employee privacy and enterprise security. The AI assistant remains contained within the MaaS360 container, reducing the chance of data leakage, and admins can always restrict access further through policies.
This is the latest integration of digital assistant technology into the UEM platform. Back in October 2017, Jack covered the addition of Watson to MaaS360, as the admin-oriented "Insights Advisor," and in June the company added a few more features.
This time around, they've built in a digital assistant that is employee-facing, handling productivity tasks like checking email and scheduling meetings. It can also find email attachments, which piqued my interest the most, as I hate having to dig through an email chain just to find the latest version of a document.
You can access the AI chatbot while in the email and calendar views of the MaaS360 container app, without exiting either. You'll see a small button at the bottom of the screen, and selecting it activates the Assistant. It then uses iOS or Android's talk to text function to transcribe your request, allowing you to review what you said before proceeding.
A basic voice assistant with an interesting future
The MaaS360 Assistant handles only basic productivity tasks for now, but the MaaS360 team revealed some upcoming roadmap features: Instead of employees pinging the help desk for relatively simple questions, the Assistant can provide MaaS360 specific answers, like email app issues.
Alongside planned integration with other apps made by IBM, they're looking into communication with other enterprise apps (both homegrown and publicly available). To make this work and keep everything secure, the enterprise apps will need to use a MaaS360 SDK. This would give the digital assistant some access outside the MaaS360 container, but again, IT could set policies to restrict communication or outright prevent it.
The most interesting feature on the roadmap, to me, was Insights. The team says the MaaS360 Assistant would learn and offer you advice, such as noticing you hadn't responded yet to an important email and offering a simple reminder. I saw a short demo where the AI chatbbot sent a pop-up message notifying the user that they had two unanswered emails from a favorited contact.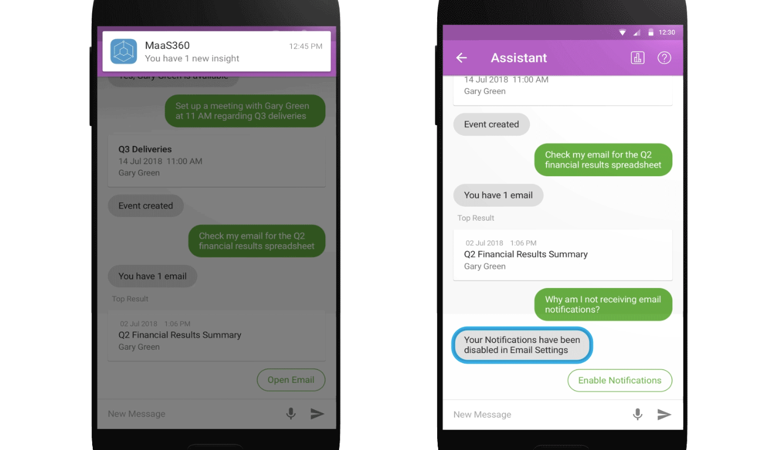 With Microsoft and Amazon working on allowing their voice assistants to communicate with each other, Jack and I wondered whether that might be a possibility here, too. I was told that there's currently no plan to allow communication between their voice assistant and another, but would consider it if there was sufficient interest and a viable use case for doing so.
Yet another voice assistant for enterprises
As the first voice assistant inside of a UEM platform, the MaaS360 Assistant is an interesting option for companies to consider as they decide whether to add voice assistants into the office. The digital assistant field is becoming more crowded by the day and companies need to find a way to stand out, and offering a more secure voice assistant is definitely one way to do that.
For now, you can only use the assistant to handle some basic productivity tasks, meaning it's behind the likes of Alexa for Business, Cortana, and Google Assistant. Still, security remains a big worry for organizations, so we'll be keeping our ears to the ground to see if companies start using the MaaS360 Assistant over other chatbots already available.
The MaaS360 Assistant officially debuted this week on iOS and Android, and is available to all current MaaS360 customers that have Secure Mail functionalities for no added cost.