Breaking down AI-infused Oracle Autonomous Cloud services
Oracle offers a variety of AI-infused cloud services that it says will automate common administrative and operational tasks for users. Here's a look at what's available now.
Oracle has enhanced a number of its cloud services with machine learning and AI to automate key operational tasks....
Continue Reading This Article
Enjoy this article as well as all of our content, including E-Guides, news, tips and more.
Although these new Oracle Autonomous Cloud services vary widely, they all offer automation features that Oracle describes as self-driving, self-securing and self-repairing.
The self-driving features automate administrative operations, including provisioning, security, monitoring, backup, recovery and troubleshooting. With these features, Oracle Autonomous Cloud can also automatically increase or decrease compute or storage resources without incurring downtime.
The self-securing capabilities include intelligent, adaptive cyber threat detection and remediation, in addition to automatic security patching and data encryption. Oracle Autonomous Cloud's self-repairing features ensure up to 99.995% availability and include automated protection from downtime, resulting in less than 2.5 minutes of downtime per month, according to Oracle.
To date, Oracle Autonomous Cloud services cover the following areas: analytics, application development, application and data integration, data management, mobile and bots, and security and management.
Analytics
The Oracle Analytics Cloud Service automates data discovery, data preparation and the analysis of key findings from corporate data. It also provides automated visual insights that highlight points of interest within the data.
Oracle has enhanced a number of its cloud services with machine learning and AI to automate key operational tasks.
In addition to machine learning, the Analytics Cloud Service offers predictive analytics to uncover business insights. It also provides an interactive dashboard that enables users to view, model and analyze data, as well as work with visualizations and collaborate with other users.
Application development services
The application development category includes services to manage applications and API development. The services automate artifact discovery, dependency management and the identification and remediation of security issues. They also support one-click code generation. This category includes the following services:
Autonomous Visual Builder Cloud Service allows users to create and deploy web and mobile applications. It provides a web-based visual development environment that's built on top of a complete development and hosting platform. It guides users through the process of building apps, relying heavily on drag-and-drop operations to configure features and connect to data sources.
Autonomous API Platform Cloud Service provides lifecycle API management services that support Agile API design and development across hybrid cloud and on-premises environments. It supports designing, prototyping and testing the APIs, while also providing key performance indicators that span the entire API lifecycle.
Autonomous Blockchain Cloud Service provides a platform to build blockchain networks to support secure transactions, as well as to track global supply chains. The platform is built on the Linux Foundation's Hyperledger Fabric and comes preassembled with the components necessary to build and run distributed ledgers.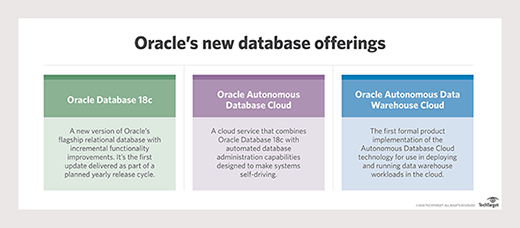 Application and data integration services
The services available in the application and data integration category automate business processes across on-premises and SaaS applications. They can also automate data lake and data prep pipeline creation, as well as populate data catalogs. The category supports two services.
Data Integration Platform Cloud includes features to move, replicate and synchronize data; perform extract, load and transform operations; and maintain data quality. The service can work with both on-premises and cloud-based data sources and can use machine learning and AI to extract value from the data.
Oracle Autonomous Integration Cloud integrates applications using a combination of machine learning, automation, best practices and prebuilt flows to integrate and monitor applications. The service provides a visual development environment to define business objects, integrate data and incorporate business processes.
Data management services
The data management category includes only the Oracle Autonomous Database Cloud service. Since its inception, this service has focused primarily on delivering cloud-based data warehousing capabilities.
Autonomous Database Cloud was the first of Oracle's cloud services to offer self-driving features, making it possible to deploy a data warehouse in minutes without having to worry about tuning, optimizing or ongoing maintenance.
Autonomous Database Cloud is built on the Oracle Exadata platform and allows storage and compute resources to be scaled independently. Oracle plans to add support for online transaction processing workloads sometime in 2018, as well as support for NoSQL and graph databases.
Automation is built into the service at all levels, eliminating the need to manually provision, monitor, secure, back up or restore databases.
Mobile devices and bots
The mobile and bots category also only includes one service, Oracle Autonomous Mobile Cloud Enterprise. This service provides an open platform to develop, deliver, analyze and manage mobile apps and AI-based chatbots.
Both the apps and chatbots can connect to and extend backed systems without compromising enterprise security. At the heart of the service is a mobile application development platform that supports both front-end and back-end development.
Autonomous Mobile Cloud Enterprise includes built-in support for such features as push notifications, data syncing and location services. The service also offers software development kits for iOS, Android, Windows and JavaScript mobile apps, as well as configurable connectors that define API-related policies.
In addition, Mobile Cloud Enterprise tracks usage, conversation and engagement metrics to provide behavioral analytics. Plus, self-learning chatbots make it possible to automate frequently performed end-user actions.
Security and management
Oracle Management Cloud includes a suite of administrative services that automate managing, monitoring and securing applications and infrastructures. The service includes preventative controls that can intercept data leaks across structured and unstructured data sources, in addition to automatically managing performance and security monitoring.
The Management Cloud service includes prebuilt machine learning algorithms that support such operations as detecting behavioral anomalies, using pattern recognition to reduce clustering noise, performing what-if analysis, and discovering topologies, dependencies and relationships among IT assets. The service also makes it possible to analyze complex application environments, while also eliminating infrastructure and end-user data silos.