Sinisa Botas - Fotolia
What are the types of requirements in software engineering?
Requirements fall into three categories: business, user and software. See examples of each one, as well as what constitutes functional and nonfunctional kinds of software requirements.
A comprehensive set of requirements is crucial for any software project. Requirements identify the product's business needs and purposes at a high level. They also clarify the features, functionality, behaviors and performance that stakeholders expect.
Software requirements are a way to identify and clarify the why, what and how of a business's application. When documented properly, software requirements form a roadmap that leads a development team to build the right product quickly and with minimal costly rework. The actual types of software requirements and documents an IT organization produces for a given project depend on the audience and the maturity of the project. In fact, organizations often draft several requirements documents, each to suit the specific needs of business leaders, project managers and application developers.
Let's start with a look at several different types of requirements in software engineering:
Then, explore common types of software requirements documentation, as well as tried-and-true characteristics to help define requirements.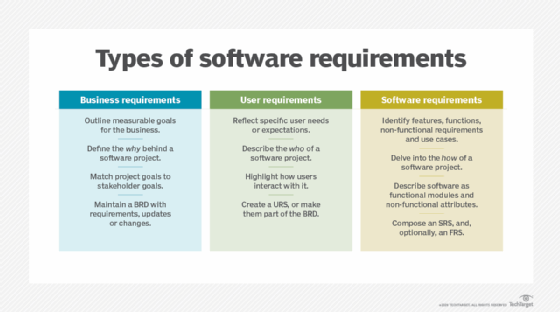 Dig Deeper on Software development lifecycle
Though machine learning and neural networks are both forms of AI, neural networks are a specific type of ML algorithm. Learn more about their ... Continue Reading
Some enterprises avoid the public cloud due to its multi-tenant nature and data security concerns. Learn what data separation is and how it can keep ... Continue Reading
There are advantages and disadvantages to using NAS or object storage for unstructured data. Find out what to consider when it comes to scalability, ... Continue Reading