Sergey Nivens - Fotolia
Google buys AppSheet for low-code app development
Google has bought AppSheet, maker of a low-code platform that line-of-business employees can use to create cross-platform mobile applications.
Google has acquired low-code app development vendor AppSheet in a bid to up its cloud platform's appeal among line-of-business users and tap into a hot enterprise IT trend.
Like similar offerings, AppSheet ingests data from sources such as Excel spreadsheets, Smartsheet and Google Sheets. Users apply views to the data -- such as charts, tables, maps, galleries and calendars -- and then develop workflows with AppSheet's form-based interface. The apps run on Android, iOS and within browsers.
AppSheet, based in Seattle, already integrated with G Suite and other Google cloud sources, as well as Office 365, Salesforce, Box and other services. The company will continue to support and improve those integrations following the Google acquisition, AppSheet CEO Praveen Seshadri said in a blog post.
"Our core mission is unchanged," Seshadri said. "We want to 'democratize' app development by enabling as many people as possible to build and distribute applications without writing a line of code."
Terms of the deal were not disclosed, but the price tag for the low-code app development startup is likely far less than Google's $2.6 billion acquisition of data visualization vendor Looker in June 2019.
Under the leadership of former longtime Oracle executive Thomas Kurian, Google Cloud was expected to make a series of deals to shore up its position in the cloud computing market, where it trails AWS and Microsoft by significant percentages.
So far, Kurian has not made moves to buy core enterprise applications such as ERP and CRM, two markets dominated by the likes of SAP, Oracle and Salesforce. Rather, the AppSheet purchase reflects Google Cloud's perceived strength in application development, but with a gesture toward nontraditional coders.
As for why Google chose AppSheet to boost its low-code/no-code strategy, one reason could be the dwindling number of options. In the past couple of years, several prominent low-code/no-code vendors became acquisition targets. Notable examples include Siemens' August 2018 purchase of Mendix for $730 million, and more recently, Swiss banking software provider Temenos' move to buy Kony in a $559 million deal.
It's not as if Google, Siemens and Temenos made a long shot bet, either. A survey released last year by Forrester Research, based on data collected in late 201, found that 23% of more than 3,000 developers surveyed reported their companies were already using low-code development platforms. In addition, another 22% indicated their organizations would buy into low-code within a year.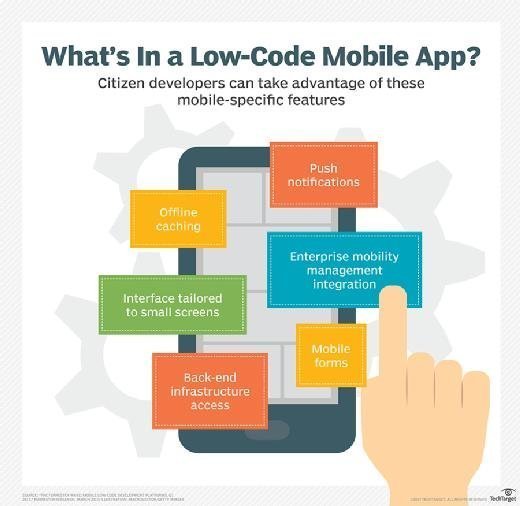 Low-code competition heightens
Google's AppSheet buy pits it directly against cloud platform rival Microsoft, which has the citizen developer-targeted Power Apps low-code app development platform that has taken off like a rocket, said John Rymer, an analyst at Forrester. The acquisition of AppSheet also sets Google apart from cloud market share leader AWS, whose alleged super-secret low-code/no-code platform that was said to be under development by a team led by prominent development guru Adam Bosworth has yet to appear.
However, in AppSheet, Google is getting a winner, Rymer noted. "It's a really good product and a really good team," he said.
Moreover, the addition of AppSheet will help Google get more horsepower out of Apigee than just API management. The company wanted a broader platform with more functionality to address more customers and more use cases, Rymer said.
"So, I think they will be positioning this as a new platform anchored by Apigee," he said. "Customers could use Apigee to create and publish APIs and AppSheet is how they would consume them. But they won't stop there. They need process automation/workflow, so I would expect them to go there as well."
AppSheet gives Google the potential to craft a more cohesive story that integrates that with Google Cloud and Anthos in the future.

Jeffrey HammondAnalyst, Forrester
Meanwhile, another key benefit Google gains from this acquisition is the integration that AppSheet already has with Google's office productivity products, said Jeffrey Hammond, another Forrester analyst.
"G Suite has always felt a bit out of place to me at Google's developer conferences, but it used to be one of the main 'leads' for the enterprise," he said. "AppSheet gives Google the potential to craft a more cohesive story that integrates that with Google Cloud and Anthos in the future."
Overall, this acquisition is yet another indication that low-code/no-code development has gone mainstream and the number of people building applications will continue to grow.