Getty Images/iStockphoto
Docker Desktop pricing changes in bid to boost revenue
Docker Desktop is now part of all Docker subscriptions, including a new Business tier with added security, but enterprise users of the free version will have to start paying.
Docker Desktop pricing has changed, along with Docker's license subscription packages, a move the vendor says will shore up its sustainability as a business.
Docker license subscription packages include a combination of products that developers use to create and ship containerized applications, such as Docker CLI, Docker Compose, Docker BuildKit, and Docker Engine. Previously, a free version of Docker's software was accompanied by three tiers of paid subscriptions: Pro, an individual user license priced at $5 per user per month; Team, which requires a minimum of five users and costs $7 per user per month; and Large, for teams of 500 or more, with pricing that was not made public. Docker Desktop was separate, but free.
Now, Docker Desktop will be added to all Docker packages, including the Personal version that will replace the previous Free edition. The Large edition will be replaced with a new Business tier, for 50 or more users, priced at $21 per month. For-profit organizations with more than 250 employees and more than $10 million in annual revenue must purchase a commercial Docker subscription to use Desktop under new terms of use effective today and enforced by Jan 31.
"The updated terms for Docker Desktop reflect our need to scale our business sustainably and enable us to continue shipping new value in all Docker subscriptions," wrote Docker Inc. CEO Scott Johnston in a company blog post announcing the changes this week.
Impact of Docker Desktop change uncertain
Docker reps estimated that at least 51% of Desktop users will qualify for Personal use; approximately 10% of existing users will be affected by this change, company officials said. The software has 5 million monthly users in total. The Personal license, like the Free version, includes unlimited public repos, Docker Engine and Kubernetes support and a limited number of image pulls per day.
Still, the company did not disclose exactly how many users of Docker Desktop will have to purchase at least a Pro-level subscription to continue. Any Docker Desktop user with a paid Docker subscription will be entitled to the software.
The easy decision is just to move to $5 per month. We view that as a positive trend, because we don't have to worry about whether Docker will be around in five years or 10 years.

Michael BryzekCo-founder and CTO, Flow.io
"I don't think it'll make much of a change for most people already using it," said Larry Carvalho, an independent cloud computing consultant. "I doubt there are that many companies with $10 million in revenue scrounging for that low a price."
However, there will be at least some users pushed into a Pro subscription by the update. At least one of them has already taken it in stride.
"The easy decision is just to move to $5 per month," said Michael Bryzek, co-founder and CTO at Flow Commerce, an international shipping company in Hoboken, N.J. "We view that as a positive trend, because we don't have to worry about whether Docker will be around in five years or 10 years."
Business tier boosts security features
The new Business tier of the Docker subscription, like the previous Large version, provides invoice-based pricing, add-on services and custom support. The Business tier, priced at $21 per user per month, includes a new security feature introduced this week called Image Access Management, along with centralized SaaS management for multiple Docker development environments. Existing Large users will not see a pricing change but will get Docker Desktop bundled with their licenses.
Image Access Management adds policy-based controls to Docker Desktop that enterprise administrators can use to restrict the container images developers can use to only those Docker designates Official Images or images by Verified Publishers. These are image verification programs the vendor launched for its Docker Hub container registry earlier this year. SAML single sign-on support and remote management for Docker desktop instances are on the near-term roadmap for the new edition.
Bryzek said he's open to considering the Business tier, despite its greater cost than the other subscription tiers.
"Our No. 1 spend is on cloud [infrastructure], and it dwarfs every other spend that we have -- a lot of other spend that we have is a rounding error on the cloud expense," he said. "Whether we choose to spend $5 or $21 per employee, it's going to be one of the smallest IT contracts we have in the company."
With software supply chain security making headlines and technical solutions to that problem still nascent, a feature like Image Access Management may be worth the higher price, Bryzek added.
"Here's one of the biggest attack vectors that we're seeing in the industry right now, that's very difficult to get a handle on," he said. "But there's tooling available from Docker now to at least know that container images are ours, and by the way, it's very easy to do -- we don't have to change our infrastructure or build, we just have to sign up for a service from Docker."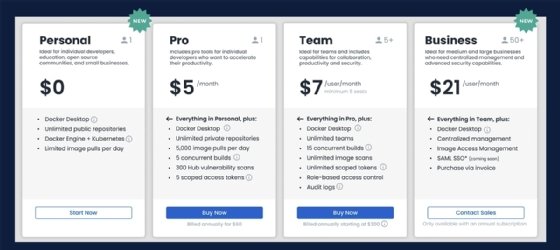 Docker must show value of new Business tier
The threefold difference in price between Teams and Business may prompt some Docker users to investigate whether that money might be better spent on a product from a container security specialist, Carvalho said.
"Clarity in what a customer will get by going from $7 to $21 is more important than the price difference," he said. "But once the folks with a Team subscription really want to go all in with Docker Desktop, they could justify the additional fee to get these features."
Docker's Business tier pricing is in line with GitHub's pricing for Enterprise subscriptions. And while products from vendors such as Aqua or Docker partner Snyk cover a much wider range of functions than container image management, they break down to more than $21 per user per month for a 50-person team, and are focused primarily on hosts, rather than developer desktops.
There are also free open source alternatives users could turn to for container image policies, such as the Open Policy Agent. But companies must also weigh the cost of performing and maintaining that integration themselves against buying a prepackaged set of services from Docker, said Stephen O'Grady, an analyst at RedMonk, based in Portland, Maine.
"DIY" was popular in the early days of DevOps. But now, enterprises are looking for vendors to create logical groupings of tools that are convenient for developers to use, so they can deliver core features faster without worrying about cobbling together their own toolchains, O'Grady said.
"Price changes are always a fraught subject, but a lot of businesses can't throw money at the developer experience problem fast enough," he said. "I'm sure some [developers] will be irritated, but if you ask businesses, in many cases, if they determine the tool improves the developer experience, they'll be OK with it."
In the meantime, given Docker already divested from one open source-based product with the spinoff of Docker Enterprise two years ago, its stated goal of ensuring sustainability may raise questions in the industry about the health of its business. The company is privately held and does not publicly disclose financial results.
"That will be a question Docker will contend with," O'Grady said. "We'll see what customers make of it."
Beth Pariseau, senior news writer at TechTarget, is an award-winning veteran of IT journalism. She can be reached at [email protected] or on Twitter @PariseauTT.
Dig Deeper on Software development lifecycle