Fotolia
5 ways NVMe storage benefits your business
Increased performance and reduced latency aren't the only benefits of NVMe flash storage. Find out other advantages, such as allowing more VMs on a physical server.
NVMe started out as a host controller interface designed to quickly transfer data between a host computer and a target SSD using a PCIe bus. The goal was to cut latency, improve performance, provide parallel I/O and maybe even reduce power consumption, among other NVMe storage benefits. But the technology has evolved into much more.
NVMe storage technology is now commonplace in the enterprise. Most of the major vendors and a handful of startups are selling NVMe flash storage arrays. By 2021, IDC predicts, NVMe-based storage will be generating more than half the revenue associated with primary external storage shipments.
But it's taken some time for the technology to get established. As late as the end of 2018, industry experts were saying that most enterprises didn't need to make a wholesale switch to NVMe flash storage. But that's changing as businesses require faster, more efficient storage for AI and other applications, and the full range of NVMe and NVMe over fabrics capabilities emerge. Most major storage vendors have adopted NVMe drives in their all-flash arrays, and are adding the ability to extend NVMe over networks.
What follows is a look at five NVMe storage benefits to consider as you plan the future of the technology in your business.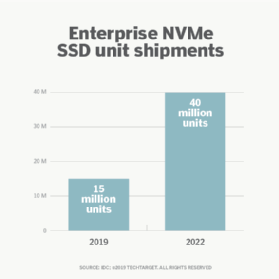 1. The network fabric advantage
NVMe is more than a high-performance host controller interface for direct-attached SSDs. It has evolved into a storage architecture that covers everything from small client SSDs to a cloud-scale SSD pool. And with the emergence of NVMe over fabrics (NVMe-oF), enterprises can use common storage fabrics to extend NVMe storage benefits across their IT infrastructures.
NVMe-oF supports Fibre Channel, RDMA and TCP/IP protocols. The addition of NVMe/TCP last year was particularly helpful to enterprises, making it possible to use NVMe over standard Ethernet networks with commodity Ethernet interfaces without having to do any reconfiguration or add extra equipment.
NVMe-oF hasn't taken off in the enterprise yet, in part because vendors have been slow to add front-end NVMe-oF support to their arrays. That is likely to change in the near future.
Check out the three key questions to ask when implementing NVMe-oF.
2. The AI and NVMe connection
NVMe is gaining a foothold in the enterprise partly because of the increasing use of AI. NVMe can provide the storage performance that AI applications need much more efficiently than slower, SCSI-based storage.
Today's AI and machine learning applications are all about speed, processing data much faster than in the past. They also rely on much larger data sets, particularly to train smart system algorithms. AI and machine learning tools can require the scanning of millions, and even billions, of small files. NVMe provides the bandwidth and low latency these demanding workloads need, making it a mainstream option for AI storage.
NVMe can do this because its command set requires less than half the number of CPU instructions to process an I/O request than SCSI and ATA command sets. NVMe supports 64,000 commands in one message queue and as many as 64,000 queues. A SAS device, on the other hand, supports only up to 256 commands per queue and SATA supports up to 32 commands.
Get more details about NVMe and AI and how they can work together.
3. More I/O, more VMs
Another way NVMe storage benefits enterprises is by enabling more virtual machines (VMs) on a physical server. Virtual systems with high VM-to-physical-server ratios have significant I/O loads. NVMe and NVMe-oF can provide the I/O capabilities needed to meet those demands. And as vendors address the storage software latency issues discussed below, even higher densities of VMs per physical server will be possible.
Get the lowdown on other performance and workload issues involved with making a move to NVMe.
4. Exposing other weaknesses
NVMe is doing one other thing to infrastructure that may not be an immediate benefit to enterprises, but could turn out to be one in the future. By eliminating storage media latency, it's exposing the latency issues in other parts of the storage architecture, particularly the storage software.
Enterprise storage systems are made up of media, the network and storage software, each of which can contribute to latency issues. However, as NVMe flash storage eliminates media latency, issues associated with other parts of the storage architecture become much more visible. This is made clear by the fact that most storage systems today are able to deliver only a fraction of the total raw performance of the NVMe drives they use.
Instead of looking at storage as a place where data goes to sit for long periods of time, NVMe is turning storage into an extension of data center memory, eliminating extra steps and inefficiencies.
NVMe-oF will eventually eliminate latency issues associated with the storage network, leaving the software as the main latency culprit. George Crump offers three possible workarounds to deal with storage software latency, but he acknowledges that none of them are perfect. Crump suggests rewriting storage software to be highly parallelized and rewriting storage algorithms to take advantage of the high core count of today's CPUs and the low latency of storage media. Both of these steps could be beneficial across the enterprise infrastructure.
5. Rethinking storage and memory
A final NVMe storage benefit is in the way the technology has fundamentally changed how IT managers view storage and memory. Instead of looking at storage as a place where data goes to sit for long periods of time, NVMe is turning storage into an extension of data center memory, eliminating extra steps and inefficiencies.
See what industry experts have to say about this concept and others related to the future of NVMe in the enterprise.