Artur Marciniec - Fotolia
Zadara Storage Inc. VPSA OPaaS 15.07
Zadara Storage's Virtual Private Storage Array (VPSA) On-Premise as a Service (OPaaS) offers on-demand, enterprise-grade block and file storage, based on OpenStack technology.
Bronze winner in the Storage magazine/SearchStorage.com 2015 Products of the Year Storage System Software category.
The June 2015 release of Zadara Storage Inc.'s Virtual Private Storage Arrays (VPSA) On-Premise as a Service (OPaaS) packed in enough substantial new features to merit the bronze award in the storage system software category.
Zadara Storage provides on-demand, enterprise-grade block and file storage -- based in part on OpenStack technology -- with dedicated resources on-premise, in the cloud or in multiple locations. The company's VPSA OPaaS version 15.07 added support for snapshot-based backup to Amazon S3-compatible targets, multi-zone high availability (through geographically distributed replication across a metropolitan area network), Microsoft's Volume Shadow Copy Service (VSS) and Docker containers.
Zadara Storage COO Noam Shendar told SearchStorage that the company integrated the Docker container capability to enable customers to run applications or arbitrary code within the storage system rather than at the server.
"Think of this as hyper-convergence backwards. Instead of running compute with storage inside the compute, this is storage with compute inside the storage," said Shendar.
Scoring from the judging panel rated Zadara's VPSA OPaaS in a tie for first place for value as well as ease of use and manageability, in third place in both innovation and performance, and tied for third in functionality among the 13 finalists in the category.
"Clever, useful, effective cloud-based service -- public, private and hybrid -- makes it quite innovative, especially with the guaranteed [quality of service] QoS," said one judge.
Another judge said the Zadara Storage product ranks high in the areas of integration and ease of use, with remote management capabilities for on-premise storage, and will work well for select enterprise users.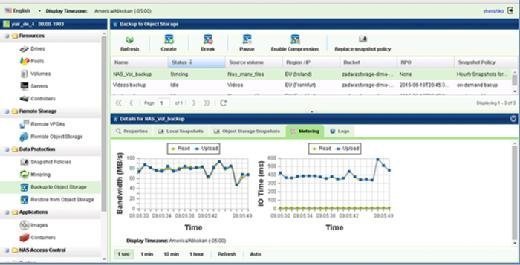 Zadara Storage delivers the storage system to the customer site at no cost, and after the storage is racked and connected, contacts the system via external network to configure it based on the user's needs. The Zadara system handles monitoring, management and maintenance. The software supports iSCSI Extensions for RDMA (iSER) to boost performance and reduce latency.
Customers consume the storage via a Web-based interface and pay based on consumption. Pricing starts at $0.01 per GB per month for a fully managed, on-premise system, inclusive of hardware, software, remote monitoring and management, support and service-level agreement.
Next Steps
Online shopping site closes deal with Zadara adoption
Zadara Storage software helps with data management
Docker containers take a Zadara spin