jules - Fotolia
Datrium storage software adds AWS cloud backup
Datrium DVX 4.0 adds enterprise features such as AWS' cloud backup and recovery service, Oracle RAC support, VM fault tolerance and FIPS 140-2 security validation.
Datrium has upgraded its DVX software with new enterprise features, including a cloud-based backup and recovery option for DVX on-premises storage systems. Other new enterprise features in DVX 4.0 include enhanced virtual machine fault tolerance, support for Oracle Real Application Clusters and increased security.
The new Datrium storage software's Cloud DVX runs on Amazon's Elastic Compute Cloud (EC2) and protects virtual machines (VMs) running in DVX storage. Datrium previewed the service last November at the AWS re:Invent conference.
A Datrium storage system consists of DVX Compute Nodes and DVX Data Nodes. The DVX software deduplicates and compresses data on each Compute Node and then globally deduplicates it across all Compute Nodes before storing it on the Data Nodes. The data remains in reduced form when replicated to AWS. If multiple DVX systems replicate to Cloud DVX, the software globally deduplicates the data across all of them to further reduce the footprint.
The storage system includes a one-year Cloud DVX trial subscription. The complimentary subscription, available through Sept. 30, includes 1 TB of AWS capacity, but it doesn't cover Amazon subscription fees. Datrium, based in Sunnyvale, Calif., claims the subscription would actually protect up to 6 TB, because the DVX software compresses and globally deduplicates the data before storing it in AWS S3 object buckets.
The list price for Datrium DVX 4.0 is $12,000 per Compute Node or server. The Cloud DVX recovery service costs $6,000 per 5 TB of Amazon S3 capacity per year. Cloud DVX is only available on AWS.
Open converged infrastructure
Datrium described its DVX product as "open converged infrastructure," rather than hyper-converged infrastructure, because the DVX Compute Nodes are stateless and scale independently of the DVX Data Nodes.
The Datrium storage system supports up to 128 Compute Nodes and 10 Data Nodes. With on-premises deployments, customers can supply their own front-end x86 servers, buy DVX Compute Nodes or use a combination of the two. The Compute Nodes require a solid-state drive to enable the flash cache to accelerate data reads. DVX Data Nodes use flash or disk drives. Flash drives aren't required for the AWS-based Cloud DVX.
How Cloud DVX works
Administrators use the on-premises DVX GUI to specify which VMs to protect, how frequently to protect them, how long to retain them and where to replicate them. With the latest product release, they can indicate they want to replicate to Cloud DVX if they have an AWS account.
Datrium uses the AWS Lambda service to spin up the EC2 resources, configure networking, and complete the replication pairing between Cloud DVX and the on-premises DVX system, according to Tushar Agrawal, director of product management at Datrium.
Datrium DVX uses a log-structured file system, so there's no need for data conversion to use the AWS S3 object storage. As VMs write new data, DVX collects the multiple writes, or blocks, into an object. The system writes the object to one or more data nodes as an erasure-coded stripe with on-premises deployments and to a large S3 object in the cloud, said Hugo Patterson, Datrium's vice president of engineering.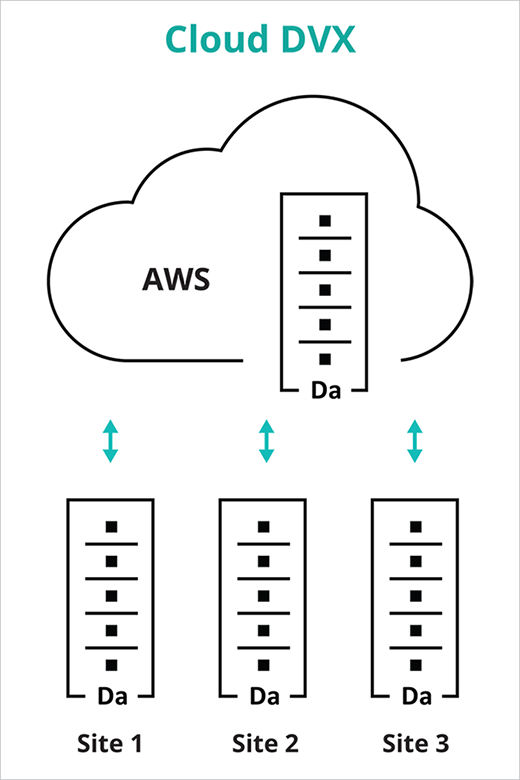 New DVX features
Datrium's new Peer Cache Mode in DVX 4.0 enables VMs to stay online if the host's RAID controller or all of the host's SSDs fail. The Peer Cache feature lets the VMs use the SSDs on a neighboring host until the affected host's RAID controller or SSDs are back online.
Datrium DVX 4.0 validates support for Oracle Real Applications Clusters (RAC) running on a four-node VMware vSphere cluster. The Datrium storage system supports the loss of three of the four nodes without any effect on data availability.
DVX 4.0 also adds FIPS 140-2 validation to the Datrium Blanket Encryption feature of data at rest and in flight. The Datrium software also lets users set two decryption passphrases to minimize the risk of losing access to data in the event the systems administrator forgets the passphrase or leaves the organization.
The vendor also added built-in auditing capabilities to monitor Datrium storage systems, view events and track user actions through the DVX console.
"We currently have auditing built into other systems, and we actually have other applications doing auditing. But if I can get everything right there from vCenter, to me, that's one-stop shopping. So, I don't have to go to multiple places to get that auditing data," said Gilbert Martin, director of infrastructure at VPay, which has been using Datrium storage since January to augment its NetApp systems.
Martin said VM fault tolerance and security are other new DVX 4.0 features he considers important for VPay, a business-to-business payment service provider based in Plano, Texas.
"Our payment systems are real-time, so uptime and availability [are] very important to our business," he said. "And the better encryption, the better off we all are. That's definitely a plus for us."
DVX 4.0 also includes a Python-based software development kit that uses REST-based APIs to enable customers to automate functions, such as snapshots, clones and replication. Datrium expects the new development kit to particularly appeal to service providers.
George Crump, founder and president of Storage Switzerland, said Datrium is "filling some necessary holes" with DVX 4.0. New features, such as Oracle RAC and the software development kit, would appeal to different segments of Datrium's customer base, he said.
"The Peer Cache Mode has a lot of value. The fact that you don't have to have a VM totally shut down and be rebooted like you would in, say, a Nutanix cluster is a pretty big deal," Crump said. "Frankly, I think that Nutanix is going to have to figure out a way to respond to it."
Datrium's main competitors are hyper-converged infrastructure vendors Hewlett Packard Enterprise's SimpliVity, Nutanix and VMware vSAN, according to Crump.