Olivier Le Moal - Fotolia
Broadcom preps for NVMe over Fibre Channel with Brocade gear
Broadcom ships its first Brocade FC switching products and updates SAN management for NVMe with the goal of making Fibre Channel the fabric of choice for NVMe storage.
Broadcom has released two Brocade Fibre Channel switches and SAN automation capabilities designed to ease organizations'...
Continue Reading This Article
Enjoy this article as well as all of our content, including E-Guides, news, tips and more.
transition to NVMe over Fabrics.
The launch included the first Fibre Channel products since Broadcom completed its $5.9 billion acquisition of Brocade in November 2017. It increases the Brocade platform's suitability to run NVMe over Fibre Channel (FC-NVMe) in anticipation of NVMe becoming the dominant enterprise flash protocol.
"Today flash is the dominant storage story," said Scott Shimomura, head of product marketing for Brocade switching. "We believe NVMe will take over the news cycle and become important for customers as they consider their infrastructure for where they see flash evolving to."
Brocade has added a new G630 128-ports switch and a 64-port blade for its X6 Director switch that began shipping in 2016. The 2U G630 is Brocade's highest density switch, surpassing the 64-port 2U G620 switch.
The FC32-64 Port Blade allows the X6-8 Director -- the largest X6 Director -- to scale to 512 ports with eight blades. The blade supports NVMe, as well as current Fibre Channel and Fiber Channel over Ethernet protocols.
The new switch and director blade support 32 Gbps connectivity, which Brocade and host bus adapter vendors call Gen 6 Fibre Channel.
Brocade also added software optimization to reduce latency for its FC switching, DevOps-related automation and enhanced sensors that monitor network health and performance of NVMe traffic.
The NVMe support isn't new for Brocade FC switching. Its Gen 5 (16 Gbps) switches supported NVMe. But to have full NVMe over Fibre Channel across an entire storage area network requires Gen 6 host bus adapters and NVMe-ready storage arrays. Broadcom's Emulex and Cavium QLogic HBAs support NVMe, but there are no NVMe-ready storage arrays shipping yet from major vendors.
Dell EMC is shipping the Brocade G630 switch today, and Shimomura said he expects other array vendors to follow. Still, he said, it may take 18 months before all the major vendors have NVMe storage arrays. NVMe support will become a competitive issue when those arrays start rolling out, he predicted.
"Once the first storage array comes out, I think you'll see a fire lit under the rest of the industry to follow as quickly as possible," he said.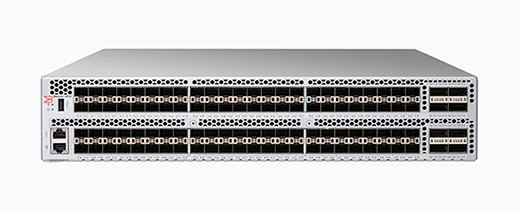 Will NVMe over Fabrics open up FC?
Shimomura said the new software optimization involves how the switches handle forward error correction and recover from bit errors. The new monitoring capabilities gather IO and latency information for NVMe that the old switches didn't detect. That information helps provide health and performance monitoring.
The automation uses open source technology to orchestrate repetitive tasks. They include REST APIs that provide fabric inventory, provisioning and monitoring; Brocade PyFOS that uses Python scripting for SAN management; and Ansible integration for orchestration. The open source technology works with Brocade Fabric Operating System and Brocade SAN management platform software.
The REST APIs work with Brocade's storage partner management software. The PyFOS scripts make calls to the APIs and Ansible to automate deployment, management, provisioning and monitoring tasks.
"We're bringing Fibre Channel into the open world," Shimomura said of the automation. "We're bringing information out of the Fibre Channel SAN and pulling it into other types of reporting. That makes it easier, so it's not just the storage team that can do it. DevOps covers many areas outside of storage."
NVMe over Fibre Channel isn't the only fabric option
With this launch, Brocade is setting the stage to help its customers move to NVMe over Fibre Channel as NVMe becomes an option in solid-state drives and throughout the network. Brocade and Cisco are the only Fibre Channel switching vendors.
Since the rise of flash in enterprise storage arrays, Brocade executives have preached the effectiveness of Fibre Channel for solid-state storage. While other emerging storage technologies such as hyper-convergence and cloud are Ethernet-driven, all-flash arrays are a staple of SANs where Fibre Channel thrives.
But FC-NVMe isn't the only option for running NVMe over Fabrics. NVMe-oF, using remote direct memory access, provides non-Fibre Channel options such as RDMA over Converged Ethernet (RoCE) and Internet Wide-Area RDMA Protocol (iWARP) for Ethernet and InfiniBand.
In most cases, the best option for organizations is to stick with the network protocol they already use, said Russ Fellows, senior partner and analyst at Evaluator Group.
"You don't have to change," Fellows said. "There are multiple choices for NVMe over something. If you love Ethernet and are all in on Ethernet, then RoCE version 2 probably will work fine. Stay on that path. If you're a big fan of Fibre Channel, NVMe over Fibre Channel will work fine, so follow that path. Same with InfiniBand. The last thing people want to do is make a wholesale swap. Use whatever protocol you like, and whatever you're most comfortable with."
Brocade is following the same Fibre Channel path for NVMe as it does for other Fibre Channel protocols, such as Fibre Channel Protocol for SCSI drives and FICON for mainframes.
"The dirty secret is, there's virtually nothing new here" in the Brocade launch, Fellows said. "Even Gen 5 switching supports NVMe. And that's good for end users because you don't have to go switching out a whole bunch of gear for NVMe."