Dario Lo Presti - Fotolia
Cisco MDS 9700 switches prep for 64G Fibre Channel NVMe-oF
Cisco's MDS 9000 networking products include SAN directors and switches. SAN Analytics adds support for NVMe over FC protocol and Ansible automation modules for storage tasks.
Gearing up for adoption of non-volatile memory over fabrics, Cisco upgraded its multilayer MDs network switches to help shops transition to the next generation of Fibre Channel block storage.
Cisco will add line cards for the Cisco MDS 9700 family for in-place hardware upgrades and an extension of Cisco SAN Analytics to support the NVMe protocol.
The new Cisco MDS 9700 switching hardware enables data centers to run multiple Fibre Channel (FC) generations in the same chassis. Other new features include Ansible modules that automate deployment of storage tasks for VMware vSAN, device aliases and zoning.
Cisco said it plans to ship 64G line cards for MDS-9706, MDS-9710 and MDS-9718 Director switches by the end of 2019. The new cards are timed in advance of 64 gigabit per second FC, also known as Gen 7 FC. A data center can install the Cisco line card to run 64 Gbps FC concurrently with existing 16-gig and 32-gig traffic.
MDS 9700 switches are part of the Cisco MDS 9000 product line, which consists of large networking devices that centralize the management of storage traffic at the switch level. Cisco MDS 9700 products launched in 2013, around the time NVMe flash media emerged as a contender to SATA-based SSDs.
Cisco follows Brocade
The latest Cisco MDS product update comes nearly 18 months after similar products hit the market by SAN switching rival Brocade, now part of semiconductor giant Broadcom. Broadcom and Cisco are the only large vendors who sell FC network switches and are positioning those devices for NVMe over FC implementations. There are also Ethernet and InfiniBand options for running NVMe over Fabrics (NVMe-oF).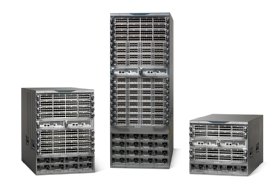 FC technology delivers a high level of lossless performance, while NVMe offers a quantum boost in network latency by routing traffic across PCI Express lanes. The combination is expected to have broad appeal to data centers with applications demanding extreme high performance.
Reengineering the Cisco MDS 9700 required a lot of work to avoid "rip and replace" scenarios, said Scott Sinclair, an analyst for storage at Enterprise Strategy Group, an IT research firm in Milford, Mass.
"There is a big desire to transition storage networks to NVMe, and the Fibre Channel community is making it insanely easy to do. Cisco had to do a lot of hard work to make this transition seamless, and that will help companies save a ton of money over the long haul," Sinclair said.
Data centers can adapt existing FC technologies for NVMe via a software upgrade. FC has fewer hurdles to NVMe adoption than Ethernet-based remote direct memory access memory technologies, which include RDMA over Converged Ethernet and Internet Wide Area RDMA Protocol. Another NVME fabric option is TCP/IP, a server-native functionality popular with hyper-scale cloud providers.
Enhanced troubleshooting
Onboard telemetry is native to all Cisco MDS 9000 switches. The latest iteration of the software is designed to capture high-fidelity reads of all traffic, including traditional SCSI block messages and data sent via NVMe-oF. The tool allows admins to slide back one hour at a time to pinpoint trouble spots with networks or storage.