Greg Blomberg - Fotolia
Cisco MDS FC Director switches expand with eye on NVMe
Networking giant Cisco adds two MDS FC Director switches for small and medium-sized businesses. The vendor said it wants to speed transition to 32 Gbps FC for NVMe flash.
Cisco today released a pair of Fibre Channel SAN switches aimed at midsize businesses, along with automated diagnostics to simplify testing and troubleshooting of network fabrics.
The new gear is part of Cisco's effort to position Fibre Channel (FC) customers to take advantage of the higher bandwidth of NVMe-based flash fabrics, although vendors have yet to start selling products based on the technology.
The products are part of the line of Cisco MDS 9000 Director multilayer storage switches. The new gear includes the 1U Cisco MDS 9148T and the MDS 9396T. The fixed configurations support FC, SCSI and nonvolatile memory express (NVMe) flash traffic across the same link.
Cisco's autonomous switches are built to support 32 Gbps FC connectivity, which networking vendors generally refer to as Gen 6 FC. The 1U 9148 comes with 24 ports for entry-level SANs Customers can expand to 48 ports in eight-port increments.
The Cisco MDS 9396T switch starts at 48 ports and scales in 16-port increments to 96 ports. Use cases include midlevel SAN environments and pod-based data centers. When deployed across two racks, a 9396T can serve as a middle-of-rack switch or connect to an end-of-row MDS Director 9700 platform in a private cloud.
Software enhancements include automatic zoning that detects login activity and creates a dedicated zone for hosts and targets to communicate. The vendor added onboard telemetry in MDS to stream data directly to the switch in 2017.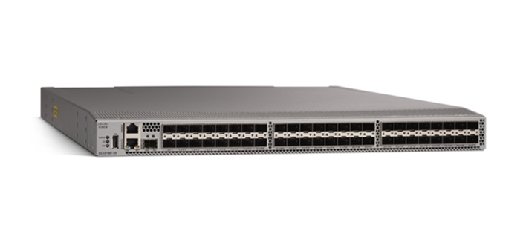 Cisco automates FC setup for SMBs
Adarsh Viswanathan, a Cisco senior manager of product management and marketing, said the latest line of switches helps ease deployment of dense, virtualized compute and storage stacks.
"We're replacing the manual process involved in zoning a SAN fabric. Our software is smart enough to identify which is the host device and which is the target," he said. "We're doing this for the small commercial market primarily. We can provide them with Ethernet-like plug-and-play connectivity as they add servers and storage capacity."
Cisco concentrates more on Ethernet storage than Fiber Channel and usually lags its FC-centered rival Brocade -- now owned by Broadcom -- in moving to newer FC technologies. Broadcom this month introduced FC SAN switches to help customers move seamlessly to NVMe.
Cisco said shipments of its new switches start in August.
"We have historically been about a year and a half behind our competitors in bringing new [FC] products to market. With this release, we're only a few weeks behind," Viswanathan said.
Automation tools should enable Cisco to better support customers that want to use FC as fabric for NVMe flash, said Brad Casemore, a research vice president for the data center networks practice at IT analyst firm IDC.
"That certainly seems to be the direction to serve the large installed base of Fibre Channel customers. Many storage administrators depend on Fibre Channel for its reliability and lossless capabilities. In that respect, Cisco feels it has to continue to support the technological curve with the latest and greatest," Casemore said.
Tools added to the Cisco MDS Diagnostics suite include a link cable beacon that sends troubleshooting data about SAN fabrics directly to a host bus adapter, a switch-initiated Read Diagnostic Parameter to run operational tests on edge-connected devices and automation to move congested workflows to less crowded interswitch links.