kovaleff - Fotolia
Quantum Xcellis unwraps NVMe-powered StorNext NAS
Quantum upgrades its StorNext file system to bolster file sharing and replication on Xcellis NVMe flash appliances. It's the first product release under new CEO Jamie Lerner.
Quantum is adding nonvolatile memory express to its Xcellis NAS appliances through a partnership with software-defined flash storage startup Excelero.
The Quantum Xcellis NVMe models come in 48 TB, 96 TB and 132 TB capacities. The Xcellis gear runs the new 6.2 version of Quantum's StorNext file system, which includes enhanced FlexSync file synchronization and cross-protocol file locking for NAS and SAN.
The NVMe specification is designed for flash storage. NVMe reduces compute overhead by replacing iSCSI commands, and it speeds the performance of SSDs by moving closer to the processor.
Quantum said it improved its quality of service with enforceable quotas, and it added an Amazon S3-capable interface to allow cloud-native applications to write to object storage in StorNext 6.2.
The NVMe Xcellis option is in limited availability and due for general availability in early 2019. The S3 interface is generally available, with the other new StorNext 6.2 features due to roll out in the coming months.
Quantum banks on scale-out storage growth
Scale-out storage is the fastest-growing segment of Quantum's revenue, which consists mostly of tape, with some disk-based backup.
The Quantum Xcellis family hit the market in 2015, giving the vendor a single platform for compute and its StorNext file system gateway. The early Xcellis products were designed mostly for disk, but they also allowed users to mix in SSDs.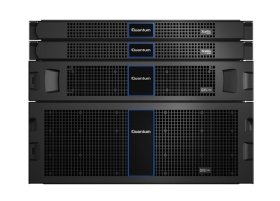 Jason Coari, global director of product and solution marketing at Quantum, based in Colorado Springs, Colo., said the addition of NVMe is needed for dense media workloads. Quantum has embedded Excelero NVMesh software-defined block storage in StorNext to allow Xcellis devices to access pooled flash over NFS, SMB or Fibre Channel.
"We've seen a lot of our customers demand more flash-based arrays. The workloads they're dealing with need that horsepower for ingest and streaming performance. Flash is the way to go, and NVMe takes it a step further," Coari said.
Tom Coughlin, president of storage consultancy Coughlin Associates in Atascadero, Calif., said he saw a demonstration of the Quantum Xcellis-Excelero integration and came away impressed.
"It was showing raw 8K video streams on a display, with no visible latency or judder. This is without a cache," Coughlin said.
Coughlin added that StorNext 6.2 also expands the product's feature set.
"They embrace the cloud, both for management [and] monitoring and as part of the global namespace, including native S3 cloud integration," he said. "Multiclient support that includes the file locking and setting of priority access should help achieve overall organization objectives. FlexSync should be a real timesaver for system administrators."
Quantum file system aligned for performance, collaboration
StorNext 6.2 extends Quantum FlexSync technology to treat metadata log changes like snapshots. Only changes to the log get synchronized and replicated between two sites. Previously, StorNext only replicated data between identical primary or secondary sites, but the new version can synchronize a complete managed file system between primary and secondary tiers.
Quality of service has been part of StorNext for production workloads. Coari said the latest version extends the feature to archive and backup, as well. The S3 interface addresses the growing number of companies building applications that run in the cloud, he said.
"We need to be able to ingest data from those sources," Coari said.
Can Quantum Xcellis stimulate moribund storage sales?
This marks the first product rollout for Quantum since Jamie Lerner took over as CEO in July. Lerner was brought aboard following a series of changes to the Quantum board and is the company's fourth CEO since late 2017.
Quantum ousted longtime CEO Jon Gacek in November 2017 after a string of disappointing financial quarters. In January, the U.S. Securities and Exchange Commission subpoenaed Quantum regarding an ongoing probe of its accounting practices and internal controls.
Quantum twice this year has filed for delayed notification of financial results. The vendor closed fiscal 2017 with $505 million in revenue -- up 6%, but a far cry from the $1 billion Quantum posted in the early 1990s. Last week, the company said it was close to completing its internal investigation into misstatements of its financial reports from 2017 and 2018.