jules - Fotolia
Lightbits Labs soups up NVMe fabric with all-flash SuperSSD
Startup Lightbits Labs prepares for an NVMe-over-TCP push, with a storage array designed for AI and cloud applications that uses its LightOS software and proprietary accelerator cards.
One month after launching its disaggregated NVMe storage software, Lightbits Labs is jumping into the hardware game.
The startup this week introduced SuperSSD, an NVMe-oF all-flash array targeted at AI and cloud applications. The 2U form factor hosts the Lightbits LightOS operating system and 24 NVMe SSDs.
LightOS converts native Transmission Control Protocol (TCP) stack into a switched Ethernet fabric. Lightbits uses the NVMe fabric to stitch SuperSSD storage as a single external SSD. Two of the vendor's LightField accelerator cards manage hardware compression and namespace replicas.
A single SuperSSD scales from 64 TB to 1 PB with presumed LightOS data reduction. The array combines scale-out storage and ultralow latency with integrated hardware and software, said Kam Eshghi, vice president of strategy and business development at Lightbits Labs, based in San Jose, Calif.
LightOS runs on storage targets without changes to clients. LightField is a field-programmable gate array that applies a flash translation layer to SSDs to boost capacity and endurance.
The vendor has been running proofs of concept with cloud providers, packaging LightOS on a 1U LightBox testing appliance. Eshghi said principal use cases include enterprise private clouds and high-performance data analytics.
"SuperSSD is the appliance we're pushing into the market for volume deployments," Eshghi said.
Lightbits customer: Disaggregation 'hyper-relevant' to cloud
Lightbits uses the NVMe fabric to stitch SuperSSD storage as a single external SSD.
There is no clustering with SuperSSD arrays. Writes are directed to persistent memory, and storage servers create replicas for namespace. A single SuperSSD can support multiple namespaces, but all volumes remain within the box. A second SuperSSD is required for redundancy. Lightbits points replicas to the second SuperSSD to recover from disk or node failure.
Cloud infrastructure provider Packet is testing the Lightbits Labs storage in-house and in select customer deployments. The New York City startup automates bare-metal provisioning for application development.
Packet CEO Zachary Smith said customers trying out Lightbits include cloud and managed service providers.
"The most interest has been edge data centers. We [are] running a couple of racks of bare-metal compute in a highly automated way," Smith said.
Disaggregation is "hyper-relevant" to Packet to deliver more automated services. "We can't afford to put the wrong size drive in the servers, and we also can't afford to send people to the data centers to change out the servers," Smith said.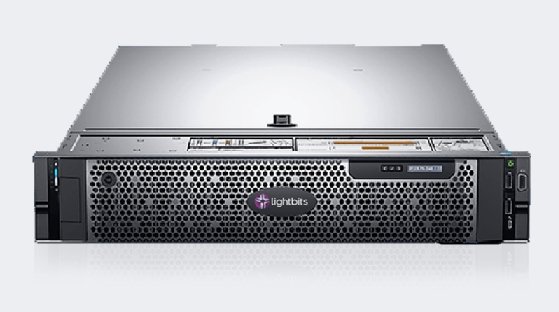 NVMe fabrics mature
Industry experts said NVMe will supplant SCSI as the dominant messaging protocol. Designed specifically for flash, NVMe streamlines communication between an application and storage via a PCI Express link. The speed comes from bypassing network hops.
Running NVMe on a high-speed network fabric extends flash performance across multiple arrays. The NVM Express industry consortium has ratified NVMe fabric transports for Fibre Channel, remote direct memory access and PCI Express, although NVMe/TCP is the lone standard to use Ethernet networking. The NVMe/TCP spec was ratified in November, based on code submitted by Lightbits Labs engineers.
While all-flash storage vendors support or plan to support NVMe, Lightbits is among an early group of companies advancing NVMe over TCP. Software-defined storage startup Excelero recently added NVMe/TCP support, and Toshiba Memory America launched KumoScale software for its NAND-based NVMe SSDs.