Fernando Cortés - Fotolia
Toshiba NVMe lineup adds new SSDs, software to pool drives
Toshiba bolsters NVMe support with new 2.5-inch U.2 and small-form-factor M.2 solid-state drives and KumoScale storage software to pool NVMe SSDs over a network fabric.
Toshiba Memory America unveiled new NVMe solid-state drives that use the latest 64-layer 3D NAND flash technology...
Continue Reading This Article
Enjoy this article as well as all of our content, including E-Guides, news, tips and more.
and launched KumoScale storage software for NVMe over Fabrics deployments.
The Toshiba NVMe SSD lineup adds new single-port data center SSDs in the 2.5-inch U.2 and 22-mm-by-110-mm M.2 form factors that are designed to take advantage of high-performance, low-latency nonvolatile memory express (NVMe) technology with read-intensive workloads.
The CD5 Series of 2.5-inch NVMe-based PCI Express (PCIe) U.2 SSDs will be available at capacity points of 960 GB, 1.92 TB, 3.84 TB and 7.68 TB. The new XD5 Series of small-form-factor M.2 gum-stick-sized NVMe SSDs will ship at 1.92 TB and 3.84 TB. Both Toshiba NVMe data center SSDs are designed for use with applications such as online transaction processing (OLTP), NoSQL database, virtualization, streaming media, big data analytics and internet of things.
"The interesting thing is that the traditional form factors are just going out the window. You've got volume production of M.2 coming in with Toshiba, and they're expecting to sell a lot of that. Or, with HPE, you've got M.2 in their servers for remote management," said David Floyer, CTO of research firm Wikibon. "It's starting to permeate through that it doesn't have to look like a traditional disk drive."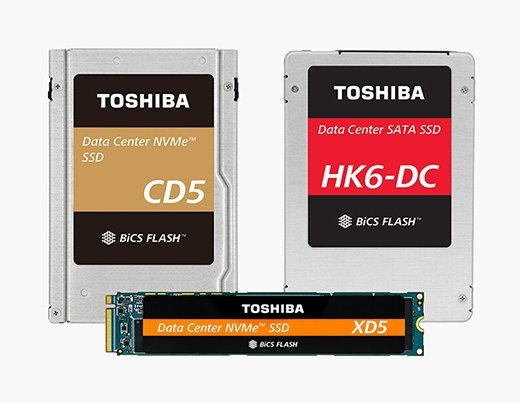 Toshiba NVMe over Fabrics software
To extend the benefits of NVMe over a network fabric, Toshiba started shipping its new KumoScale software that can pool NVMe SSDs in a storage enclosure and enable their shared use. Toshiba introduced the storage software last year but did not announce the product name until this week. The Japanese word "kumo" means cloud and spider, noted Joel Dedrick, a technology advisor at Toshiba who focuses on the NVMe over Fabrics (NVMe-oF) software product.
The KumoScale software could deliver networked storage at or near the performance of direct-attached NVMe SSDs, Dedrick said. KumoScale users would need to buy fewer SSDs and servers to get the same work done, he claimed.
One technology driving interest in NVMe-oF is the Kubernetes container orchestration framework, Dedrick said. At this week's Open Compute Project (OCP) U.S. Summit in San Jose, Calif., Toshiba and container storage startup Portworx demonstrated the KumoScale software in use with Kubernetes, mapping application data to the NVMe-based storage.
KumoScale runs on the controller inside an enclosure equipped with NVMe SSDs. Users do not need to install the storage software on the host application server because the product works with any standard-compliant NVMe-oF drivers on the front end, Dedrick said. The University of New Hampshire InterOperability Lab last year certified the KumoScale software with network interface cards designed for use with remote direct memory access over converged Ethernet.
"KumoScale's pitch is that dealing with host software is a pain" for upgrades, patches and other functions, Eric Burgener, a storage research vice president at IDC, wrote in an email. Toshiba's approach contrasts with the model taken by vendors such as Excelero, which add resources as they add hosts to achieve greater scalability, he said.
Dedrick said KumoScale could help cloud providers that want to operate data centers with the efficiency of Google and Amazon but lack the resources to do so. Customers can designate their preferred ODM or OEM suppliers, and Toshiba will certify the KumoScale software on the NVMe SSD-equipped hardware, he noted.
Dedrick said Toshiba also has OEM partnerships in the works. For instance, Lenovo noted its collaboration with Toshiba to ensure that KumoScale works on its products.
Toshiba NVMe SSD updates
The new data center line of Toshiba NVMe SSDs spotlighted at this week's OCP Summit target customers shifting from SATA drives, according to Maulik Sompura, director of product management for Toshiba's client and data center SSDs. The most common deployment for the single-port CD5 and XD5 SSDs will be enterprise servers rather than storage arrays.
Toshiba sells a higher end line of dual-ported NVMe-based PCIe SSDs for the enterprise storage market. Sompura noted that Toshiba's enterprise CM5 SSDs support SAS-like features such as multistream and single-root I/O virtualization.
But Cameron Brett, director of marketing at Toshiba, said the company plans to invest heavily in the single-port data center NVMe SSDs that are designed for read-intensive workloads, including hyperscale use cases.
"Most people think about NVMe drives as add-in cards, 25 watts, really, really high performance. And now we have this [data center SSD with] lower performance, more closely priced to SATA, positioned as a replacement for enterprise SATA," Brett said.
The CD5 U.2 SSD uses nine to 14 watts of power, and the 7.68 TB model delivers 500,000 IOPS for random reads and 35,000 IOPS for random writes, according to Toshiba. The mean time to failure (MTTF) for the drive is 2.5 million hours.
The small-footprint XD5 M.2 SSD uses up to seven watts of power and delivers up to 240,000 IOPS for random reads and up to 21,000 IOPS for random writes, according to Toshiba. Unlike the CM5, the XD5 SSD's MTTF is 2 million hours, and the drive is not hot swappable.
In addition to the new NVMe SSDs, Toshiba also introduced new 2.5-inch HK6-DC SATA SSDs at capacities of 960 GB, 1.92 TB and 3.84 TB. The HK6-DC SSD delivers up to 85,000 IOPS with random reads and is designed for use cases such as system boot, archiving, OLTP, NoSQL databases, hyperscale compute, virtualization and streaming media. Sompura said the HK6-DC's use of 64-layer 3D NAND would enable cost benefits over its predecessor SATA model.
Toshiba's new CD5, XD5 and HK6-DC SSDs all use the company's third-generation triple-level cell 64-layer BiCS 3D NAND flash technology, but each has a different Toshiba controller. Enterprise features available with the new data center SSDs include power loss protection, instant secure erase and optional encryption. The endurance for all of the new data center read-intensive SSDs is less than one drive write per day, and each carries a five-year limited warranty.
The XD5 SSD is due to ship in May, and the CD5 and HK6-DC models will be available in early June through OEMs, Sompura said. Toshiba didn't disclose pricing. Sompura said the M.2 NVMe SSDs are close in price to enterprise SATA SSDs, but it's tough to predict when they will reach price parity due to the ongoing NAND flash shortage.