Fernando Cortés - Fotolia
New Toshiba M.2 SSD targets composable infrastructure
Toshiba takes aim at composable infrastructures, data centers and high-end workstations with new low-power, small-form-factor 2 TB M.2 SSD that uses dense 96-layer 3D NAND flash.
Toshiba Memory America focused on capacity and performance with its latest small-form-factor, low-power NVMe-based M.2 solid-state drive that targets high-end workstations, data centers and composable infrastructures.
Composable infrastructure is one of the newer enterprise use cases for M.2 SSDs, which often function as boot drives in servers. Startup Liqid has already signed on to integrate the new Toshiba M.2 SSD into its software-defined composable infrastructure platform.
Unlike heavy-duty data center SSDs, Toshiba's XG6-P M.2 SSD lacks enterprise features such as power loss protection and dual ports. Mike Heumann, a managing partner at G2M Research, said NVMe-based M.2 SSDs are used mainly in scenarios where storage capacity requirements are low and data tends to be static.
But Toshiba product line manager Grant Van Patten said the vendor has received requests for higher capacity M.2 client SSDs that respond well under sustained write workloads.
Dense 96-layer 3D NAND
The new XG6-P client SSD uses Toshiba's latest triple-level cell, 96-layer 3D NAND flash technology to facilitate high storage capacity in a small footprint. The new Toshiba M.2 SSD's maximum capacity of 2 TB doubles the 1 TB limit of the XG6 model that shipped at the end of 2018.
"Liqid is a good example of a customer that was asking us for more density," Van Patten said. "In their application, when we deliver a 2 TB drive, that means they can build an 8 TB drive. That enables them to compete in a different class of product themselves."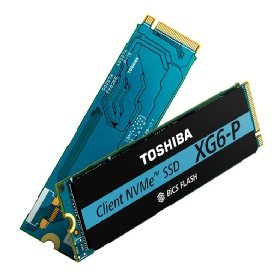 Liqid claims its composable fabric is designed for artificial intelligence; machine learning; genomics research and high-performance modeling; research; and development workloads. The startup's Command Center software pools server resources such as CPU, SSDs, GPUs and NICs, and allows users to segment those resources. Liqid secured an OEM deal with Dell EMC last month to sell its software with PowerEdge servers. The startup's website claims Liqid tests NVME technology from Samsung and other vendors, in addition to Toshiba and its own products.
Van Patten said Liqid plans to combine four of Toshiba's XG6-P client SSDs for higher capacity and unified performance of more than a million IOPS. He said raw performance and cost are more important than endurance in Liqid's application.
New XG6-P vs. predecessors
The new Toshiba M.2 SSD delivers a 30% improvement in sequential and random-write performance and a 15% boost in random-read speed over its XG5-P predecessor and matches the performance of the XG6. The XG6-P and XG6 use the same controller, but the XG6-P has different firmware and full-range DRAM to balance and sustain performance, Van Patten said.
The XG6-P SSD supports ultrafast NVMe-based PCI Express (PCIe) Gen 3 technology for low-latency and consistent performance. Toshiba claimed the XG6-P could deliver up to 3.2 GBps for sequential reads and 2.9 GBps for sequential writes, and 355,000 IOPS for random reads and 365,000 IOPS for random writes.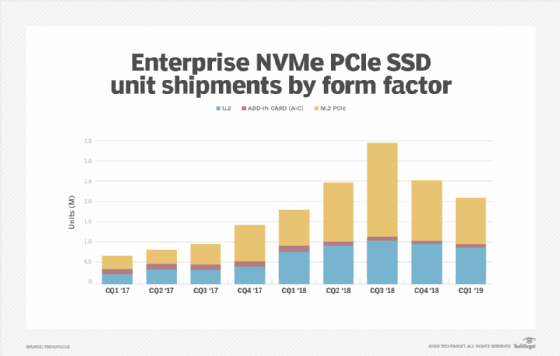 In addition to boot drives in servers, the new Toshiba M.2 SSD could see enterprise use for operations such as logging and caching in servers, according to Van Patten. He said client SSDs tend to focus on background operations, where they're not under the same level of stress as data center and enterprise SSDs designed for round-the-clock use.
"They're not designed to replace enterprise drives or data center drives," Van Patten said.
Van Patten said the new Toshiba M.2 SSD could be a good fit in scenarios where the cost of flash is the primary concern. He noted they consume only about 5 watts of power in active mode and idle at a single watt or less, whereas an enterprise SSD might idle at 5 or 10 watts.
Toshiba sells the XG6-P through OEMs, so pricing was unavailable. The new Toshiba M.2 SSD began sampling last month in a single-sided 22-mm-by-80-mm form factor. Toshiba is hardly the only vendor to sell client M.2 SSDs for enterprise and data center boot purposes. Competitors include Samsung and Western Digital.
In the enterprise NVMe SSD space, Toshiba significantly trails Samsung and Intel, which combined for roughly two-thirds of the market in the first quarter of this year, according to Greg Wong, founder and principal analyst at Forward Insights.
Dig Deeper on Converged infrastructure management