Gajus - Fotolia
Western Digital's ActiveScale adds new DR, workflow options
Western Digital's object storage product update boosts capacity and throughput, supports asynchronous object distribution for multisite DR and offers 14 TB HDDs.
Western Digital's ActiveScale 5.5 object storage update adds asynchronous object distribution for multisite disaster recovery and new workflow automation options for customers that have massive-scale unstructured data storage needs.
Western Digital claims ActiveScale can deliver up to 75 GB per second of data throughput and pack more data into a smaller footprint than past product versions, thanks to its newly integrated 14 TB Ultrastar enterprise hard disk drives (HDDs). The highest capacity HDD available with prior ActiveScale systems was 12 TB.
ActiveScale's starting capacity is 676 TB, and deployments generally exceed a petabyte, according to Erik Ottem, senior director of product marketing for Western Digital data center systems. The largest customer, a hedge fund, stores about 200 PB, he said.
Object stores such as ActiveScale are designed to scale out on commodity server hardware and offer a more economical alternative to file- and block-based storage for applications that don't require the highest levels of performance. Target workloads for ActiveScale include analytics, high-performance computing and internet of things.
Asynchronous geo-spread
ActiveScale 5.5's new asynchronous "geo-spread" feature will give customers a "more efficient and less expensive" option to protect data than replication does, Ottem said. The common "triple-mirror" architecture for object storage replicates a full copy of a file to three locations. But geo-spreading replicates only a portion of an object and parity bits, so that any two locations have sufficient data chunks and parity to reconstruct the full object, Ottem said.
Western Digital has long supported a "strong consistency" model with synchronous geo-spreading. The addition of the asynchronous option will now add an "eventual consistency" option for customers with latency between geographically dispersed sites and distribute data in the background, Ottem said.
"With geo-spreading, you manage one system in three locations instead of three systems in three locations," Ottem said.
The ActiveScale geo-spread feature gives customers the choice of 18 erasure code options based on the number of data center locations they have, capacity and data durability requirements, Ottem said.
Data Pipeline Service
Another key new feature in ActiveScale 5.5 is a Data Pipeline Service designed to facilitate workflow automation. ActiveScale provides real-time object notifications and connection capabilities to a messaging service, such as Apache Kafka, to trigger a chain of events to get work done, Ottem said.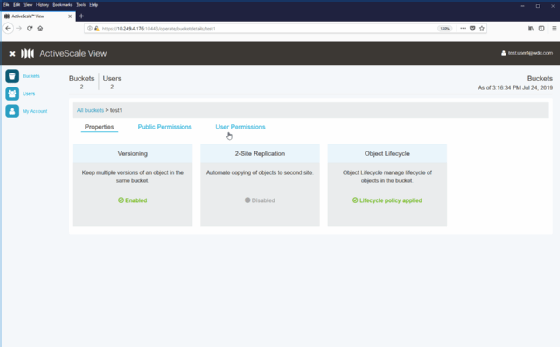 Potential use cases for the Data Pipeline Service include virus checking, document analysis for fraud detection, healthcare image analysis or video transcoding for a media and entertainment application. Western Digital will provide written and video instruction materials to help users implement the new workflow automation capabilities, Ottem said.
The ActiveScale 5.5 update also adds an optional graphical user interface (GUI), patterned after Amazon's Simple Storage Service (S3), to enable employees to create new object storage buckets without requiring IT assistance.
"Our traditional GUI was aimed at the IT audience, and this GUI is really aimed at end users. It doesn't do everything. For instance, you don't necessarily want your power user to do troubleshooting on which disk drive or which shelf needed to be replaced. But it does make a lot of sense to have your end user understanding what his bucket uses are and what versions are available," Ottem said.
Western Digital offers two ActiveScale models: the P100 modular option for customers with their own racks and the X100 integrated system in a prepopulated rack. Ottem said channel partners set the pricing. Support for the new 14 TB HDDs -- which offer higher density at roughly the same energy footprint -- will increase the suggested retail price by 2.5% to 5%, Ottem said.