yoshitaka272 - Fotolia
Experts say storage administrators should broaden roles
IT experts predict the number of single-focus storage pros will shrink as their responsibilities expand due to the emergence of cloud, hyper-converged and other technologies.
Cloud and hyper-converged technologies are making the IT professionals who focus solely on storage administration increasingly rare.
That was the consensus of analysts and IT leaders at the Gartner IT Infrastructure, Operations & Cloud Strategies Conference this month.
"In five years, it will be impossible to hire a storage admin," said Julia Palmer, a research vice president at Gartner.
Palmer said IT generalists and developers are replacing storage specialists in many companies.
"Nobody wants to be storage administrators and engineers. They all want to be developers now," she said. "That's why a lot of vendors are developing AI-driven operations and functions, because they realize in the future, it will be in the hands of versatilists or generalists."
Gartner predicts that, in 2025, 40% of workloads will reside in the public cloud, 30% at the edge and 30% on premises -- compared to the 80% on premises in 2019. Many IT leaders, in turn, have been encouraging their storage professionals to take on more responsibilities and pick up additional skills to address the needs of their businesses.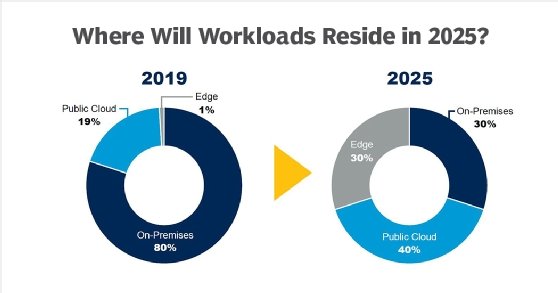 Changing roles of storage administrators
Kyle Weigum, director of enterprise infrastructure services at Teacher Retirement System (TRS) of Texas, said the three members of his core infrastructure team who manage storage are also responsible for VMware, Office 365 and other systems. Weigum said his "enterprise system team leads" are transforming to "principal solutions engineers."
"These guys are too talented to sit there and do firmware upgrades anymore," Weigum said. "I want them to be more business-focused and look at things that help us accelerate our business processes."
Weigum said TRS has taken on one cloud project for enterprise data management and is evaluating on-premises Amazon Outposts and other cloud options with an eye toward getting out of the hardware business. Moving to the cloud would change the role of infrastructure and operations from building servers and loading applications to tasks such as containing costs and managing access, Weigum said.
Nobody wants to be storage administrators and engineers. They all want to be developers now.

Julia PalmerResearch vice president, Gartner
A major insurer's assistant vice president (AVP) of infrastructure and operations, who asked that his name and company remain anonymous, said he oversees separate cloud and data center teams after shifting applications "where the cloud makes sense."
The AVP said the insurer's move from on-premises Exchange Server to Office 365 did not render Exchange engineers obsolete. Neither would the cloud migration wipe out storage professionals, although it could reduce the number, he said.
"Storage engineers can change into cloud storage architects and help their companies," he said, "because you still have to manage the storage in the cloud."
Advice for storage administrators
Angelina Troy, a senior director in the Gartner for Technical Professionals group, advised storage administrators to seek training in cloud technologies and other IT areas. She mentioned data governance, analytics and protection across multiple domains -- including the edge and cloud -- as possibilities. She said those who bring the same principles and mindset could morph their jobs and remain relevant.
"What we found is that most organizations want to utilize their existing people when they move to the cloud," Troy said. "They want to be able to build up those skill sets, because it's very hard to find cloud professionals out there today. Training internally is often seen as the best way to do it."
Capital One launched a Tech College in 2017 to offer online courses and in-person workshops in a dozen disciplines that link to technology goals in the company's long-term strategy. The Fortune 100 financial institution expects to go entirely cloud in 2020, with no data centers.
But George Brady, Capital One's EVP of technology, said companies that move completely to the cloud still need storage experts. He said storage professionals are typically proficient systems engineers with skills in programming, operating systems, networking and performance tuning. Those skills are transferable from an on-premises environment to the cloud, Brady said.
Doug Knight, manager of server services at Capital Blue Cross in Pennsylvania, said IT professionals who are good at storage tend to be good at other things because they are used to doing "complex calculations" to spread their storage and place data for optimal performance.
Knight said faster flash arrays have largely eliminated performance issues, and he challenges his storage professionals to learn new technologies. He said they have retrained on other platforms such as Microsoft Azure and data warehousing.
Major League Baseball (MLB) uses AWS and Google Cloud storage, but most of its close to 100 PB of corporate, statistical and video data remains on premises in traditional SAN and NAS systems, open-source Ceph object storage and tape. Truman Boyes, SVP of infrastructure, expects that MLB will always store a significant amount of data on premises, and he does not see skilled storage professionals going away.
"We're probably going to see a shift in the technologies they work on," Boyes said. "We will probably see people move away from traditional storage. Maybe they also have more tools in their tool belt and do other cloud things, and storage is just one of them."
Organizations in a greenfield scenario may think differently when it comes to storage administrators. An infrastructure VP at a consumer products company starting from scratch with IT said he would hire network and security specialists, not storage professionals.
"The needs of my company will be served by software-configurable storage in the cloud. If I run into problems with I/O, performance or whatever, I expect my generalist cloud architect and maybe Amazon will be able to get me out of there," he said.
The infrastructure VP acknowledged that high-performance analytics or machine learning workloads could prompt him to hire a consultant or full-time staffer with infrastructure skills down the road. But it won't be like the old days, when his former company had separate specialists for its EMC, NetApp and switching products. "It's just a different scale and a different world now," he said.