Getty Images/iStockphoto
Spectra Logic unveils Vail data management software
Spectra Logic launched Vail, a data and storage management software product that unifies data across public clouds and on-premises storage environments.
Spectra Logic added new cross-environment data management software to its product line.
This week, the tape storage vendor introduced Vail, storage software that unites data across storage environments under a single namespace. This provides end users with ready access to data, regardless of what storage it resides in. Vail can also reduce costs by optimizing storage between on premises and cloud to minimize egress charges, according to Spectra Logic.
Vail can pull data from public cloud storage, Spectra Logic hardware and third-party storage hardware into a software management layer. Administrators can then synchronize and migrate data across the storage environments, configure policies on where data should be stored or moved and perform other data management tasks.
Vail's goal is universal accessibility and optimized data placement, said David Feller, vice president of product management and solutions engineering at Spectra Logic. Policies on the back end put data in the best places for minimizing storage cost and maximizing application performance, but the object storage front end abstracts all that from the end users' view. In most cases, end users don't care where a file is physically located, as long as they can still access that information, Feller said.
"It doesn't matter where your data is -- on VMs or physical storage -- we present it all as S3. We make it all look like one big pool of storage," Feller said.
Additionally, Vail can connect with Spectra Logic's tape libraries by using BlackPearl, the vendor's object storage platform, as a gateway, Feller said. In this use case, customers would be able to link a tape-based, on-premises, Amazon Glacier-like environment to Vail, giving users access to an archive storage tier.
Vail, which is expected to be generally available in November, doesn't have to run on any Spectra Logic hardware at all, Feller added. Although he didn't provide an exhaustive list, Feller said the software can run on Dell EMC Isilon NAS and any storage tier of public cloud.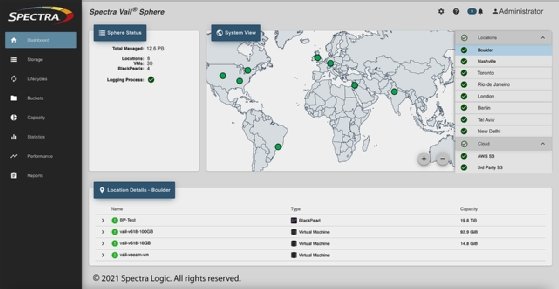 A good start in the data management market
Vail lacks some of the features more established data management vendors offer, but as a first release, it's a solid start, said Marc Staimer, president of Dragon Slayer Consulting. At launch, Vail can provide storage admins with visibility into the storage environment and policy configuration via templates, but the next step will be gathering metadata to enable more automatic and granular policy-setting features. This would make an admin's job easier and allow Vail to work at greater scale, Staimer said.
"They don't harvest the metadata, and that's something they'll have to do eventually, but it's a good start. It's got good promise," Staimer said.
Spectra Logic has an established customer base to sell to and a clear development path, and those will give Vail some initial market momentum, he added.
They're realizing the data is what's important, not the storage.

Marc StaimerPresident, Dragon Slayer Consulting
Although commonly known for its tape libraries, Spectra Logic has been expanding beyond tape since it launched BlackPearl about a decade ago, Staimer said. Vail puts the vendor directly in competition with data management vendors such as Komprise, StrongBox, Datadobi and Data Dynamics, but none of those companies are currently dominating the market. There's still plenty of unaddressed market need, Staimer said.
"More and more customers are moving to abstraction of data from the infrastructure," Staimer said. "They're realizing the data is what's important, not the storage."
Johnny Yu covers enterprise data protection news for TechTarget's Storage sites SearchDataBackup and SearchDisasterRecovery. Before joining TechTarget in June 2018, he wrote for USA Today's consumer product review site Reviewed.com.