WavebreakmediaMicro - Fotolia
Dell EMC XtremIO adds speed to Red Sox IT lineup
A Dell EMC all-flash array knocks a home run for the Boston Red Sox organization, improving management and analytics of ever accumulating data, and speeding performance.
Baseball teams have always benefitted from fastballs and speedy dashes around the bases. Now, in this big data era, blazing data storage performance can provide a team with information that gives it a competitive advantage on the field.
Data analytics is a heavy hitter in major league baseball today, and the Boston Red Sox believe they have an advantage in that field thanks to an all-flash array storage system.
The Red Sox installed the Dell EMC XtremIO system before the 2016 season and now reap benefits in speed, reliability, cost and scalability, according to the ball club's IT team.
Brian Shield, Red Sox vice president of IT, said the organization aspires to "make the most effective use of technology for its fans, players and employees." He said the XtremIO array allows the Red Sox to quickly process larger data sets as baseball analytics become increasingly more important.
"As things happen on the field, we're getting real-time data," Shield said. "Now you have data points on virtually everything."
That's everything from the length of a baserunner's lead to the rotation of the ball.
Major League Baseball Advanced Media captures statistical information and moves it to the Amazon cloud, and the Red Sox process it on premises, along with other player performance data, using the Dell EMC XtremIO.
"All those things generate a ton of data," and the ability to process it all in real time benefits the team, Shield said.
Support for the team farm
The Red Sox, customers of now-Dell EMC since 2003, purchased the XtremIO because they needed an enhanced system that could easily handle all the new data coming in from the field, stands and business operations.
We very much view this as a competitive advantage. Things we can now do in seconds would have taken much longer.

Brian Shieldvice president of IT, Boston Red Sox
The Red Sox previously used an EMC VNX system before moving to the XtremIO, which is at a colocation facility in Boston where the Red Sox have a data center for critical infrastructure. (The team also has a data center at Fenway, but for less critical systems.)
The bulk of the Red Sox IT infrastructure is maintained off site, fed by dual, high-speed fiber connections, Shield said.
The XtremIO system supports the team's entire server farm, working with all of its baseball and business systems, as well as its communications and messaging environments. The team also uses XtremIO to support its growing virtual desktop infrastructure, which improves employees' flexibility, mobility and IT management.
A 'Beacon' of baseball analytics
This summer, the Red Sox plan to launch a new baseball analytics system that sits on the Dell EMC XtremIO array. Beacon is a complete rewrite from the old Carmine system the team used for 12 years.
"We made that investment knowing we had XtremIO," Shield said.
The baseball analytics system features all the critical elements that go into player and team decision-making, he said, including player and team stats, contracts, medical, health, scouting and video.
"We very much view this as a competitive advantage," Shield said. "Things we can now do in seconds would have taken much longer."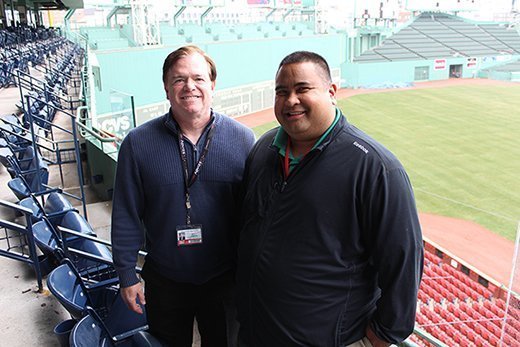 Ryan Oreste, Red Sox manager of technical operations, said the Dell EMC XtremIO system consists of a 30 TB brick. The team's VMware environment runs on the XtremIO, with more than 350 virtual machines across 10 hosts, plus there are about 400 Exchange mailboxes for the team's full-time employees, Oreste said.
The all-flash system generates a 7-to-1 deduplication rate, which Shield said helps the organization optimize storage.
Other key benefits include the elimination of IOPS bottlenecks, more effective and streamlined data management, and a reduction in storage cost.
"Performance has become paramount," Shield said. "We no longer have the benefit of processing cycles. Virtually everything is real time."