michelangelus - Fotolia
Acronis data protection gives Red Sox an edge in backup
Acronis has stepped up to the plate for the Boston Red Sox. The 2018 World Series champions will use Acronis products for backup, recovery, transfer and remote data accessibility.
BOSTON -- Boston Red Sox scouts often work remotely, watching and recording potential players in action. If a scout's computer crashes, though, it could take up to five days to get fully functioning again.
What's more, "these things always happen at the worst possible time," said Randy George, senior director of IT operations for the Red Sox.
To keep downtime to a minimum, the Red Sox organization implemented Acronis data protection and set a goal to get back up and running in one day after a crash.
Much like a contract with one of their players, the Red Sox and Acronis agreed to a three-year technology partnership deal, the team said at a launch party in the Dell EMC Club at Fenway Park on Friday. The Red Sox tapped Acronis as its official "cyber protection partner."
For 15 years, Acronis was known primarily for its backup, said Patrick Hurley, the vendor's vice president and general manager of the Americas. It has branched out in the last couple of years to provide a combination of data protection and cybersecurity, which it calls cyber protection. That covers safety, accessibility, privacy, authenticity and security, according to Acronis, which is based in Switzerland, but has an office just north of Fenway in Burlington, Mass.
George said the Red Sox will use Acronis True Image data protection, file sync and share, Acronis Backup and MassTransit file transfer. True Image features Acronis' Active Protection antiransomware technology.
The team started using Acronis data protection about three weeks ago, and George said he is still learning about the offerings and anticipates using more.
"These partnerships are intended to be long-term partnerships," he said.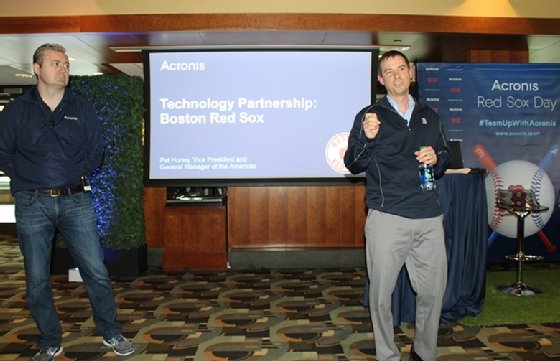 Scouting out new recovery procedures
For the Red Sox, Acronis data protection covers 2,000 mobile phones, with 2 TB of consumed space; 600 TB of corporate and media files that need to be shared across multiple devices; and 30 TB of data for more than 70 virtual and physical servers.
This is going to be a transformational employee productivity play.

Randy GeorgeSenior director of IT operations, Boston Red Sox
Computing is shifting toward edge devices, and those are key for the Red Sox, Hurley said. So, that's a focus of the Acronis data protection.
Ransomware is an infrequent threat for the organization, "but it does happen," George said. "We need to protect for that."
A more common scenario for a scout in the field is a computer failure. Under the team's redesigned recovery process, the scout would buy a new computer and use Acronis backup and restore technology. Previously, the employee would have to FedEx the computer and eventually get one back within four or five days.
The Red Sox have also used Boston-based Carbonite for scouts' data protection, but are replacing it with Acronis, likely within three months, George said. He said he likes Acronis' image-based backup better.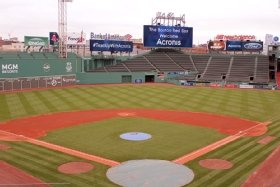 "We want to deploy as much of their stuff as possible," George said.
In the case of a scout's phone breaking or getting lost, Acronis will handle the restoration of critical data. Previously, George said, the scout would have to set up iCloud for recovery and pay out of pocket for it.
Having an off-site copy of the scouts' critical information is crucial. George said the Red Sox will store some of the data in the cloud, but it mainly lives on a Dell EMC Isilon NAS system. The team also uses Veeam for VMware vSphere protection.
The Red Sox plan to streamline the transport of scouting video. The current system starts with the video being uploaded to Dropbox, then moving to a middleware flash tier, then to the Dell EMC Isilon for another person to see. In the new process, Acronis will move the video directly to the Isilon system.
In addition, Acronis provides direct access to the NAS through mobile devices.
"This is going to be a transformational employee productivity play," George said.