vali_111 - Fotolia
Startup Morro Data launches CloudNAS services for SMBs
Startup Morro Data makes available hybrid cloud storage services for SMBs, blending an on-premises cache appliance for frequently accessed data and Amazon S3 or Backblaze.
Morro Data officially launched new CloudNAS services that combine an on-premises cache with Amazon's Simple Storage...
Continue Reading This Article
Enjoy this article as well as all of our content, including E-Guides, news, tips and more.
Service or Backblaze cloud storage to give small and medium-sized businesses an alternative to local file servers.
The Fremont, California-based startup's CloudNAS and CloudNAS Business services become generally available this week after a soft launch in March to a limited number of customers. These are the first products and services from Morro Data, which was founded in 2013.
But Morro Data CEO Paul Tien is no stranger to file storage. Tien founded the ReadyNAS product line that Netgear bought from his prior company, Infrant, for $60 million in 2007. Tien said the ReadyNAS core team joined him at Morro Data.
"The NAS market grew quite a bit over the past 10 years. However, the architecture has pretty much stayed the same, while cloud storage has been coming on strong with its advantages in reliability, scalability and ease of access," Tien said. "What we are doing now at Morro is combining the advantages of NAS for local performance and sharing for a group of local users together with the advantages of cloud."
Morro Data's main intellectual property is a global distributed file system that synchronizes customer data between one or more on-premises CacheDrive hardware appliances and public cloud storage. The CacheDrives keep the most frequently and recently accessed data at one or more customer sites for fast access and group sharing.
Cloud storage gateway functionality
The CacheDrive also functions as a cloud storage gateway to speed the transfer of files to cloud-based object storage. Tien said the CacheDrive is designed to optimize bandwidth to accommodate users with poor internet connections. Morro also supports enterprise storage services such as data encryption, compression, retention policies and fast data recovery.
"Let's say a CacheDrive goes bad or you need to add a new office, all you have to do is get a new CacheDrive and then terabytes would sync down basically in minutes," Tien said. "What's kept in the cache initially is just like metadata. The real data is still kept in the cloud. But the office will be able to see all the files, and all the downloads could be made available on demand."
The cloud storage is essentially invisible to the customer. Morro Data presents a standard Server Message Block (SMB) interface through the CacheDrive appliance, so the system looks like on-premises NAS. The product is designed for Windows and Mac users.
Morro Data's CacheDrive appliance ships with several drive and capacity points. The G40 model offers 1 TB of disk-based cache, and the G80 has a 1 TB solid-state drive. Morro Data also sells a T600 tower option with 8 TB of disk cache.
Tien recommends a ratio of 1 TB of local cache to 10 TB of cloud storage, although he said the amounts could vary depending on the customer's active data. Those with more than 10 TB of cloud storage can use the T600 tower model or multiple CacheDrive appliances, he said.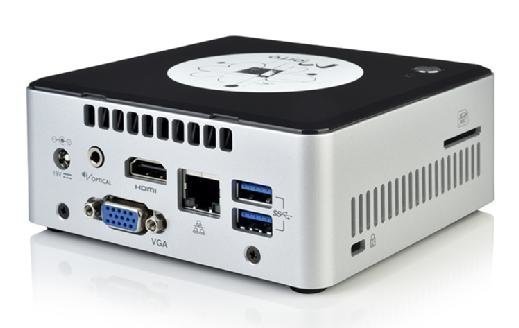 Cloud storage support
Morro Data currently supports public cloud storage with Amazon Simple Storage Service (Amazon S3) and Backblaze B2, but plans to add more providers in the future. CloudNAS Business customers can either bring their own cloud storage account or use Morro's provisioned Amazon S3 option. The starting price is $89 per CacheDrive per month with 1 TB of S3 storage. Additional S3 storage capacity is $39 per TB, Tien said.
Morro's CloudNAS with Backblaze option is priced at $10 per CacheDrive, and customers bring their own Backblaze cloud storage account. Tien said Backblaze pricing, at $5 per TB per month, should be compelling for traditional desktop NAS users.
Tien noted that CloudNAS is intended for use as primary storage, with the master copy of the data stored in the cloud and synchronized to the CacheDrives at customer sites. He said cost and performance limitations had previously made cloud storage unsuitable for uses other than backup for many small businesses. Customers don't need to worry about backing up data with CloudNAS because Amazon keeps multiple copies and Morro Data provides file versions in the event of user error or a cloud outage, Tien said.
Howard Marks, founder and chief scientist at DeepStorage LLC, said integrating NAS and cloud storage makes sense for small to midsize enterprises (SMEs) because backing up file servers and replicating data between locations is a "real pain." He said Morro Data's CloudNAS is best suited to SMEs with multiple locations, because the global namespace gives users transparent access to all data, no matter where they are.
Marks said other vendors offering cloud/NAS integration include Nasuni, Panzura and Ctera, but they have only a small fraction of the NAS market.
"Panzura or Nasuni focus more on the enterprise segment. We are focusing on the small and medium business," Tien said.
Dig Deeper on Primary storage devices