Fotolia
Panasas storage, director blades split into separate devices
Panasas hybrid storage offers 57 PB of raw capacity with 200 shelves. ActiveStor Director 100 sits atop a rack of Panasas arrays. Customers can scale types and capacities of media.
Panasas has revamped its scale-out NAS, adding a separate hardware appliance to disaggregate ActiveStor director blades from its hybrid arrays of the same name.
The Panasas storage rollout encompasses two interrelated products with different launch dates. The ActiveStor Hybrid 100 (ASH-100), the latest generation of Panasas' hybrid storage, is due for general availability in December. The ASH-100 uses solid-state drives to accelerate metadata requests.
The new product entry is the ActiveStor Director 100 (ASD-100), a control-plane engine that sits atop a rack of ActiveStor arrays. ASD-100 director blade appliances are scheduled for release by March 2018, in tandem with its PanFS 7.0 parallel file system.
The ASH-100 array and ASD-100 blade appliance are compatible with ActiveStor AS18 and AS20 systems. Until now, Panasas integrated director blades in a dedicated slot on the 11-slot array chassis.
Addison Snell, CEO of IT analyst firm Intersect360 in Sunnyvale, Calif., said adding a separate metadata server allows Panasas to expand on its PanFS parallel file system.
"The reason this is important is that different levels of workloads will require different levels of performance," Snell said. "Panasas lets you right-size your metadata performance to your application. Enterprise storage increasingly is migrating to different things that are classified as high-performance workloads, beyond the traditional uses. You've got big data, AI and machine learning starting to take off. The attention has turned to 'How do I achieve reliable performance at scale so that I can tailor to my individual workload?'"
The revamp improves performance of high-performance computing and hyperscale workloads, especially seeking and opening lots of small files, said Dale Brantley, a Panasas director of systems engineering.
"This is a disaggregated director appliance that lets you unlock the full functionality of the software contained within. You will be able to cache millions or tens of millions of entries in the Director's memory, rather than doing memory thrashing," Brantley said.
"These products together allow us to tailor the environment more for specific workloads. Our customers are using more small-file workloads. This is just one more workload that the HPC cluster has to support. This will be a foundational platform for our next-generations systems."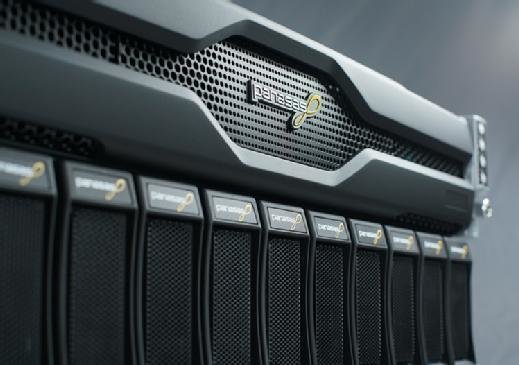 Panasas storage protocol reworks memory allocation for streaming
ASH-100 uses a system-on-a-chip CPU design based on an Intel Atom C2558 processor. The 2U Panasas storage array tops out at 57 PB of raw capacity with 200 populated shelves. A shelf scales to 264 TB of disk storage and 21 TB of flash.
All I/O requests are buffered in RAM. Each ASH-100 blade includes a built-in 16 GB DDR3 RAM card to speed client requests. A new feature is the ability to independently scale HDDs and SSDs of varying capacities in the ASH-100 box.
Brantley said changes to the Linux kernel in recent years have hindered the streaming capability of large file systems. To compensate, Panasas wrote code that enables its DirectFlow parallel file system protocol in PanFS to enhance read-ahead techniques and boost throughput.
The ASD-100 Director appliance is a 2U four-node chassis with 96 GB of DDR4 nonvolatile dual-inline memory modules (NVDIMM) to protect metadata transactions. Previous ActiveStor blades used an onboard battery to back up DRAM as persistent cache for the metadata logs.
Brantley said Panasas storage engineers wrote an NVDIMM driver that they will share with the FreeBSD operating system community. Updates to FreeBSD are slated for PanFS 7.0, along with a dynamic GUI and aids for implementing NFS on Linux servers.
Panasas said PanFS 7.0 will include an improved NFS Server implementation and updates to the FreeBSD operating system. Panasas storage engineers wrote a SNIA-compatible NVDIMM driver that Brantley said will be made available to the FreeBSD community.
Next Steps
What to know when you upgrade from racks to blades
Refresh your NAS, but sidestep the performance penalty
Object storage vs. scale-out NAS: Items to consider