agsandrew - Fotolia
Will replication help spur adoption of VMware vVols?
Virtual Volumes -- now known as vVols -- have gained Storage Resource Management support for array-based replication, plugging a gap that hindered adoption.
VMware Virtual Volumes -- now known as VMware vVols -- are making a comeback, even if they never completely went away.
Virtual Volumes were a hot topic in virtual machine storage five years ago, when VMware and storage vendors introduced them as a simpler way to manage storage attached to VMs. VSphere administrators and storage managers greeted the concept warmly.
The premise behind VMware vVols was that they would virtualize SAN and NAS devices by abstracting hardware resources into vVols data stores for easier consumption and configuration. Managers would no longer have to turn to LUNs and NAS mount points to provision storage.
But implementation fell through the cracks, as neither storage array vendors nor VMware followed through forcefully. VMware turned its storage focus to vSAN hyper-convergence, another way to administer storage for VMs without dealing with legacy SAN and NAS processes.
Now vVols have been dusted off, in what some VMware people refer to as a "relaunch." There were 10 vVols sessions at VMworld 2019, the most ever on the technology. Storage vendors participated, pledging their support.
Perhaps most important to long-time VMware watchers, the vendor now spells vVols with a lowercase v, a sure sign that it is serious about the technology (see vSphere, vSAN, vCenter and vRealize).
Drumming up interest for vVols
Storage array vendors have delivered various levels of support for VMware vVols, even if you haven't heard much about the technology in recent years.
"Believe it or not, there are thousands of customers using vVols," said Jason Massae, core storage technical marketing architect for VMware's storage and availability business unit.
Customers include Krispy Kreme, a Pure Storage customer that talked about its vVols implementation at VMworld 2018. Massae said many other large customers have not given permission to use their names.
Massae expects greater interest in the technology in the coming months. Speaking on a vVols panel with storage vendors at VMworld in August, he said several hurdles have been overcome. First, vVols required vSphere 6, which limited its possible installed base. But with vSphere 5.5 at end of support and vSphere 6.7 available, all vSphere customers can now use vVols with their storage.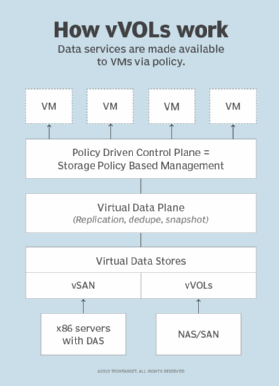 Another possible driver to get people to use VMware vVols is support for Site Recovery Manager (SRM) to manage array-based replication and orchestrated recovery. This support is still in progress, although VMware demonstrated it at VMworld. Hewlett Packard Enterprise 3PAR and Nimble arrays and Pure Storage arrays are the only storage systems that support replication today, but other vendors are working on adding that support.
Andy Banta, principal virtualization architect at NetApp SolidFire and a member of Massae's VMworld 2019 vVols panel, said replication is a critical feature.
"That is one of the main reasons we hear why customers are not adopting [vVols]," Banta said. "You need replication support. We had a couple of fairly large customers who were interested until they realized they couldn't use the same replication story. It was like, 'Come back to us when you're ready.'"
VVols part of VMware's larger storage story
Believe it or not, there are thousands of customers using vVols.

Jason MassaeCore storage technical marketing architect, VMware
The VMware vVols relaunch is one of several signs of life for added storage support from the vendor. VSAN has become a key piece of its cloud story, and it was the platform used for the tech preview of VMware's Project Magna cloud-based optimization initiative. Magna's aim is to use AI and machine learning to self-tune and self-heal storage, compute, networking and security throughout the software-defined data center stack. Through vSAN, storage is the first step toward achieving that goal.
VMware introduced other strategies at VMworld that will undoubtedly find their way into storage. These include its embrace of Kubernetes and open source. VMware launched Tanzu Mission Control for managing Kubernetes and unveiled Project Pacific, for example, which will embed Kubernetes natively into vSphere.
"I would hope, over the next couple of years, you will see VMware emerge as one of the most -- and maybe the most -- open source-friendly companies in the enterprise space in the industry," VMware CEO Pat Gelsinger said. "That's the journey we're on, ... combining our proprietary products and services with open source and bringing the best of those two worlds together."
Considering how open source has been slow to catch on in storage, it will be interesting to see how VMware's strategy plays out with vSAN.