Definition
VMware Workspace ONE
What is VMware Workspace ONE?
VMware Workspace ONE is a management platform that allows IT administrators to centrally control end users' mobile devices and cloud-hosted virtual desktops and applications from the cloud or from an on-premises deployment.
The Workspace ONE suite includes VMware's AirWatch enterprise mobility management (EMM) offering, its Horizon Air cloud-based desktop delivery platform and the company's Identity Manager technology. Workspace ONE allows IT to deliver, manage and secure end users' remote access to corporate applications from their mobile workspaces, including mobile devices, laptops and PCs.
Identity Manager's single sign-on authentication provides end users with self-service access to their mobile apps and cloud-hosted virtual desktops and apps from smartphones, tablets, laptops or physical desktops. On Apple iOS, Google Android and Microsoft Windows mobile devices, users can download the Workspace ONE app to access a catalog containing their business applications. Workspace ONE's enterprise app store uses AirWatch EMM to provide access to mobile apps and Horizon Air to deliver remote Windows applications. Workspace ONE also supports Web applications and remote Citrix apps.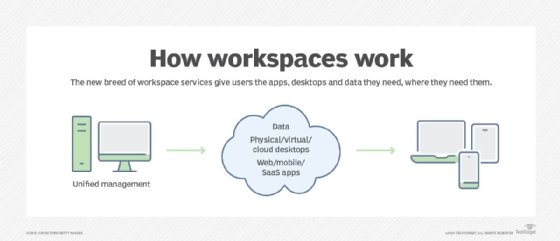 Using technology from AirWatch and Identity Manager, Workspace ONE checks devices for compliance before allowing users to access applications. Administrators can also enable biometric or multi-factor authentication for access to applications that contain proprietary or other confidential data. The AirWatch Secure Email Gateway and Content Locker allow IT to manage users' settings and permissions to provide secure data sharing on employee-owned mobile devices.
Workspace ONE also contains an email app that supports most mail services and integrates with a calendar and file-sharing services such as Dropbox and Box.
VMware's Workspace ONE suite is the cloud-enabled successor to its Workspace Suite offering, which was only available as an on-premises installation. Workspace ONE swaps in Horizon Air instead of the Horizon Enterprise edition desktop virtualization platform from Workspace Suite.
Workspace ONE's primary competition in the cloud-based management market is Citrix Workspace Cloud (CWC).
This was last updated in
October 2021
Continue Reading About VMware Workspace ONE
Dig Deeper on Virtual desktop delivery tools