Definition
application layering (app layering)
What is application layering (app layering)?
Application layering (app layering) is a technology for delivering virtual applications that run in layers separate from a virtual desktop, but interact with the operating system and other apps as if they are installed natively on the base image.
Application layering allows IT to install, update and manage applications independent of the base images for users' virtual desktops. This allows organizations to deploy fewer, or even just one golden image, rather than deploying separate base images for each department or user group. Delivering layered apps separately from the virtual desktop's OS reduces the amount of time IT spends on image management and makes it easier to update or patch applications immediately.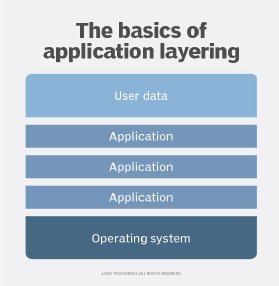 How does application layering work?
Application layering uses a Microsoft virtual hard disk (VHD) or VMware virtual machine disk (VMDK) located on a network file share to make the apps accessible to users. App layering tools use filters based on criteria such as user groups or locations to determine which layers to make available to each user. The layered apps are assigned to users' virtual desktops when they log in and run alongside the host OS with native interoperability, even though they are not installed within the virtual image.
In most use cases, application layering does not serve as a direct replacement for app virtualization products such as Microsoft App-V and VMware ThinApp. App layering is for applications that need to communicate with device and kernel drivers, plug-ins or other applications, whereas app virtualization tools can deliver applications that are incompatible with the host OS or other apps.
List of application layering tools
Examples of app layering tools include Citrix AppDisk, VMware App Volumes, Liquidware Labs FlexApp and Unidesk. AppDisk is only compatible with the Citrix XenApp and XenDesktop virtualization platforms, but IT can use App Volumes, FlexApp and Unidesk with VMware Horizon, Microsoft Remote Desktop Session Host, XenApp or XenDesktop.
This was last updated in
October 2021
Continue Reading About application layering (app layering)