everythingpossible - Fotolia
St. John's Health modernizes with digital workplace technology
St. John's Health modernized its workplace experience by simplifying IT's management of applications with VMware's Workspace One.
At first glance, St. John's Health in Jackson Hole, Wyo., doesn't seem like the type of organization that could benefit from digital workplace technology. Between the regulatory demands of the healthcare industry and the importance of in-person care for medical visits, conducting work via virtualized, cloud-based applications and desktops may seem like a stretch.
But like all organizations, St. John's Health is finding strong use cases where virtualized workplaces can be beneficial. The healthcare organization eventually turned to VMware Workspace One, primarily to update a frustrating roster of legacy applications, better secure the organization's sensitive patient data and enable a better employee experience for its remote workforce.
Workspace One is VMware's digital workplace product, bringing together AirWatch, its enterprise mobility management tool, and Horizon Air, VMware's cloud-based desktop delivery product.
"The main reason for our deep dive into the digital user experience tech was to make improvements on where our employees worked," said Lance Spranger, CIO at St. John's Health. "We had three or four disparate systems that employees worked in. Some of them were unsecured and it was something we had to address."
The growth of digital workplaces
Digital workplace technology continues to play an increasingly important role in improving employee productivity and experience, but that leaves IT to enable and manage the flexibility required. That's where technologies like virtual desktop infrastructure, which helps end users access their work desktops remotely, end-point management software, which helps IT manage end-user devices, and application security software, which can secure data within virtual applications, can help.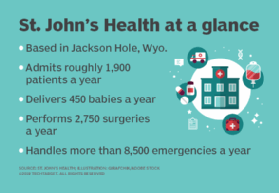 "There's a changing mentality about the IT organization and there's a lot of market interest in that," said Andrew Hewitt, analyst at Forrester Research. "But really, [digital workspaces] are about the end-user experience and providing those tools for production wherever [employees] want to work."
According to a study by Deloitte, 64% of employees claim they would opt for a lower-paying job if they could have the benefit of working away from the office. Implementing digital workplace technology can help companies enable that kind of flexibility.
It was with that goal in mind that Spranger and St. John's Health decided to implement Workspace One about a year ago.
The main reason for our deep dive into the digital user experience tech was to make improvements on where our employees worked.

Lance SprangerCIO, St. John's Health
For the implementation to work, St. John's Health had to tackle a problem that most organizations can relate to: updating decades of legacy systems.
"Some were secure, some were not, but we wanted a one-stop shop with a single URL and two-factor authentication," Spranger said during an interview at VMworld, VMware's annual user conference.
Overcoming employee pushback
When researching the digital workplace technology landscape, Spranger settled on Workspace One, primarily because he thought it effectively eased device management for IT.
"It was a cleaner UI to manage applications and devices for IT," Spranger said.
Spranger said the organization did look into Citrix Workspace, VMware's main competitor in the digital workplace market. But it found VMware's product to be a better fit with St. John's Health's existing technology stack, which includes VMware NSX, an SDN network virtualization and security platform that helps organizations secure their virtual environments.
For end users, the goals were clear. Spranger and his team wanted to make it quick and convenient for patient care staff such as nurses and physicians to access and input information and notes. Using Workspace One, a nurse can input information from a patient meeting room and then access that same information on a different laptop or PC somewhere else in the organization by launching personal desktop and credentials. Previously, Spranger said, that information was harder to input quickly because nurses didn't have the workspace available to them in the patient's room, resulting in longer times in the hospital for patients.
The Workspace One implementation wasn't without roadblocks, however. With the priority on patient care, doctors and nurses have little time to learn about and adopt new computer programs.
"The hardest part was the pushback; some people didn't want to change," Spranger said. He said that the choice to move from existing legacy applications was more than an aesthetic one, as some physicians were using unsecured legacy software to input information from patient appointments. Spranger said he and his team understood they needed to get user buy-in if adoption was going to take root.
"What we did was just show them Workspace One and that the biggest change they would have to deal with was the two-factor authentication," he said. Two-factor authentication requires users to verify themselves through two authentication methods, commonly a text message code or biometric scan.
Using Workspace One for remote workforce
St. John's also needed a modern digital workplace infrastructure to handle the ebb and flow of demand that comes with being an outdoor tourist destination. Jackson Hole has a population of roughly 20,000, but Spranger said that on any given summer day, the population can be north of 150,000 people taking in the tourist attractions. With adventures like these come the eventual mountain biking or horseback riding injury, which can flood St. John's Health with patients.
"The ability to quickly get information and get in and out of a room really affects the satisfaction of our staff," Spranger said. "A nurse can start in a patient's room then move to the nursing desk and get to their desktop almost immediately and have that desktop follow them from place to place."
Beyond the importance of using tools like Workspace One within the confines of the medical offices in Jackson Hole, St. John's Health also employs workers across the country for billing, revenue cycle management and other back-office responsibilities that don't involve direct contact with a patient.
"Using Workspace One allows for us to ship those remote workers their devices and the information on how to connect," Spranger said. "The ability to indirectly affect and improve patient care comes by directly affecting the staff that provides that care."
Dig Deeper on Virtual and remote desktop strategies