Victoria - Fotolia
How to optimize the digital workspace experience
Digital workspaces aim to converge users' resources and IT's management into a single technology, but this massive undertaking can present some administration and UX challenges.
Digital workspaces provide users with a customized portal that offers access to virtualized applications and desktops, software-as-a-service apps, files and other resources.
Both Citrix and VMware, for example, have digital workspace offerings that aim to customize and simplify access to all user-facing resources on a single interface. These two products are Citrix Workspace and VMware Workspace One.
From the user perspective, it's helpful to have one personalized and customized portal for all resources. The digital workspace keeps the most relevant resources easily accessible for users, and this centralization allows users to spend less time navigating between applications or files and more time performing tasks.
When a workspace is functioning properly, it can help simplify users' workflows and improve overall productivity, but organizations and IT professionals must take the underlying complexity of providing a quality workspace experience into account.
Administration of digital workspaces
From an administrative perspective, there are many moving parts that comprise a digital workspace. The primary component is the presentation of virtualized applications and desktops, which the workspace generates based on individual or group memberships. This aspect of workspace administration is relatively easy because most vendors, including both Citrix and VMware, have mature technologies to support it.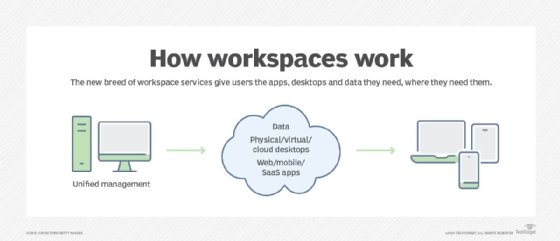 There are other aspects of workspace administration that are more complicated, such as software as a service (SaaS) app and micro app management. The workspace adds these applications to the customized interface for each user as part of the next phase of the technology, referred to by vendors as the intelligent digital workspace.
Because these apps are dependent upon API calls and other integration mechanisms that may change based on the vendor, they may cease functioning when the vendors modify something unexpectedly. For example, if an organization presents employee time off requests within each respective digital workspace and the HR software vendor makes a change to the backend system, the data may not appear correctly or be presented at all. This is frustrating to users who had grown dependent upon specific information appearing within the workspace and can undermine the benefits of the workspace experience.
If an IT department doesn't have enough digital workspace expertise on its staff to create and maintain these integrations, they would likely need to reach out to a consulting firm or expert. In addition to dependence on the consulting partner, the organization should factor this added cost into the budget for ongoing maintenance of the digital workspace.
The workspace experience for users
A few years ago, users would access virtualized applications and desktops with one method, SaaS apps with another and other resources in a variety of other ways. In addition, users had to scour shared network drives or SharePoint sites to find bits and pieces of information they needed. This process was especially challenging for new employees. Now, with the transition to digital workspaces, users have a centralized, custom portal for each user that includes frequently accessed applications, folders and workflows.
The workspace may display certain users' critical workflows as potentially relevant options for other users, but these users may have no use for them.
There are some challenges when it comes to providing the optimal workspace experience for users. The workspace may display micro apps and data that are critical to some users' workflows as relevant options for workers who don't need them at all. This is similar to the online advertisements on websites: Some content is interesting and relevant, but some content has zero relevance.
However, the definition of relevant in this case may depend on timing or other circumstances. A manager may not want time off requests to appear at the top of the workspace interface if the enterprise disallows vacation days during a busy season.
IT departments will need to help the workspace determine the most relevant content via micro app, interface and workflow customizations to ensure that users have a positive workspace experience. Useless workflows in the interface may be frustrating to users, so IT should provide them with options to modify the display and present data based on their needs.