How VMware App Volumes works
VMware App Volumes offers IT admins a way to deliver persistent applications from a nonpersistent virtual desktop pool. Learn exactly how this technology works.
VMware App Volumes is a real-time application management tool for delivering and maintaining applications in virtual desktop environments. App Volumes makes it possible to provision and upgrade applications through virtual disks, without having to package, modify or stream the applications.
Optimized to run within VMware vSphere, App Volumes applications can target specific users, groups or devices. Once IT installs an application, an administrator can deliver or upgrade its workload in seconds. IT controls the entire application lifecycle, from installing to updating to replacing the application. From the end user's perspective, the application performs just like one that is natively installed.
Introducing VMware App Volumes
App Volumes applications are stored on read-only virtual disks, with a writeable volume available to each user so that any customized settings and data persist upon virtual desktop logon and logoff. IT admins can set up the disks on any supported vSphere data store, such as VMware Virtual SAN, allowing IT to implement the most appropriate storage for their organization, rather than having to stream the applications across the network.
App Volumes is a good way to deliver applications from a non-persistent state while still persisting user data.
App Volumes then uses virtual machine disks to deliver applications to VMware Horizon virtual desktops, without needing to modify the desktops or the applications. That helps reduce storage requirements, lowering the overall cost of managing virtual desktops.
App Volumes provides users with persistent applications on top of nonpersistent virtual desktop pools, delivering the applications from one virtual disk to multiple desktops. Administrators can deliver and upgrade the applications in real time and make them immediately available to users, while they're already logged in or at boot up.
VMware App Volumes components
There are several components that go into an App Volumes installation. App Volumes, vSphere and Horizon work together to deliver the applications to virtual desktops (Figure 1).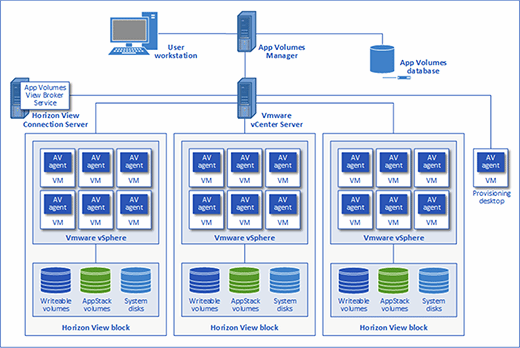 The App Volumes Manager server provides a Web-based interface for administering and configuring App Volumes, as well as assigning the read-only virtual disks -- called AppStack volumes -- and the writeable virtual disks -- writeable volumes. App Volumes Manager also serves as a broker for the App Volumes agent that runs within each virtual machine (VM).
App Volumes uses a SQL Server database to store configuration information for the AppStack and writeable volumes, as well as information about users, physical and virtual machines, data transactions and application access rules.
Another important player in the App Volumes ecosystem is vCenter Server. In addition to managing the vSphere infrastructure, vCenter Server provides App Volumes with operational connectivity to VM, storage and vSphere host resources as well as makes application inventory information available. App Volumes facilitates faster user logins by running the App Volumes View Broker Service on the Horizon View Connection Server.
Finally, App Volumes requires that IT installs its agent on each vSphere VM. The agent runs as a service, handling application calls and file system redirects to the AppStack and writeable volumes. The agent must also run on the target virtual desktop.
How AppStack and writeable volumes work
At the heart of the App Volumes operation are the AppStack volumes, read-only disks containing one or more Windows applications. Each AppStack volume can support multiple systems or users. Administrators can assign volumes to Active Directory user accounts, groups or organizational units, as well as to computer account
There is a default 20 GB template for AppStack volumes, but administrators can also create customized templates. A customized template can target a specific application deployment scenario and be smaller than 20 GB, allowing it to deploy faster than the default one.
If there is a dependency between applications, they should run on the same AppStack volume. Also, if an application such as antivirus or security software needs to run when users are logged out, it should not run on an AppStack volume, but instead be installed on the base image.
Unlike the AppStack volumes, the writeable volumes provide a way to persist user data. Each one is specific to a user and is used to store customized data such as local profile information, application settings or user-installed applications. IT can only associate a writeable volume with one user at a time, making it possible for the volume to move with the user from one VM to the next. The volume deploys when the user authenticates their login on the virtual desktop.
App Volumes is a good way to deliver applications from a nonpersistent state while still persisting user data. According to VMware, App Volumes will also support non-VMware virtual desktop environments, such as Citrix XenDesktop and Microsoft Remote Desktop Session Host. IT shops will have to determine whether the benefits of using App Volumes are enough to offset the licensing fees or whether they even need to introduce this type of application layering.
Dig Deeper on Virtual desktop delivery tools