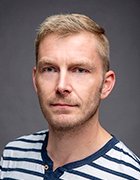 Bas van Kaam
Senior Business Consultant -
Bas van Kaam is a freelance blogger and Sr. Business Consultant over at Salomon IT Solutions (a Dutch IT startup company). He specializes in end user computing in general with a special interest in the Citrix portfolio. Throughout the past five years, Bas has written over 250 articles and has spoken at events like Citrix Synergy, E2EVC, multiple Citrix User Group events, VCNRW, and other national and international events. He is an active community participant, and as such, has been recognized with numerous community awards and entitlements along the way.
He is the author of "Inside Citrix – The FlexCast Management Architecture" and has produced multiple well-received cheat sheets/e-books related to application layering, printing, Citrix architecture, IoT, and more. You can find more of Bas's work over at basvankaam.com.
In his spare time, he likes to have fun with his kids, go out for a run and to just stay fit in general.
Bas van Kaam's Most Recent Content