Awingu 4.3 is coming with some major updates to SSO and more
Expect to see certificate-based single sign-on, a new Display Manager and multiple enhancements on the administrator side.
In October, I wrote about Awingu for the first time. I provided a brief overview of what they bring to the table and their partnership with BlackBerry. Today, I'd like to dig a bit deeper into their upcoming 4.3 release, which holds a ton of improvement and some major changes when it comes to SSO and multi-monitor support.
Simplicity, security, and choice is the adage of Awingu. Their multi-tenant HTML5-based gateway, which they developed internally, offers all that with a few clicks of a mouse. That may sound like a marketing line, but I can assure you it isn't. I had a personal sneak peek not too long ago; here's some of what I learned.
Authentication
As of their latest release, Awingu will offer three different ways you can authenticate into the appliance. First, we have Active Directory, based on username and password, which has been there from the start.
Later, they introduced a so-called pre-authentication mechanism. Users (pre) authenticate to an external SAML or OpenID Identity Provider (IdP) before being able to log in to the Awingu portal. Of course, this is still based on a username and password, though these are never sent or saved on the Awingu appliance. A secure double hop, if you will.
Version 4.3 will offer an improved and full SSO experience. Authentication is federated to an external IdP, again, based on SAML v2.0 or OpenID, this could be Azure AD, Google, Okta, you name it (automatically offering a ton of additional features, like various conditional access policies, or MFA for example). Once the user is authenticated by the external IdP, access to RDP-based (published) applications and/or desktops can be granted based on PKI certificates–in other words, passwordless. It's a different, but smart and more secure approach.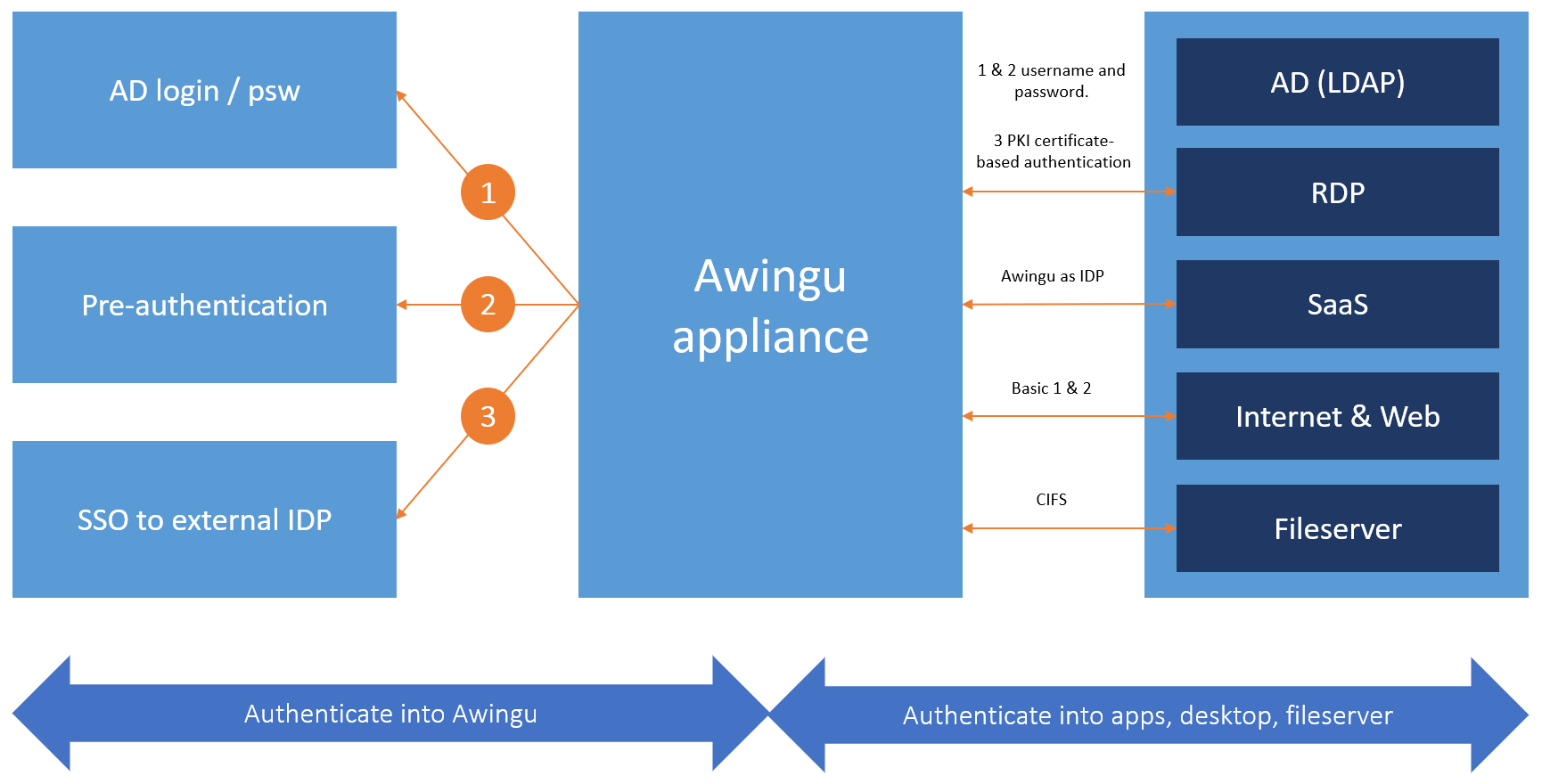 The above will work for Smartcards as well. Access to file servers is based on Kerberos, and, of course, Awingu can function as an IdP as well taking care of your SaaS applications. Though, configuring your SaaS applications to use Azure AD, or one of the others, for example, is optional as well. Depending on your setup, you can have a single IdP taking care of pretty much everything.
Multi-tenant
Their appliance has always been multi-tenant and that's not about to change. If you'd like to set up and configure multiple tenants using different ways of authentication, you can. External IdP's can be configured on a per-tenant basis; a feature very much welcomed by various server providers, big and small.
With WVD on the rise, as well as other DaaS initiatives, Awingu believes this could have a potentially huge impact on how service providers currently do business. Awingu likes to position themselves as what they like to call "service provider ready." You have options, that's their main message.
Multi-screen options
Historically, taking care of multiple screens, in a user-friendly way has always been challenging. This is especially true when you do not depend, or need, a client-side agent installed. Version 4.3 introduces the Awingu Display Manager enabling you to add multiple screens (the max number depends on the RDP server) and various ways to take care of how applications and other windows will be displayed.
Screen stretching, where you drag your application or desktop screen bigger or smaller, was one of the first methods they offered. The challenge with this is that the underlying Awingu software is not aware of this happening, potentially causing some compatibility issues, if you are unlucky.
Another option, for remote applications specifically, is to use multiple browser tabs opening in separate windows, which can then easily be dragged to your secondary screen. Though, what happens when you shut down your secondary screen? You won't be able to see your application's window anymore.
Using the Display Manager, you can add/configure the use of multiple monitors and it will instantly be recognized by the underlying Windows operating system. Now, multiple applications will still run within the same user-session, but when you shut down your secondary screen, all open applications, desktops or other types of windows will automatically switch back to your primary screen. If you do close a browser tab, the session will remain active in the background, just not visible. You will be able to pick it up and activate it on your primary screen when desired.
Even though there is a tight interaction with the underlying operating system, everything you do and see is still a 100% browser based. The Display Manager is opened through the Awingu Polygon, their floating quick-launch menu, which you move around on your screen. By right-clicking the Polygon icon you can select to hide it, which is a new feature as well. A minor one, perhaps, but an important one for some of their existing customers.
Printing
Awingu currently offers two ways in which documents can be printed. One is through a PDF printer. You first generate a PDF document, which can then be printed via a physical print device. Option number two involves connecting to your backend printing infrastructure by means of a network printer. While these two options already cover a broad spectrum of options, they are planning to beyond that by integrating third-party printing solutions. In the (near) future they will potentially announce a printing partnership, though no names or products have been mentioned at this time.
Additional features
From an administrator point of view, Awingu have included multiple smaller enhancements making it easier to configure and manage their platform:
When adding a published application or desktop, you no longer have to select the underlying protocol. Simply select a desktop or RDP application from the dropdown menu and the rest will be taken care of automatically.
The same holds true for Reverse Proxy applications. Fewer fields to fill in, making it easier to configure and manage.
More advanced features are still there; though you will have to specifically select and configure them if and when needed, or preferred.
You can now set a preferred minimum width and height for your applications and/or desktops windows when they start. Handy when you need to use tablets and phones to operate some of your applications and desktop from time to time, enabling a more mobile- and touch-friendly experience.
Concluding
Awingu 4.3 is scheduled for release around mid-December, though, no exact date has been given. It's currently undergoing QA and, at the same time, is being tested by multiple customers and partners. Security has once again been improved, enhancing compliancy and auditing purposes as well. Multi-screen, especially without the help of an agent on the client device (which they do not need) has always been a challenge and I think they have done a good job there. I'm looking forward to the future (printing) enhancements.