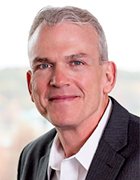 Chris Foot is senior strategist for managed services at RadixBay, an IT consulting and services provider based in Charlotte, N.C. In that role, Chris is responsible for optimizing the managed services experience for RadixBay's clients. He also acts as a strategic advisor to them on the use of leading-edge cloud and on-premises data infrastructure technologies.
In previous positions at Alcoa, BNY Mellon and Remote DBA Experts, known as RDX, Chris reported to C-level executives and was responsible for evaluating new technologies, developing global data infrastructure support strategies and designing large-scale database, server and OS architectures for mission-critical, 24/7 enterprise application environments. He also has worked at several other companies in his IT career.
Chris has written more than 240 articles for various industry publications and is the author of OCP Instructors Guide for Oracle DBA Certification. His speaking experience includes 22 presentations to international, national and local user groups. He is an Oracle ACE alumnus and a former Oracle Approved Education Center senior-level instructor; in the latter role, he received Oracle's OAEC Outstanding Instructor Quality award for teaching the database administrator track.
Chris Foot's Most Recent Content