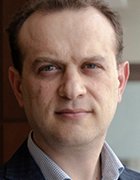 Evgeniy Kharam
Director of Network Security Architecture, Herjavec Group, Security Architecture Podcast
Evgeniy Kharam is director of the solution architecture division at Herjavec Group. In his current role at Herjavec, Evgeniy designs security solutions for clients based on both their current infrastructure and future needs.
Evgeniy views his position at Herjavec as a highly advanced version of a 3D puzzle. He visualizes all possible combinations, interactions, interconnections and patterns based on his knowledge, skills and experience. Like the puzzle, once all factors are considered, he integrates the solution through a seamless matching between what exists and the shifting patterns that continue to evolve.
At Herjavec, Evgeniy sees the rules of the game as being akin to clients' preexisting technology and the new patterns that emerge as a representative of the companies' needs in an ever-changing security environment. Evgeniy's talent is calculating and foreseeing how existing measures can be best integrated with the addition of new protection solutions.
Evgeniy recently started the Security Architecture podcast to give back to communities and help companies improve cybersecurity architecture.
Evgeniy Kharam's Most Recent Content