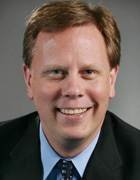 Joseph Granneman is SearchSecurity.com's resident expert on information security management. He has more than 20 years of technology experience, primarily focused in health care information technology.
He is an active independent author and presenter in the health care information technology and information security fields. He is frequently consulted by the media and interviewed on various health care information technology and security topics. He has been focused on compliance and information security in cloud environments for the past decade with many different implementations in the medical and financial services industries.
Granneman has been active in many standards groups, including the developing the early frameworks for Health Information Exchange as part of the Health Information Security and Privacy Security Working Group for Illinois. He was also a volunteer for Certification Commission for Health Information Technology (CCHIT) Security Working Group, which developed the information security standards for ARRA certification of electronic medical records. He is currently a member of the Metropolitan Chicago Healthcare Council HIE Planning & Technology committee. He also continues to be involved in InfaGard and the Chicago Electronic Crimes Task Force. Granneman has a BS in Music Business from Millikin University and an MBA from Northern Illinois University.
Click here to see Joe's articles on SearchCloudSecurity.com.
Joseph Granneman's Most Recent Content